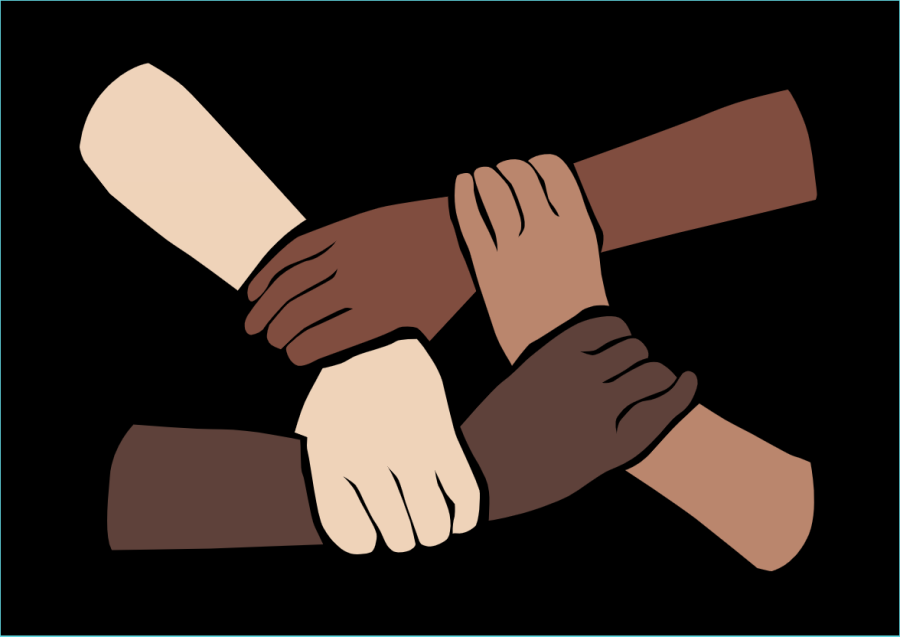 Credit: nina
The impact of Wayland's Anti-Racism Resolution one year later
It's been a year since the Wayland School Committee voted unanimously to adopt the Anti-Racism Resolution, which asserted that henceforth, Wayland would be an anti-racist school district. Since then, Wayland schools have returned to in-person learning and passed through nearly an entire academic year. There were multiple racist incidents at the middle school, and community wide demonstrations every morning for over a week. Students at the high school organized a panel for Black History Month, and students of color spoke about non-inclusive curriculum and enduring racist remarks from fellow classmates.
So, the question is now: what's changed?
The Resolution came into being last December, when Skyler Dixon, who was then a sixth grader, sent an email to Wayland Middle School principal Betsy Gavron.
"I don't feel comfortable at school," Dixon wrote to Gavron, who then read Dixon's email aloud during a School Committee meeting. "Every day I walk the halls of my school, and I see pride flags everywhere, and I don't have a problem with that, but where are the Black Lives Matter flags? I saw a pride flag that said 'this is a safe place,' but safe for who? I feel like the LGBTQ community [is] more important than the Black [community]. We're struggling too. Where are our flags? Where is my safe place?"
Gavron began collaborating with the district's diversity, equity and inclusion director Caroline Han to get Black Lives Matter flags hung in schools, and to get the District to make somewhat of an effort to be more inclusive.
The Resolution is based on a version of an anti-racist resolution that was shared among the Massachuetts Association of School Commitees. It then underwent a process of editing and adjusting to make it unique to Wayland.
WHS Principal Allyson Mizoguchi believes that both the publicity and formality that came with passing the Resolution was crucial to ensuring success in the long run.
In the past, Wayland schools have made attempts at becoming an anti-racist environment by making curricular changes and statements of affirmation and support for POC communities in the District. Many of these moves, however, were reactions to racist incidents at Wayland schools and weren't linked by a cohesive goal of "becoming anti-racist."
"
It was necessary to codify in that way so that it is a living, breathing document that constantly pushes us to become better and realize this mission of becoming an anti-racist district."
— Allyson Mizoguchi
"When you put it down in writing, and when you create something collaboratively, it's both a call to action as well as a symbol," Mizoguchi said. "It was necessary to codify in that way so that it is a living, breathing document that constantly pushes us to become better and realize this mission of becoming an anti-racist district."
Mizoguchi's optimism was contrasted by the voices of students on the Black History Month panel organized by the Power Club leaders, seniors Maya-Angelina Powell and Favour Ejims, who expressed frustration at an overall climate of hostility at the high school and in Wayland Public Schools in general.
Students commented on their experiences with other students using racial slurs against them, as well as classroom experiences where the curriculum fails to be inclusive.
In an interview, both Powell and Ejims said they learned about Black history on their own or from their family, rather than in school, where early history classes often brushed over the realities of slavery, and later classes confined Black history only to slavery and the civil rights movement. They felt that the school failed to teach about Black history, both ancient and modern, beyond the Black struggle.
Powell and Ejims also wrote an essay published on WPSN entitled "WHS Power Club: Is WHS recognizing its students of color?" In it, they argue that the high school didn't acknowledge the national social justice movements that happened in the spring of 2020 after the murder of numerous unarmed Black people, particularly George Floyd.
"It kind of felt like they didn't care to hear what we were thinking, how we felt or if we were scared or not," junior Sambert Guerrero was quoted as saying in the essay. "No one checked up on us at all."
Ejims expanded on the impact of not addressing social justice issues in schools.
"[It] takes a toll on the mental health of students of color because you see people who look like you getting shot," Ejims said. "If you're an Asian American, you see people who look like you being targets of various hate crimes for no reason. Then you go to school and you think, 'oh hey, my English teacher might talk about this or someone might talk about this.' [But] people act as if the world is okay, and kind of just brush it aside, in a way."
Another key talking point during the panel was the string of racist incidents at the middle school throughout December. It started when a middle school student made a social media post which, according to an email sent to families, administrators deemed racially charged and threatening. This led Gavron to alert the police. Then, in the following weeks, racist graffiti was found in middle school bathrooms on multiple occasions.
"My sister is in eighth grade, and there was a point in time when she didn't even want to go to school," Powell said. "She was like,' I'm scared to go to school, I'm scared to go to school.' After that, there were still things going on, like writing the n-word on bathroom stalls and stuff like that."
During the panel, high school students criticized the way administrators handled the event at WHS. While parents received communication from superintendent Omar Easy about a district response to what happened and middle school students received communication from their teachers in class, high school students were left in the dark about what happened.
"
My sister is in eighth grade, and there's a point in time when she didn't even want to go to school. She was like, 'I'm scared to go to school, I'm scared to go to school.' And after that, there were still things going on, like writing the n-word on bathroom stalls…"
— Maya-Angelina Powell
Powell and Ejims both said they felt there was an issue with transparency after a racist incident in Wayland.
"I've had multiple racist incidents happen and the [administrators] would talk to me, and I would be like, 'well, are you going to talk to the other kid?' And they would [say], 'We can't tell you what's going to happen to the other kid [because] that's confidential. It stays between them, their parents and the other teachers,'" Ejims said. "They don't tell you what's going on, but I would think it wouldn't be a position that would let them understand that what they did was wrong."
There are laws that protect students' confidentiality when they're involved in disciplinary action. But Ejims and Powell both expressed that a lack of communication creates an accountability issue, where victims of hatred don't know if anything has actually happened to correct their perpetrator's actions or views.
In fact, accountability is a key issue in the process of making social change in Wayland. In a school, whose responsibility is it to address issues within the student body, what mechanism keeps those people accountable for that responsibility? The Anti-Racism Resolution appeared to be a promise that the responsibility would fall to District leadership and educators, who would make change from the top down through school policy and curriculum.
There seems to be a disconnect, however, between what proponents of the Resolution argued it would achieve, and the actual experience of students on campus.
Perhaps a reason behind the disconnect is that the Resolution itself doesn't actually outline any concrete action items administrators or teachers will take to make change, and neither doesn't it offer a timeline for making such change—and administrators know it.
"Just to be clear, the resolution doesn't say that we've arrived [or that] all the problems are solved," Mizoguchi said. "What it actually does is challenge us and push us to do the courageous work."
So then, what's the system for actually getting that work—policy change, curricula change— done? To answer that question, Assistent Principal Sean Gass said, you have to go to the heart of how school leadership works.
"The responsibility for holding the vision and guiding that vision rests with the principal," Gass said. "Dr. Mizoguchi holds this vision. She's a very collaborative leader, though, and the way that she conceptualizes things and the way she sees things working is that the department heads are a leadership team, and that leadership team really holds the responsibility for moving us forward together, for [anti-racism] and for any issue."
As for how the school's leadership goes about prioritizing different components of their vision—for example, implementing anti-racist pedagogy in classrooms—Gass said it's a constant balancing act.
For the past two years, the leadership's attention has been somewhat monopolized by the pandemic. Now that students are back in schools, Gass said the leadership team was hopeful that their full attention would be lent to anti-racism work. Instead, there's been an increase in student behavioral issues, substance abuse and mental health needs.
"[We had] a sense going into the school year that things were much more back-to-normal than they actually were," Gass said. "[That was] kind of stupid because we've [gone] through two and a half years of a pandemic. At this point, we probably should have seen this coming. If there's one thing you can expect right now, it's the unexpected and catastrophic."
If students feel the school's leadership isn't doing enough to address a certain issue like anti-racism, there isn't a clear way to ensure that focus will be shifted in the future.
"Our goal is that we are holding ourselves accountable," Mizoguchi said. "We need student support, Ms. Han's support, more education and we need to hear more from students. I never think it's a lack of interest or dedication, [but it's more so] keeping the progress and knowing how complicated it can be, but not letting that complexity get in the way of the movement. Sometimes it's the students that are going to hold us accountable."
With administrators and teachers pulled in so many directions, the students are left to try to keep the school accountable and to spur change. And as with many social movements, the effort tends to be made by those experiencing the consequences of the status quo.
"From what I've seen, everything that has to do with social justice is usually run by students," Powell said. "Me and Favour of course don't mind having panels like this, but I wish it wasn't the only thing that was done during Black History Month."
Ejims echoed this sentiment.
"[It was] us actually taking the initiative to actually do something, and not waiting for the administration to do something, because in past years, it's been METCO students or Black students that have catalyzed change or reaction for something to be done in this school during historical months," Ejims said.
That said, the leadership at Wayland High School has made some concrete changes. While Gass admitted that WHS as a whole school is not as far along in the process of making changes in curriculum as he would have liked, he said there were many teachers who made it their mission over the summer to incorporate an anti-racist teachings into their classroom.
WHS administration has also teamed up with the Anti-Defamation League to provide diversity, equity and inclusion professional development for teachers. They're also in the process of launching the Peer Leadership Program, which will begin in the 2022-2023 school year. The program will train a cohort of students in diversity, equity and inclusion who will then work with incoming freshmen on direct programming about anti-racism. An email was sent to all high school students on March 25, encouraging them to send in an application before April break.
"We currently have the race class with the senior elective, but [many students] thought that senior year, second semester was kinda late in the game to begin this examination of race," WHS METCO Director Mark Liddell said. "They hoped to create a companion course for a younger grade. That only comes about when we make the position that Wayland's an anti-racist district."
There isn't a simple path for a school district to become anti-racist, nor even a consensus about what it means for a school district to be anti-racist. However, the Anti-Racism Resolution was a step on that path, although students make it clear there's still a long way to go, and that future steps must include further action rather than talk.
"You can't just say something doesn't exist here when it clearly does and expect it to be a solution," Powell said. "You have to actually do instead of say."
Donate to Wayland Student Press