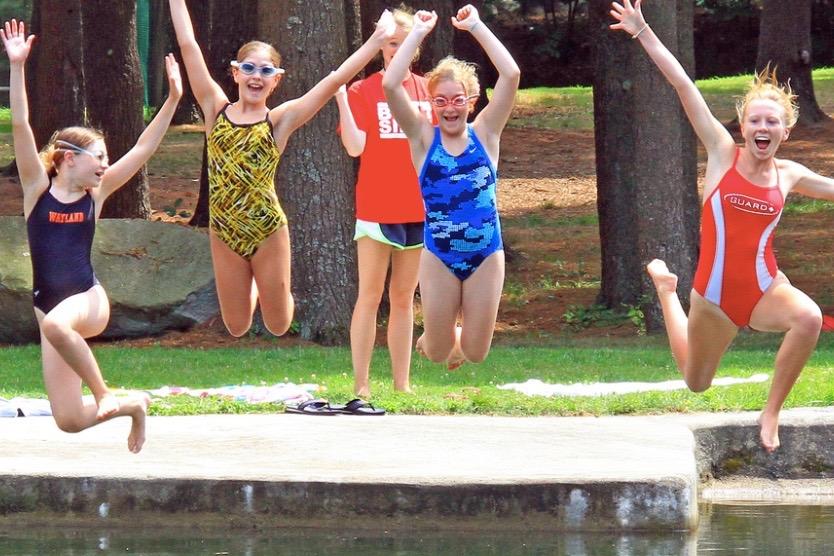 Ella Johnson and Gabi Smith discuss their experiences at sleepaway and day camp
Ella Johnson and Gabi Smith discuss their experiences at sleepaway and day camp
June 14, 2017
Ella Johnson: Camp introduced me to a lot of different types of people and situations
Summer means many things to different people. To some, it means freedom from school, the beginning of vacation, or the endless possibilities of what could fill the long hot days. For junior Ella Johnson, summer meant going to one of her favorite places in the world, Camp Nellie Huckins. Driving down the dirt road and through the white gates meant she would be reunited with her friends after a full year of being away from her summer home. Camp was always a place she could stay up late having dance parties, sharing secrets with friends under the stars, and finding herself in a place that was her own, away from everything she knew at home.
Johnson first attended Camp Nellie Huckins, an all girls YMCA camp in New Hampshire, when she was eight years old. She has gone back every summer since, tallying a total of seven summers at camp, 14 weeks in total.
"All of the best moments were the small things that happened randomly. The late nights talking with friends, trying to go for a run and dying, morning swims, singing on the tables, dressing up like crazy people for lunches and more," Johnson said.
Johnson enjoyed going to an all-girls camp more than a co-ed camp because of the welcoming and accepting environment the all-girls feel created.
"I never really considered how they would be different because I started going to camp so young, but in the end I'm definitely glad I went to an all-girls camp. Being around all girls all the time was uplifting and fun. There was so much we didn't have to worry about that we would have considered had there been guys there," Johnson said.
To Johnson, attending summer camp taught her many valuable lessons.
"[Going to] camp introduced me to a lot of different types of people and situations. I think camp helped me get over a lot of my insecurities. Camp taught me how to be away from home with people I didn't necessarily know super well. This will definitely come in handy when going to college," Johnson said.
Staying connected with camp friends is important to Johnson. She does so by reaching out on social media, texting and Snapchat.
"I love seeing what everyone is up to. I have lunch with some camp friends every once in awhile. I visited one of my camp friends last summer. This summer, I hope to go to the camp reunion to see people," Johnson said.
Even though Johnson does not believe she will return to Huckins as a counselor or staff member, she is eager to return for the alumni weekends and stay connected in other ways.
"Huckins was such an amazing community that I hope to stay connected to," Johnson said. "I want to send my kids to camp. I had so much fun, and I would love to share that with my kids."

Gabi Smith: I love being able to recreate the magic of camp that I loved as a kid for all the campers
When school ends in June, many students go on vacation, spend time at the beach or find a summer job. However, in the hot months of July and August, Junior Gabi Smith spends her time outside in the fresh air teaching kids how to make friendship bracelets, mix paint and make clay pots
Smith could not imagine a summer without Camp Sewataro, a day camp in Sudbury. Smith began attending camp when she was only five years old. She has spent a total of 11 summers at Sewataro: eight as a camper, two as a Counselor-in-Training, and one as a staff member working in Arts in Crafts and as a bus monitor. Smith will be returning this year for her 12th summer as a counselor. Smith has made many friends in her camp "tribe" that she would do activities with throughout the day.
"We spent all day together; we played games in between actives, we did ropes courses, swimming, fishing, canoeing, and everything together every period," Smith said. "I was with my camp friends every day and all day. I became very close with them and at the end of the summer we would be sad to leave each other. During the school year I have still kept in touch with them."
Sewataro gives a spirit award each week to the most spirited tribe from age group. Smith says that this award was a huge deal to her and her friends as a camper and it helped her tribe become closer.
"We were always cheering eachother on [in the tribe] during activities and supporting each other while having a ton of fun," Smith said.
As a staff member, Smith loves watching campers get excited for the spirit award.
"If a camper on my bus gets the spirit award, they are insanely excited and they have a huge smile on their face for the whole ride home. It's really cool because I remember my tribe and I getting it and being so excited about it when I was a camper. It's awesome seeing [this excitement] go full circle. Now I get the chance to contribute to this excitement that counselors built up for me as a camper," Smith said.
Smith credits her experience for teaching her a lot about independence and responsibility. In the Counselor-in-Training (CIT) program, Smith shadowed a counselor in a specific program area where she learned how to lead activities.
"I would shadow the counselor for the first couple of days and by the end of the week I would be able to lead my own activities," Smith said.
Smith learned how to teach swim lessons, watch over campers, and entertain them no matter what the situation.
"I learned how not to talk down to kids and how to lead activities and get campers' attention. I now know how to both be in authority and be the campers' friend. I also have to be really flexible and have learned how to adjust to the camp schedule. [As a CIT,] the younger kids looked up to me so if something bad happened, I would have to roll with it. If it was a rainy day and the schedule changed, I would take whatever came to me and be happy about it and make it a positive thing and have fun," Smith said.
Before becoming a CIT and a counselor, Smith did not feel very comfortable being responsible for kids. However, through her time at Sewataro, Smith has found a new sense of confidence.
"Now I am more confident when I babysit in my ability to deal with kids. I feel more responsible. [Camp] gave me confidence that I can be left with a bus of 20 kids and I can handle them. It has brought out my individuality and has made me a more independent leader," Smith said.
Smith loves being a counselor at Sewataro and believes it is a unique job that exposes you to many valuable experiences.
"I think this is one of the best jobs for anyone, especially high school kids. Unlike an office job or an internship, you are working with a ton of other people your age from so many different places and you get the chance to meet so many people and make friends. You also spend all summer outside while having a blast, which is the best way to spend the summer after being in school all year," Smith said.
Smith loves the atmosphere and high energy at Sewataro. She believes all the staff members have the same goal to make the summer fun for the campers.
"Everyone at camp always going all out and nobody is scared to be weird and outgoing and try new things. All the counselors are there to entertain the kids and have fun. They are not scared of who's judging them because it's just all for fun it's not supposed to be serious. All the kids are being completely wacky and goofy and loud because they can't do that at home or at school," Smith said.
Overall, Smith has valued her time at Camp Sewataro.
"Being a camp counselor has been an amazing experience and I wouldn't do anything differently. It is the best job. I love kids because they're so fun. The job is challenging at times, but it is also insanely fun. I loved being a camper and being a counselor at the camp I spent all my summers at when I was younger is amazing. I love being able to recreate the magic of camp that I loved as a kid for all the campers," Smith said.