WW '18: Behind the cancellation of "Cool Runnings"
February 5, 2018
On Monday, Jan. 29, Student Council Co-Adviser Charlene Bishop sent an email to the entire school announcing that the Student Council had selected the film Cool Runnings for the annual Winter Week all-school movie. She stated that the film was "a light-hearted yet touching movie telling the true story of the journey of the first Jamaican men's bobsled team."
After WSPN broke the news on Tuesday evening, the events gained the attention of first local and then national news.
At 2:48 p.m. on Tuesday, Jan. 30, WHS Principal Allyson Mizoguchi announced to students over email that the showing of Cool Runnings would be canceled due to "criticism related to racially insensitive portrayals of characters in the movie."
In a six-part series, WSPN looked into what happened, how it incited such controversy and its aftermath and impact.
Part I: The Movie
Cool Runnings, a 1993 Disney film, is based on the journey of the first Olympic bobsled team from Jamaica. The film takes a twist on the original story, creating a sports comedy that follows four Jamaican athletes' difficult path to the Olympic games. Upon its release in 1993, Cool Runnings was number three in the box office and had a brought in over 154 million dollars worldwide.
The idea for the real Jamaican bobsled team came from George Fitch and Ken Barnes. Together, the two men recruited Jamaican athletes Dudley Stokes, Devon Harris, Chris Stokes and Michael White for the first Jamaican bobsled team. The team fought adversity to create a winter sports team in a tropical country.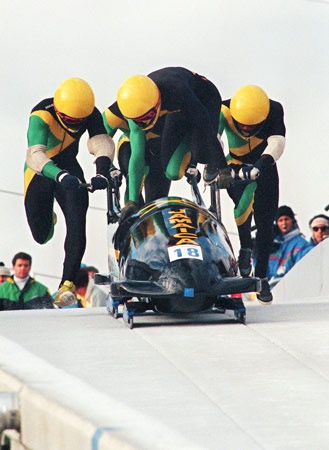 The 1988 Olympic Games were the first time the athletes raced in a four-man sled. The Jamaicans' bobsled race drew a record crowd. The race started off strong, but the sled tipped at one of the last corners, causing the Jamaicans to crash. Despite crashing, the team came together and pushed the sled across the finish line.
Cool Runnings does not follow the exact story of the first Jamaican bobsled team, but it does include the crash at the end of the race that defined the '88 team's culmination at that year's Winter Olympics.
In a Reddit question and answer session with Olympian Chris Stokes, the athlete wrote that "not much in [the movie] happened in real life, there were some [added] things that were inspirational for the film."
The Olympian went on to state that Cool Runnings "really served Jamaica's bobsled [team] very well."
In an email sent to students, Mizoguchi shared links to two articles that criticized the portrayal of the Jamaican bobsled team. The first article from the Washington Post, written in 1993 by staff reporter Desson Howe, criticized how the movie offensively poked fun at people of color. In the second article from Slate, reporter Justin Peters echoed Howe's points, agreeing that Howe was correct to label "Cool Runnings as one of those patronizing, blandly offensive films."
After including these articles, Mizoguchi wrote, "there are plenty of articles out there celebrating the positive messages of Cool Runnings, too – as you know, it's hard but necessary work to weigh and reconcile these varied points of view."
Part II: The Selection
In selecting the movie, Student Council members began by brainstorming movies that they wanted to watch. Over the course of several meetings, they narrowed it down to their top five choices.
"I didn't vote for Cool Runnings, but I think many of the upperclassmen were into the idea of the movie," a Student Council member who chose to remain anonymous said.
The anonymous member emphasized that they did not cast their vote against Cool Runnings because of any concerns over racist portrayals. Instead, there was simply another movie that they preferred more on the list.
"I've seen the movie before, and a different movie was on the list that I liked better," the member said.
Cool Runnings received a plurality of the Student Council vote the week before midyear exams week. After approval from both Bishop and co-adviser Eric Wolven, they informed Mizoguchi of their selection.
The rest of the student body and the faculty was made aware of the selection several days later on Monday, Jan. 29.
Part III: The Decision
Mizoguchi sent out an email to the student body at 2:48 p.m. on Tuesday, Jan. 30 announcing the cancellation of the screening of Cool Runnings and the ordinary Bell 3 schedule that would come with it. As such, no substitute movie was slated to replace the 1993 classic.
According to Mizoguchi, members of the WHS faculty reported ostensible racial insensitivity concerns on Monday evening. Mizoguchi notes the racism in Cool Runnings was not overtly blatant, but rather more subtle in nature.
"There are particular scenes in the movie that really walk this line between humor and jocularity and lightness and we are laughing at, not laughing with," Mizoguchi said.
"
There are particular scenes in the movie that really walk this line between humor and jocularity and lightness and we are laughing at, not laughing with."
— Allyson Mizoguchi
Mizoguchi cited the "fish-out-of-water portrayal" of the main characters, the slapstick comedy and the way the movie uses humor as some of the reasons constituting the reported concerns.
When Mizoguchi was made aware of faculty members' discomfort with the movie, she decided that serious thought needed to be put into whether or not to cancel the showing of Cool Runnings. She consulted with figures such as Assistant Principals Ethan Dolleman and Jim Nocito, Student Council President and Vice President Jaylen Wang and Kanming Xu and co-adviser Bishop; however, she claims responsibility for the ultimate decision.
Mizoguchi notes that this decision was not based on the majority opinion because of the conflict the effects of the movie had with WHS' mission. In her email, Mizoguchi referenced WHS' mission, which, according to her, is not reflected in the film.
"There is a real belief in that WHS is a place where students can explore new ideas, where they can find new passions, take new risks and a push themselves to possible paths in life," Mizoguchi said. "There is also this piece [of the school's mission] around social responsibility to respect everybody, honor everybody's experiences and be as inclusive and representative as we can."
Mizoguchi believes that showing Cool Runnings would violate WHS' mission because some students and faculty would feel uncomfortable watching the film. Mizoguchi realizes that it is probably impossible to find a film that would please everyone at WHS, but she did not feel it was right to put on a film for the entire school body that she knew some had issues with without having the proper time to discuss the film.
"If we are as a whole school going to see a play, watch a movie or invite in a speaker, we need to be prepared for that," Mizoguchi said. "We need to have a shared purpose for that and make sure that if I can expect that a person is going to be hurt, isolated, offended in any way by that experience, then in my mind it is not worth it."
"
We need to have a shared purpose for that and make sure that if I can expect that a person is going to be hurt, isolated, offended in any way by that experience, then in my mind it is not worth it."
— Allyson Mizoguchi
Mizoguchi trusts that students have the ability to watch a movie and think critically about it, but she did not feel like she could show the movie without a discussion to follow.
"It's our responsibility as a school to talk [Cool Runnings] out properly," Mizoguchi said. "If a high percentage of students are not seeing the racism, then we need to have a conversation and not just show that movie and walk away."
The movie screening tradition during Winter Week has only existed for two years. The Student Council showed "Selma" in 2016 and "Apollo 13" in 2017. Mizoguchi believes that since both films were shown on a Tuesday, students were given designated time in advisory on Wednesday for them to discuss and reflect. The administration did not initially believe that such discussion was necessary for Cool Runnings, but after being made aware of the concerns, Mizoguchi instanced the lack of ample time to process the movie as one of the reasons why she decided to cancel the screening.
"In the end, it sort of came down to, 'I don't want to hold my breath and hope for the best with a movie where there are concerns,'" Mizoguchi said. "[They're] obviously not widely shared or widely known by the majority of our student body, but with an all-school event, I can't just hope that it will go well. It needs to go well, it needs to be a one-shot deal. A movie that everybody can see."
Loading ...
Part IV: The Controversy
Almost immediately after Mizoguchi's original announcement, students replied to the email in protest of Mizoguchi's decision.
Sophomore Philip Koechling, one of the first students to reply to the chain, felt that the movie not only did not have a racist message, but it actually had an anti-racist message.
"If anything, [Cool Runnings] is going against racism and showing people overcoming racism," Koechling said. "It shows [the characters] overcoming racism and proving racists wrong."
Koechling did not understand how students could feel offended by the movie. He added that the lack of any movie contributed to the degrading of his Winter Week experience.
"When I read the email, I thought, 'who could be offended by this?' No one. It has to be someone who loves school so much that they just need to have no winter week and all kinds of work on winter week, when the rest of us need a break to rest and recuperate," Koechling said. "Wow. Winter Week is going down the drain."
"I don't think they even watched the movie — they just believe what this one person said. If they think it's racist, they're wrong," Koechling said. "I think they're being insensitive to racism itself. They don't want to show it. They don't want to show how people can overcome it."
In a survey conducted by WSPN from Jan. 30 to Feb. 2, of 343 WHS students (40.3% of the student body) surveyed, 96.8% (or 332 students) disagreed with the cancellation of the movie, while 3.2% (or 11 students) agreed with the cancellation of the movie both with a margin of error of 1.862%.*
Furthermore, 67.9% of students said they would have wanted Cool Runnings to be shown, while 25.9% said they wanted to show a different movie.* The other 6.2% of students proposed their own solutions, which ranged from "just don't cancel showing a movie" to "let kids feel uncomfortable watch a different movie or forego the watching of Cool Runnings."
"I am Jamaican myself — half my family is from Jamaica — and we watch [the movie] all the time," said a senior respondent to the survey who chose to remain anonymous. "If it was offensive in any way, I would know first hand. Show the movie."
"As a person of color, I would like to point out that this movie has nothing to do with racism at all," sophomore Michayla Mathis wrote in the email chain. "Actually, it focuses on [the team's] struggle to prove people wrong who doubt them because bobsledding was not common at all in Jamaica."
"
As a person of color, I would like to point out that this movie has nothing to do with racism at all."
— Michayla Mathis
While sophomore Rachel Tolmach hadn't seen the movie personally, she believed the administration was fair in making their determination.
"I guess it made sense," Tolmach said. "If [the movie] is racist, then they shouldn't show it to us."
Tolmach also felt that students who were against the decision were not really interested in the racist nature of the movie and had ulterior motives. According to Tolmach, in the future, students will feel warranted to react in the same way.
"I thought [the backlash] was a little ridiculous, because [students] just wanted to miss classes," Tolmach said. "[Students will] just want to continue [in the future] because they want to be on Fox News."
The anonymous Student Council member noted that the majority of Student Council had not been informed of Mizoguchi's decision before receiving the all-school email.
"I had literally no knowledge of this until I got the email that everyone else did," the member said. "What seriously bugs me about this whole situation is, why did Ms. Mizoguchi feel the need to cancel the movie entirely?"
According to the Student Council member, the criticism of the movie should not have been a reason to cancel it.
"If you're aware of criticism regarding racially insensitive portrayals, which is basically what Ms. Mizoguchi was saying, then okay, there's criticism," the student said. "But there's criticism of everything. [People criticize] Casablanca and The Office. Just because people are criticizing Ms. Mizoguchi right now does not make her a bad principal. I don't understand why one ounce of criticism leads immediately to no movie."
On a more general scale, the member argued that the Student Council was not able to make decisions independently for the school.
"The administration can make decisions that don't go by [the student] specifically. I've tried to talk to the Student Council vice president and president about it, but they haven't really been vocal about anything yet," the member said. "We at Student Council can try and make decisions, [but] we don't have power. It's an illusion."
However, the student agreed that, for the most part, it is the right of the principal to have the authority to confirm or reject a Student Council decision. Yet the member did note the inability for students to go back and challenge those decisions.
"If you are a student council president or vice president, you would have a nice amount of power, but if the principal is going to say, 'this movie is racist, so we can't show it,' of course you're going to say 'yes, I guess," the student said. "They don't have the ability to say no. Who's going to challenge the principal?"
On Wednesday, Fox 25 Boston reporters filmed a story on the events, stationed in the outdoor basketball parking lot and pulled students aside once they drove or walked off campus. Several students noted that Wayland police was also called the scene to ensure that Fox reporters were following state laws governing press coverage of public schools.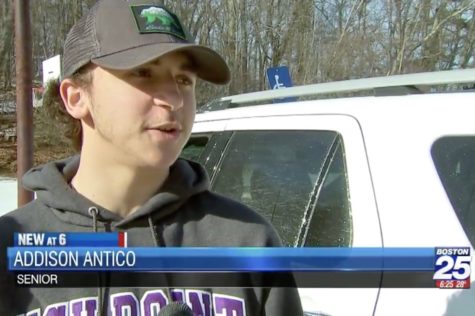 Mizoguchi learned about the email chain Wednesday night. On top of the emails from the chain, Mizoguchi received multiple emails directly to her from concerned students. Mizoguchi said that she responded directly to each email and answered students' questions.
At 9:39 p.m., Mizoguchi sent a second email further explaining why Cool Runnings would not be shown while replying to some of the arguments that students in the email chain were making. In this email, she urged students to be mindful about WHS' acceptable use policy when responding to the email chain. However, Mizoguchi was not against those who appropriately used the email chain to address their concerns.
"If we believe in civic engagement here [at WHS], then we believe in it," Mizoguchi said. "If students have an opinion about something, are using that platform within the parameters of our acceptable use policy, are not targeting individuals, and are [following] specific standards around that use that are safe and appropriate, then students can use that platform to express themselves."
Part V: The Aftermath
Cool Runnings was a popular topic of conversation at WHS for the rest of the week. Mizoguchi invited students to join her during each lunch on Wednesday in a conversation about why Cool Runnings was not shown. Mizoguchi also encouraged students to speak to her about their concerns and questions regarding the film throughout the day.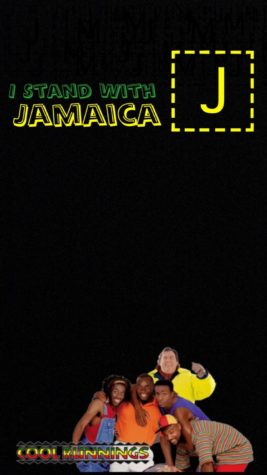 During regularly scheduled advisory on Wednesday, teachers were given discussion material about the controversy surrounding the film. In some advisories, students watched clips from the films and spoke about any racial issues they may have observed.

On Wednesday, many students wore green and black, the colors of the Jamaican flag, to protest the cancellation of the movie. One student created a Snapchat geofilter that said "I stand with Jamaica" with a picture of the characters from Cool Runnings.

The controversy surrounding Cool Runnings has since picked up coverage from multiple news outlets within the subsequent days.

FOX 25 Boston aired the story on Wednesday evening, and the MetroWest Daily News published an article about it on Thursday night. The Washington Times, FOX News and International Business Times wrote articles on Friday. Breitbart published their coverage on Saturday evening, accruing more than 2,000 comments in the first 20 hours of publication.

Leon Robinson, the actor who played Derice Bannock in the movie, also released a video via Twitter in response to Mizoguchi. In the video, Robinson offered to talk to Mizoguchi and students about the film.

Twitter/ @PanSOphyPR

Robinson retweeted Koechling's tweet, which thanked him for "supporting the majority of the student body at WHS" on the issue. Junior William Barton also tweeted Robinson, encouraging him to come to WHS and speak about the issues surrounding the film. Robinson retweeted Barton and replied "Yes!!!"

Mizoguchi responded to Robinson's message via email, but there has been no update if Robinson will be coming to speak to students at WHS.

The breaking news article covering the controversy published by WSPN on the night of the email chain has garnered 2,944 views as of Feb. 3.
Part VI: The Future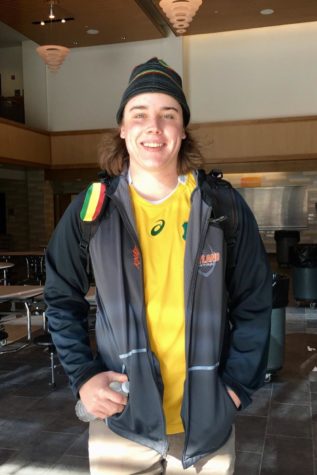 Mizoguchi understands that many of the students who were upset about the cancellation of the movie may have been motivated by their feelings towards Winter Week as a whole. In the email thread, multiple students said they were unhappy with Winter Week this year and did not believe they were given a break after midterm exams. Mizoguchi believes that many students were more upset with the fact that no movie was shown rather than Cool Runnings being canceled and the reasons behind the cancellation.
"Now that I've talked to many students about this, because of the nature of those conversations, I've learned the broad reasons for students' anger and emotional response," Mizoguchi said. "I think that part of it is this mythology around Winter Week. Students believe Winter Week is supposed to be fun, no stress, chill, no work and only great events to de-stress because [students] just got out of exams. That's part of it."
Mizoguchi stated that canceling the movie was not the administration's attempt to get rid of or diminish Winter Week.
Many students have watched Cool Runnings on their own time.
"Students can learn a lot [from the watching of this movie]. I want to look at it through my older eyes since it's been a long time since I've watched it," Koechling said. I will now, in high school, be able to think deeper about the movie."
Mizoguchi knows that many people will never understand her decision, but she stands by it.
"In my great conversations that I've had with students over the last day or two, I don't think I've convinced any students that my reasons are justified, but I think with some students we've had good conversations and exchanged good insights," Mizoguchi said. "It's been productive and meaningful."
*As with any study, this survey was subject to typical sampling variation as well as possible voluntary response bias. Statistically, it was meant to obtain a sample of the students at WHS and is not necessarily representative of the entire student body. The data from these studies are presented for readers to make their own conclusions. Contact WSPN with any questions about the methodology of the study.
Find an infographic that details the survey's results here.