Positioned at the head of the Charles River, senior Lulu Kazlas throws on her sunglasses and grips her oars. Rowing has been an intimate part of her life since she started in seventh grade. On Aug. 5, Kazlas announced her commitment to row Division I for Rutgers University.
"[Rowing] was something I started before I got into the Wayland community, and I've stuck with it since I came here my sophomore year," Kazlas said. "It's like the ultimate team sport because everyone has to be in sync. It's definitely a challenging sport, but you kind of fall in love with it and everybody on your team is working for the same goal, which is really fun."
The Wayland-Weston Crew team has reached countless successes in recent years. At the end of Kazlas's junior year, the team ended their season at the USRowing Youth National Championships in Sarasota, Florida, with Kazlas's boat placing 11th nationally.
"I think our team dynamic has really grown over the last couple of years and right now it's at an all time high," Kazlas said. "Right now, we're a special group of girls that have a ton of fast people on the team and it's very exciting to be a part of. It's really fun to be around everyone on the team – everyone's just there to have fun and win races."
Many students participating in sports look towards opportunities in college recruitment throughout their high school career. For Kazlas, the possibility of being recruited started becoming apparent during the end of her sophomore year.
"I was able to hit a time on my race that was in a range to start thinking about [college recruitment], so, during the winter of my junior year I started reaching out to colleges," Kazlas said. "I definitely got a good amount of feedback, but I really didn't know where I was going to end up and kind of looked all over for a college. I'm definitely not the tallest or fastest, but at the end of the day, that's not everything."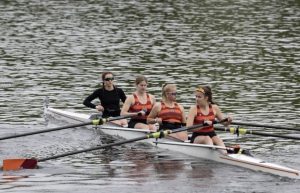 Rutgers University, located in New Brunswick, New Jersey, was one of the schools Kazlas was considering. As an NCAA Division I varsity sports team, the public university competes in the Big Ten Conference, one of the preeminent collegiate athletic conferences.
"I went to an unofficial practice the spring of my junior year, did a campus tour, and met with the coaches," Kazlas said. "I had almost a two hour conversation with the head coach, we just bonded very well. From there, he gave me an offer and that's when I knew that Rutgers was the place for me."
Although Kazlas received other offers from Drexel University and the University of Connecticut, what specifically sealed the deal towards Rutgers was her recruiting experience with their Director of Rowing and Women's Head Coach Justin Price.
"I got the recruitment offer during my visit, and after we said thank you for everything, my mom and I went to the car and we cried," Kazlas said. "We just knew that it was right, both of us could see myself there and thriving with his coaching. He was the coach who turned the team around, too. Before him, the team wasn't placing well, wasn't going to the NCAA's and wasn't one of the top 20 rowing teams."
Kazlas is looking to further her rowing career beyond her time at Rutgers. Being Lithuanian, she feels the sport can connect her back to her roots. She hopes that college will help her try out for the U23 National Team for Lithuania after she gets her dual citizenship.
"It would [be a full circle moment] to make the National Team,—it kind of seals the deal," Kazlas said. "Making the National Team for Lithuania is like representing your team in your country, and doing something you love. That would be insane."
Rowing at Rutgers is the first step towards her goal of making the U23 National Team for Lithuania. Beginning at Rutgers in the fall of 2024, Kazlas is hesitant to start as a freshman again but looks forward to improving.
"I definitely see myself pushing the limits and seeing what I can do when I get on the team," Kazlas said. "[Pushing myself] is something I already do now with things like waking up early or staying up late and doing extra workouts. I'm always telling myself 'I'm here, so let's be great while I'm here.'"