In the coming weeks, Wayland High School will implement the use of keycards for entrance into buildings. Since WHS has an open campus, some students and administrators expressed security concerns over the school building's unlocked doors. The purpose of the keycards is to control who is coming in and out of school buildings, and when buildings are being accessed.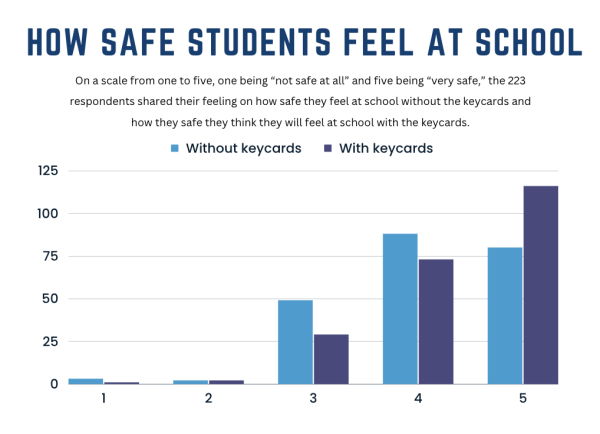 "[The keycards] are implemented as one of the measures we want to have in place to keep [students] safe," Vice Principal Sean Gass said. "This measure would help us keep both our open campus vibe and keep the culture of our school as one that is very trusting and open."
According to administration, WHS has been looking into increasing school safety measures for years, and with support from the Wayland Public Schools Central Administration Office, the keycards were put into place. All students and staff will be given a keycard and the scanners will be on all doors with outdoor access, as well as some doors within buildings, like conference rooms and locker rooms.
"You'll notice [the scanners] are on the [conference room] doors in the library, and that is there so we can manage the sign in and sign out process," Gass said. "This allows students to sign out of conference rooms really easily and quickly and not have to do the paper forms."
Administration will have full control over the access system, remotely managing how each student will be able to use their keycards. Because some spaces around campus cannot be left without staff supervision, some administrators hope that the keycards will limit students from abusing their privileges in these spaces.
As an example of the individualized keycards, only athletes will be able to use their keycards to enter locker rooms before and after school. Athletes will only have access to the locker rooms during their respective seasons, and non-athletes will not be able to access locker rooms with their keycards.
"At the beginning of every season, the athletic department will be sending [administration] a list of all the athletes that should have access to [athletic buildings] and then [administration] will plug them all in," Gass said. "[Students] will be able to go around to get [themselves] in the locker room when [they] need to and not have to find someone to let [them] in."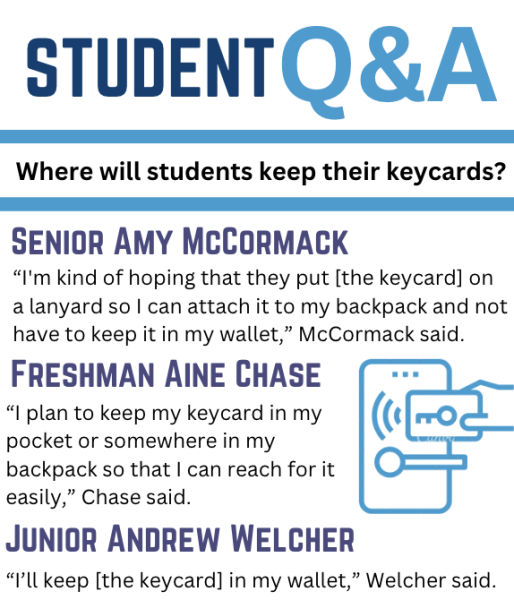 The keycards were funded by a federal grant from Wayland's Central Office, and the physical cards were provided for free by LifeTouch, the photography company WHS uses for student and staff portraits. Therefore, WHS' budget was not impacted.
"We still have some money in that grant and we are looking for updates," Gass said. "[The cost of the key cards] does not take away money from our textbooks and teacher things."
If a student loses their keycard, they will need to report it to administration and pay a $5 fee to obtain a new keycard. The keycard will be separate from student IDs, but administration expects students to carry these cards together.
"[If a student loses their keycard], they need to report their missing keycard to the office because [administration] would then need to deactivate that card so that it does not fall into the wrong hands," WHS librarian Jennifer McGillis said.
According to a survey sent to WHS students and faculty with 223 respondents, 57.9% of respondents have mixed feelings about the keycard system and 38% of respondents are excited about the keycard system.
"I don't feel like [the keycard system] is particularly necessary," senior Amy McCormack said. "I'm excited to be able to open the side doors and doors to the art building, but I'm kind of nervous that [the keycards aren't] going to work and then [students] might get locked out of buildings, but I don't think it's going to make a huge difference."
The respondents also reported that 36% feel very safe at school without keycards, and 52.3% believe that they will feel very safe at school once the keycards are implemented.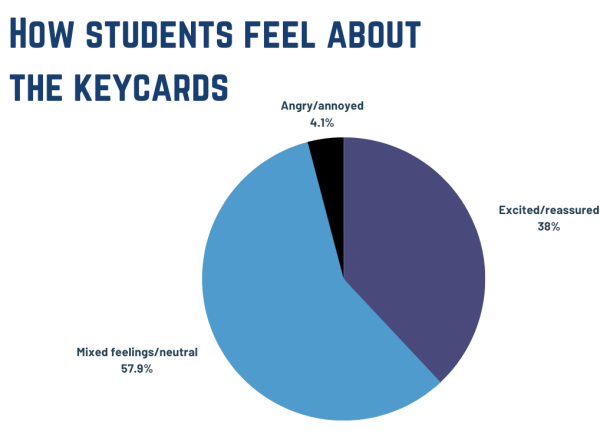 "We do have a really open campus, and I feel like it wouldn't be that hard for someone to break in now or with the keycards, like I open doors for people all the time," McCormack said. "I personally feel really safe at school. I know that's not true for everyone, but it is for me and for most of the people that I've talked to."
If an individual who is not affiliated with WHS wants to enter the buildings, they will need to buzz into WHS' North Building by speaking into the buzzer and identifying themselves to administrators in the Main Office.
"[The keycards] will give everyone a little bit more of a sense of safety and security," McGillis said. "We do have a buzzer [to approve those who are not affiliated with the school to enter the buildings], but people don't use it [now] because the doors are open."
WHS administration encourages students to engage in conversations with each other and teachers if they feel uncomfortable. Ultimately, the administration hopes that this new system will provide more safety and reassurance for students.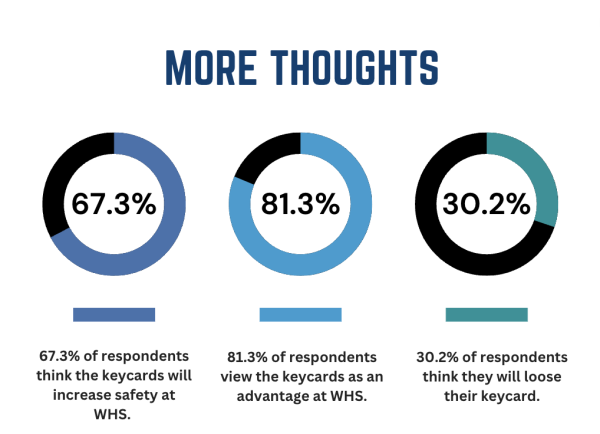 "If people aren't feeling safe or are feeling like [the keycards] are changing our campus, my door, Vice Principal Laura Cole's door, Principal Allyson Mizoguchi's door and all teachers' doors are open," Gass said. "We want [everyone to feel] safe and comfortable."