For many immigrant families, coming to America is the ultimate sacrifice. With their entire lives behind them, rebuilding their life in an unknown environment in hopes of improving their family's future can be daunting. Sam and Shery Maksimous, Wayland's Liberty's Pizza owners, took the big leap and became successful business owners. However, on Oct. 3, their reality was shattered when the International Auto Body Shop in Wayland's Cochituate Plaza caught on fire, which Liberty's Pizza was a part of.
While the four alarm fire completely destroyed the auto body shop, it also caused significant smoke damage to surrounding stores, including Liberty's Pizza. Due to the magnitude of the damage, the entire plaza will be demolished and rebuilt. The Maksimouses lost everything inside the store — including all of their equipment, causing them to go through significant financial and emotional hardship.
The Maksimous bought the store back in 2016, the largest step in their journey in the United States after immigrating from Egypt back in 2005.
"I found that the business was for sale," Sam Maksimous said. "I was interested in the [location], so I bought it. I really liked the community and the people. Everyone is very nice and polite [and] I [enjoy] serving them."
As the Maksimouses adjusted to Wayland, they found that it was a community filled with welcoming and generous people. Their love for the small, close-knit community made the loss of their business even more difficult to cope with.
"We lost our lives," Shery Maksimous said. "The business is like our home [since] we're not from here. My husband and I have fought to get a good life for us and our four kids. When [the fire] started, it [hurt us because] our whole family's [sacrifices] were in the store. My kids grew up there."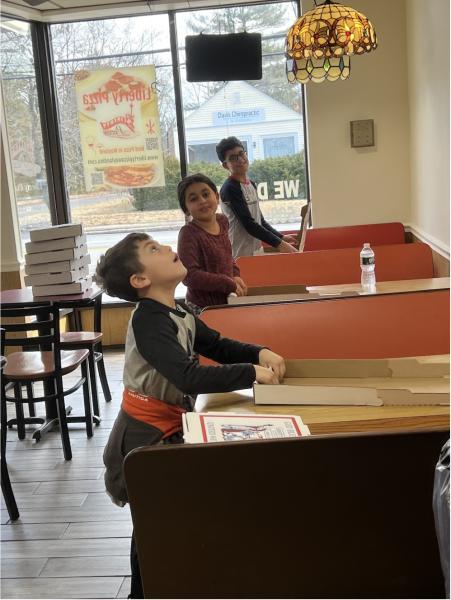 Wayland has become a home for the Maksimouses, even though they currently reside in Hopkinton. Since there is nowhere else they would rather be, Sam and Shery hope to reopen Liberty's Pizza in the same location, estimating at least one year for the rebuild to be completed. With limited insurance assistance, the family has struggled with the large financial loss.
"Just pray for us and try to get us back [to Wayland]," Sam Maksimous said. "We love the community of Wayland."
On the day of the fire, Shery was at home and Sam was working in the store with a few other employees. Sam recalls when the fire started, and how its magnitude shocked him.
"I smelled the smoke and people told me to get out [of the store,] so I went out," Sam Maksimous said. "The fire was small, and [all of a sudden,] it became so big. That's it. Everyone went out [and] no one has gone back in since."
The family's generosity of spirit has positively impacted Wayland in many ways, which is evident through the community's reaction to the tragedy. Wayland citizen Scott Oseychik, a regular Liberty's Pizza customer, recalled his first experience with Sam, which he states revealed Sam's hospitality and kindness.
"The first time [we ordered, I don't think] he was prepared for the success he was going to get," Oseychik said. "Delivery ended up taking two and a half hours, [and my four daughters got] very restless. So, I complained to Sam and voiced my displeasure and he was over the top apologetic. He mailed me a gift card to tell me to give Liberty's another shot and apologize. [From this,] I knew that he wanted to earn the community's trust."
As Liberty's infamous Meat Lover's pizza, meatball subs and wide variety of calzones gained traction and increased the store's success, Sam's dedication to his community never wavered. From catering events to personalized greetings, he was always there for Wayland.
"When there was a big benefit put on at Cochituate Fields for [Eliza Norton], he supplied all of the pizzas," Oseychik said. "When my daughter had an end-of-season crew party, they were looking for someone to supply the dinner. [Even though] the event [was] going to be held on a Sunday [when Liberty's is normally closed]. [Sam said], 'I'm going to come in on Sunday and we'll get everybody fed.' He goes to church on Sundays, [but] he was willing to sacrifice his time for the benefit of the community."
The Maksimouses' contributions to the Wayland community have been clearly missed by some. Since Liberty's is located walking distance from Wayland Middle School (WMS) and the Cochituate Ball Fields, some students walked there after school or practice. One student is John Melander, a seventh grade student at WMS, who often made trips to Liberty's with his friends. He organized a GoFundMe for Liberty's as soon as he heard about the fire, which has raised over $11,000 as of Nov. 13, and is still ongoing. Sam is grateful for the donations and encourages more people to donate if they are able.
"[Sam was always] very nice and treated everyone with respect," Melander said. "He also made sure we were safe. Everytime we went into the restaurant, he always asked how we were doing. [Liberty's] really brought everyone together. His kindness [was] contagious to all of us. It is a great place to be ourselves and have fun."
Community members are working hard behind the scenes as they rally the town together to support Liberty's in their reopening efforts.
"I hope, more than anything, that the town of Wayland recognizes how special that pizza place was," Oseychik said. "It was more than just a pizza place, it was an experience. I'm hopeful that the town will realize that we lost something special here."