Sam Brande: Turning loss into opportunity
On top of the discovery section on Change.org sits a simple petition: a plea for officials to mandate neck guards for all hockey players. These past couple of weeks, sophomore Sam Brande has dealt with the loss of one of his close friends. The friend, Teddy Balkin, tragically passed away on Thursday, Jan. 6 after a skate cut his neck.
Brande was friends with Balkin at the sleep away camp, Camp Awosting. Brande and Balkin shared the same cabin. Although their in-person relationship lasted just a few weeks in the summer, they kept in touch all year round.
"We grew a pretty good relationship, and we were pretty tight," Brande said. "We only saw each other in the summer, but we'd [use] Snapchat and play Xbox [throughout the year]."
To Brande, Balkin will be remembered for his character, kindness and empathy.
"He was super selfless, he would rather see you succeed than succeed himself," Brande said. "He had so much talent in everything he did, whether it be mountain biking or water skiing. [He was] just a super gifted kid."
Death is difficult to process, no matter how it happens. In high school, it's rare for students to go through the death of someone so close in age.
"I've lost grandparents and relatives, but I've never really lost a friend like this," Brande said. "I was in shock for a good two days."
On the ice, Brande has seen plenty of injuries. In sixth grade, Brande was cut by a skate on his foot, causing him to receive both exterior and interior stitches. However, nothing replicates the news that Brande heard on Jan. 6.
"I've never seen someone pass away on the ice or have a life changing injury like that," Brande said.
In addition to playing for Wayland's hockey team, Brande plays club hockey. The team practices in Foxborough, Mass., so Brande often shares long car rides with his father. On the ride following Balkin's death, Brande thought of an idea to remember Balkin: a petition.
"I wasn't angry, but I told my dad, 'although this was a tragic accident, I think it could've been avoided,' and he looked at me and said 'then do something about it,'" Brande said. "I thought a petition would be a good way to do that."
The petition calls for USA Hockey to mandate neck guards for players to play. As of now, neck guards are recommended. In just a few days, the petition has gained traction, and it now carries nearly 75,000 signatures.

"

I thought I was going to get to 10,000, 15,000 [signatures]. I got to that, but then it really started to blow up.
— Sam Brande
"I have resources that have reached out to me that [tell me] 'I am more than happy to be a voice,'" Brande said. "I feel like we are in a really good spot to make a change."
To Brande, playing with neck guards is inconsequential. They are comfortable, light and do not affect play. Not to mention, they could have prevented Balkin's tragic death.
"In the past, they've been pretty uncomfortable," Brande said. "But now, they make light-weight ones connected to shirts which is what I wear now. I barely know that it's there, and it's making the game safer."
Outside of the petition, Brande has been carrying on Balkin's legacy in other ways. Before Brande's first game since the tragedy, he wrote "TB4L" on his stick, or "Teddy Balkin for life." Balkin will also be remembered within the Wayland hockey community.
"On Senior Night with the hockey team, I'll be giving a speech and leading a moment of silence," Brande said.
Major news outlets, such as CBS and the New York Times, have interviewed and written stories about Brande's pursuit to change the safety rules in the game of hockey. Although Brande is wowed by the support, he is looking to keep his goal in mind: to honor Balkin's life.
"It's crazy to get all of these emails from huge sources, but I keep remembering why I am doing it," Brande said. "I try to keep doing it in good faith and not let the publicity get to me."
If you are interested in signing the Change.org petition, it is linked here.
Leave a Comment
Donate to Wayland Student Press
Your donation will support the student journalists of Wayland High School. Your contribution will allow us to purchase equipment, cover our annual website hosting costs and sponsor admission and traveling costs for the annual JEA journalism convention.
About the Contributor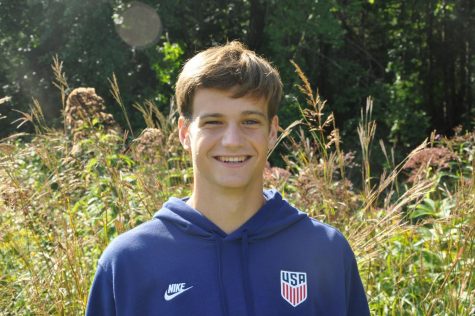 Garrett Spooner, Co-Editor-in-Chief
Garrett Spooner, Class of 2022, is a third year reporter and co-editor-in-chief of WSPN. He plays for the high school's soccer and basketball teams....