Carolina Kotzampaltiris: Meet Wayland's newest teacher
This year, WHS was greeted with their newest staff member: Spanish teacher Carolina Kotzampaltiris. Kotzampaltiris took over classes for another Spanish teacher at WHS, Alaini Ghetti, as Ghetti is on maternity leave. She started teaching an intro level class, three college level classes and an honors level class on the first day of school and will be leaving when Ghetti returns on Jan. 28.
"My students have taught me how to be a better teacher," Kotzampaltiris said. "And I absolutely love every single one of them."
Kotzampaltiris grew up in Argentina with her four older siblings, and out of the five, Kotzampaltiris is the only one who immigrated into the U.S.. When Kotzampaltiris arrived in America, she could only speak a single word of English. She taught herself the language by repeating words and listening to people speak the language.
"I took [English] in high school, but I thought it was stupid," Kotzampaltiris said. "I thought, 'Why do I need to speak English if everyone around me speaks Spanish?' But now I always tell my students how important it is to learn a second language."
When Kotzampaltiris was in college, her original major was in graphic design. However, after spending time in the U.S., Kotzampaltiris realized she wanted to teach people Spanish, her first language.
"My forte is Spanish because that's my native language, and that's what I know best more than anything else," Kotzampaltiris said. "I feel a joy [in giving] something I know so well to kids."
The start of Kotzampaltiris' career as a Spanish teacher was teaching at Loker Elementary through the immersion program. The program allows students in kindergarten through third grade to be taught completely in Spanish for an entire school day.
"[It's] a gratifying feeling when you teach and teach, and you see an understanding coming from the students," Kotzampaltiris said. "I am a teacher because I love that feeling."
After working with world language Department Head Nicole Haghdoust in a Spanish literacy program this past summer, Haughdoust reached out, offering Kotzampaltiris a substitute teacher position at the high school.
"If you asked me who I love to teach the most, I would say high schoolers," Kotzampaltiris said. "I love teenagers. I feel that I connect better and I can be myself fully [around them]."
After leaving, Kotzampaltiris plans on getting more certificates for education, continuing doing conversational Spanish with adults, tutoring current high school students and looking for a more permanent job.
"I never met Ms. Ghetti, but I only hear beautiful things about her," Kotzampaltiris said. "I think changes are scary for kids and adults, but I think [my departure] will be a quick and easy adjustment."
Kotzampaltiris believes it's important to always be learning something new. Currently, she is teaching herself how to play piano. She hopes that everyone tries to learn a language and learns to acknowledge that making mistakes is completely normal.
"Learning a language is like riding a bicycle," Kotzampaltiris said. "You start, and you fall, and you keep on falling in the beginning. But once you get those strong skills, it becomes easier and easier."
One thing Kotzampaltiris is going to miss is learning from and having conversations with her students. Kotzampaltiris told Haghdoust that if WHS ever needs someone to fill in for a teacher, she would be ready to help out, unless she finds a more permanent job.
"I enjoy every class," Kotzampaltiris said. "I think I am going to miss [my students] more than they miss me."
As Kotzampaltiris reaches her last few days at WHS, she hopes to leave an influence on each of her students.
"Two students wrote me a letter, and it was one of the best letters I have ever gotten," Kotzampaltiris said. "It [made] me feel good. I am leaving feeling good."
Leave a Comment
Donate to Wayland Student Press
Your donation will support the student journalists of Wayland High School. Your contribution will allow us to purchase equipment, cover our annual website hosting costs and sponsor admission and traveling costs for the annual JEA journalism convention.
About the Contributor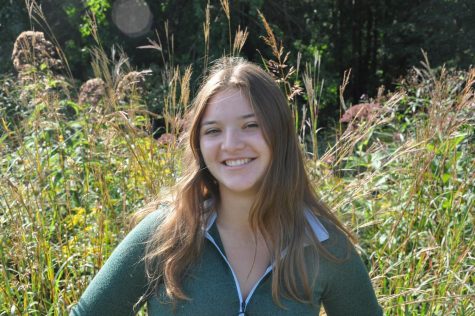 Sophia Oppenheim, Copy Editor
Sophia Oppenheim, Class of 2023, is a second year reporter and copy editor for WSPN. She is part of the WHS field hockey team and girls swim team. Outside...