Elena Liu: Family Promise has made me grateful for everything I have today
In a suburb as socioeconomically privileged as Wayland, many students have access to everything they need at the touch of their fingertips. Sitting in our homes, with an abundance of goods and ability to obtain more, we seem to forget just how privileged we are. For many who are homeless, our reality might seem like a dream. For many, though, this is not a reality. Rather, homelessness is the reality. Through the organization Family Promise, junior Elena Liu is among those who spread awareness about homelessness in the MetroWest area and advocate for families suffering through it.
Liu's commitment to Family Promise began when Liu and senior Maeve Myles brought the Family Promise Club to Wayland High School.
"Family Promise is an organization that helps families find jobs and aids in babysitting the kids," Liu said. "The club helps the organization do what we really need to do in the MetroWest."
Liu quickly realized the importance of informing WHS about homelessness, as many high school students do not understand how prevalent the problem is.
"We wanted to help the homeless community and help our community around us," Liu said. "We want to raise awareness about the homelessness issue because it's really not brought to light in school and in the curriculum."
As one of the leaders of the club, Liu has a number of responsibilities to keep the club running smoothly.
"[Myles and I] organize all the activities and drives for the members to help out with," Liu said. "We also have to detail everything that happens at Family Promise Club to the staff at the Family Promise Organization to keep them in the loop."
Although the turnout varies at each meeting, Liu's club has roughly 10 to 20 involved members. However, the work of Family Promise is not confined to WHS.
"We are planning a big Family Promise walk for the spring," Liu said. "We have collaborated with Family Promise Clubs at surrounding communities like Natick High School for the walk."
Through Liu's experience working with the Family Promise, Liu has realized the real struggles that some families face.
"Along with helping other people open their eyes to the homelessness issue, being a part of the club, leading the club and working with all these families has opened my eyes to the homelessness issue too," Liu said. "We don't always think much about it, but homelessness is a great issue."
As of Jan. 2020, Massachusetts had roughly 17,975 individuals experiencing homelessness, with 3,714 being family households. The past two years, Liu has seen COVID-19 exacerbate the homelessness issue as it has become harder to provide families with Family Promise's services.
"COVID-19 has been difficult for Family Promise as it has prevented us from making meals, babysitting kids or helping individuals in-person," Liu said. "Ever since COVID-19, we haven't been able to help hands-on as much as we would have liked, so we have been raising awareness a lot through social media and also doing drives for whatever families may need."
Despite the numerous difficulties brought on by COVID-19, Liu remains optimistic about her club's future initiatives.
"This year, I'm hoping we can do more hands-on and in-person initiatives because [those initiatives are] the biggest help to some of these families," Liu said.
In spite of the lack of in-person assistance, Liu's club is still successfully organizing drives and improving the lives of families, which has made for some of Liu's most memorable moments in the club.
"My best experience with Family Promise was last year's Thanksgiving drive, which was a giving drive within our club," Liu said. "We asked everyone within our club to bring canned goods for Thanksgiving because some of the families do not have access to the traditional Thanksgiving foods that we do. It was really nice to give [these families] turkey, gravy and a nice Thanksgiving meal."
Following Liu's time at WHS, Liu plans on continuing Family Promise's legacy at WHS.
"I am planning on passing the club down to an underclassman in the school, so they can keep [the Family Promise] club in the school as it is very important," Liu said.
If you're interested in learning more about the work of Family Promise, click here for more information.
Leave a Comment
Donate to Wayland Student Press
Your donation will support the student journalists of Wayland High School. Your contribution will allow us to purchase equipment, cover our annual website hosting costs and sponsor admission and traveling costs for the annual JEA journalism convention.
About the Contributor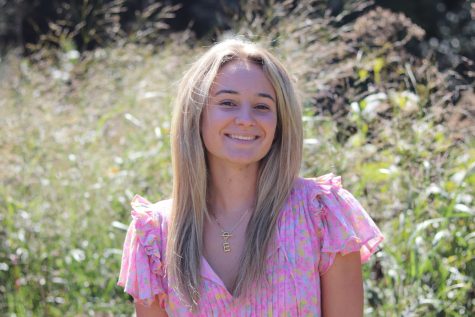 Emily Roberge, Co-Editor-in-Chief
Emily Roberge, Class of 2023, is a third year reporter and co-editor-in-chief of WSPN. She plays for the high school's field hockey team and is a co-captain...