Wrestling athletes step up after being pinned for two years
With the wrestling season being shut down last year due to COVID-19, the team geared up this year after not being able to in two years. The wrestling team had big shoes to fill this season after many impactful upperclassmen graduated.
Getting back into the swing of things after such a long absence from wrestling hasn't been the easiest for many wrestlers. Not only do they need endurance, but many wrestlers also had to shake the dust off to perform their best at meets.
"It was pretty tough," senior David Liu said. "A lot of us weren't conditioned at all, but football definitely helped the transition to wrestling. Also, I had to relearn a lot of the wrestling moves and rules because it's been so long since I've wrestled."
Despite having to get familiar with the moves again and get back into shape, the team has done well for itself. They boast a winning record of 11-6.
"I think that the season has picked itself up for us as a team, and we've improved match by match," senior captain Luc Sebastianelli said. "[We're] getting better not only as individual wrestlers, but as a team too."
Many wrestlers also play football, as both sports are coached by wellness teacher Scott Parseghian and history teacher Sean Chase. The transition from football to wrestling isn't easy for many wrestlers because of the type of shape each sport requires them to be in.
"Going from football to wrestling is definitely a strange shift," senior captain Ryan Fennelly said. "Football season is mainly bulking, and wrestling is mainly cutting, so they are opposites in terms of what physical condition you're in."
Although the wrestling program may have lost a handful of talented athletes, this year's strong freshman class came in ready to go and have so far been great additions to the team.
"Almost half, if not more, of the wrestling team are freshmen," Liu said. "[At] the beginning of the season, almost one-third of our 14 starting varsity wrestlers were freshmen. They've helped us win some of our meets just by showing up. Coming off of an undefeated football season, these freshmen have helped us get better in the wrestling room and on the mat."
One of the most anticipated tournaments throughout the wrestling season is the 53rd Annual George Bossi Lowell Holiday Tournament, which took place over winter break. This year, one freshman in particular stepped up and performed very well in the tournament.
"One of the biggest standouts has to be Michael Keenan," Sebastianelli said. "He managed to make it to day two of the Lowell Holiday Tournament. To put that into perspective, aside from us captains, he was the only other person from Wayland to make it back for the second day."
"
The initial feeling of being back in the room was great. There's always a feeling you get when you get back into the room, and it's always the same."
— Ryan Fennelly
A big advantage that Wayland has over many of the teams they have been facing is the type of weight classes they have this year with so many freshmen.
"A lot of our lower weights are underclassmen, and they have been huge in some of our matches," Fennelly said. "Lots of towns don't have lower weights, so we're very fortunate to have them there. They have improved a lot throughout the season and have pulled off huge wins for us."
After having to wait so long for a chance to wrestle again, the feeling many wrestlers felt walking into practice the first day was something they had been waiting two years for.
"The initial feeling of being back in the room was great," Fennelly said. "There's always a feeling you get when you get back into the room, and it's always the same. It definitely was weird coming back after not being there for two years, but it felt good that wrestling was back."
With such a large group of freshmen on the wrestling team, the captains and seniors had a major responsibility to teach the new athletes as much as possible.
"I've personally been working with Anthony Brown and Nate Tobe," Sebastianelli said. "They've both come into the program as freshmen and both were starting at the beginning of the year due to injuries. We were a little unsure of how they'd perform, but in his first match, Anthony pinned a senior within two minutes, and Nate has continued to physically challenge many of our upper-weight wrestlers."
As the Wayland wrestlers continue their journey for another DCL title, many are looking past that with sectionals and states not too far down the road.
"Winning the DCL would be delightful," Liu said. "I'm also really looking forward to sectionals and states because I did pretty well as a sophomore at sectionals, and I think I have a good shot at making it to states this year."
Even though wrestling is considered a team sport, the points are added up based on how each individual does in their match. This can vary at each meet, depending on how each wrestler does against their opponent.
"Some matches we do well, and some we don't," Fennelly said. "Wrestling is a lot about matchups with other towns because some wrestlers do better against certain wrestlers than others. There have been teams that we were not supposed to do that well against, and we ended up in a really close match. Any match can completely change in seconds."
"
Any match can completely change in seconds."
— Ryan Fennelly
After having to watch from the sidelines at the beginning of the season due to an injury, Sebastianelli is most looking forward to his rematch against Ashland's 182 lb wrestler, Matt Gillis.
"He's ranked as one of the best 182 lb wrestlers in the state, and I want to see how I'd do without having to worry about the team score," Sebastianelli said. "As a team, I'm excited to see us continue to grow and get stronger each and every week."
Although the team had to deal with numerous challenges over the past two years, the Wayland Warriors have overcome those and are performing as they have for decades.
"We started out a little rough, but that was expected because we are a very young team," Fennelly said. "I am really impressed by what we have done since then."
Leave a Comment
Donate to Wayland Student Press
Your donation will support the student journalists of Wayland High School. Your contribution will allow us to purchase equipment, cover our annual website hosting costs and sponsor admission and traveling costs for the annual JEA journalism convention.
About the Contributor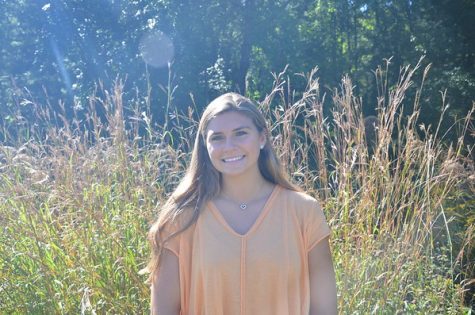 Sammy Johnson, Co-Sports Editor
Sammy Johnson, Class of 2022, is a 3rd year reporter and sports editor for WSPN. She plays soccer, basketball, and lacrosse for the high school. Outside...