Ciaran Murphy: One-man show
Whether it's a string instrument picked up in the third grade, a woodwind, brass or percussion instrument from the fourth grade, or anything else from piano to vocals, Wayland's fine arts department provides many students with the opportunity to express themselves musically. But for junior Ciaran Murphy, his journey with music started much earlier.
Murphy has been around music for almost his entire life. He attributes his love for music in part to his dad, a piano teacher and composer. Murphy says that it was because of him that he first started playing music at the age of three.
"Because my dad is a piano teacher, I started learning piano around then," Murphy said. "I never really loved [the piano] and ended up giving up sometime around second grade. I picked up drum set in kindergarten and fell in love, and picked up cello beginning of third grade."
While Murphy has always loved playing music and practicing on his drum set and cello, recently, he started to follow in his dad's footsteps even further by composing his own music.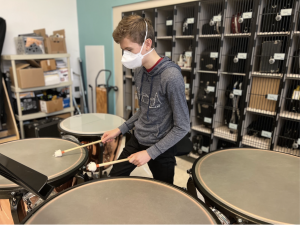 "I always heard [my dad] and saw him composing music in his office," Murphy said. "My dad would let me mess around on his composition software when I was really young, and it'd always just be like conglomerations of notes."
Over the course of the years, Murphy has spent time practicing his instruments and improving his musical ability. He has gained a better understanding of music theory and melodic concepts and with this knowledge, has been able to start applying it in new and different ways. All of this has culminated in a piece written by Murphy titled "Rondo in C," which the Wayland High School orchestra performed.
"As I spent more time playing music, I was like 'I have a bunch of ideas,' so I just started throwing them down into the composition software which I kind of knew how to use already," Murphy said. "Eventually, I learned enough theory to really start putting things together. I started writing decent music in 6th grade, when I wrote a septet for strings that I did with a group of friends from honors chamber orchestra. And then, this full orchestra piece is the second major project that I've done in terms of composition."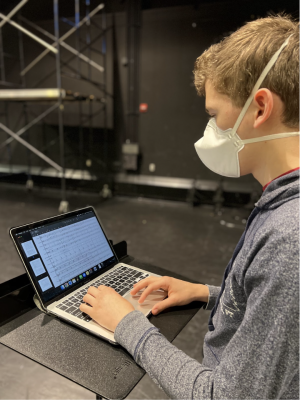 For Murphy, writing music is a tough process and one that he's had to devote significant time and energy to improving. Luckily, Murphy has always had his dad to help him along the way.
"It was difficult at the beginning [because] I knew almost no practical theory," Murphy said. "My dad would be sitting on the other side of the office doing his own work and I would be like 'What chord do I need?' and 'Is this inversion okay?' But I've gotten a little more experience going through it."
Although learning how to compose was a challenge for Murphy initially, he always really appreciated the process of composition. To Murphy, composing was an enjoyable experience, and one that he found equal parts fun and useful.
"I do just like sitting down, picking some parameters and messing around until I find things I like," Murphy said. "That's how I write most of this stuff. I mean, it's a great way to spend time productively if I have nothing else to do. Like, I could just sit and binge watch stuff but it's probably a lot better if I write music instead, so I like to do that."
Murphy's most recent piece, "Rondo in C", is the culmination of his experience, the time and the effort he has put into both playing music and writing it. And, for Murphy, this piece symbolizes much more than that. It symbolizes his musical growth from the end of 8th grade to his current level.
"The beginning of ["Rondo in C"], the hook, is really brash, it's very '8th grade boy'," Murphy said. "It's loud, it has just about every percussion instrument being loud, it has just about the entire wind and brass section being loud. Then, the second you get into the teens it mellows out a lot. As you get to the end where I finished it up recently, the chords actually have 7ths in them, it's a lot more 'jazzy'. I think [the piece is] weirdly kind of myself as a musician, on paper, over the last three years. It's like the evolution of what I think of in terms of music."