This past month, the Wayland High School (WHS) robotics team brought their robot to Carriage House to put on a demonstration for senior citizens. This is second year in a row that the robotics team has put on this demonstration. Seniors Charmaine Guo, Tyler Hurst and Justin Cai, junior Eunjee Kang, sophomore Simon Shadday and advisors Erik Thoen and Jinglei Whitehouse led the demonstration.
Like many assisted living facilities, Wayland's Carriage House at Lee's Farm is consistently looking for new ways to entertain its senior residents, from musical performances to other events. The WHS robotics team, which is known for its regional and national recognition, took this occasion to present their hard work to the senior citizens.
"I think one of our team's main goals is to promote and spread STEM to various audiences," Kang said. "[That includes] audiences of all ages. [The demonstration] was fun and nice to see."
Guo, who serves as a captain of the robotics team, also works at Carriage House. She mentioned that the Carriage House is always looking for opportunities add some color into the residents' days.
"We went to Carriage House to show off our robots to the senior citizens because they are always looking for more activities to brighten up their days," Guo said. "[The seniors] love talking to me about robotics, so we did [a demonstration] last year where we brought the robot in, and we did it again this year."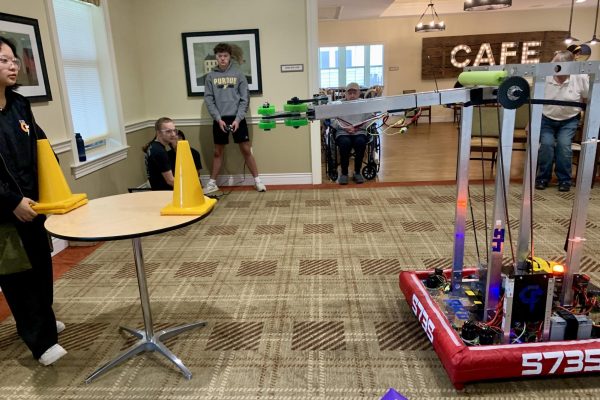 Whitehouse said that even though she and Thoen are advisors, it is the students who have been taking initiative and delegating roles within the team.
"For the most part, [the students] pretty much came up with the content themselves, and then divided the work between themselves as well," Whitehouse said. "We're mostly in advisor roles and supporting roles there. So they're taking charge in that."
At the demonstration, robotics team members felt that the senior citizens were impressed with the team's presentation and robot.
"I definitely think it's a good change of pace for them to do something different," Thoen said. "I don't think they get that many demonstrations like this, especially with younger students, so I think they really enjoyed it."