WW '13: Crago speaks about being an Eagles drummer
Connie Yoon
January 30, 2013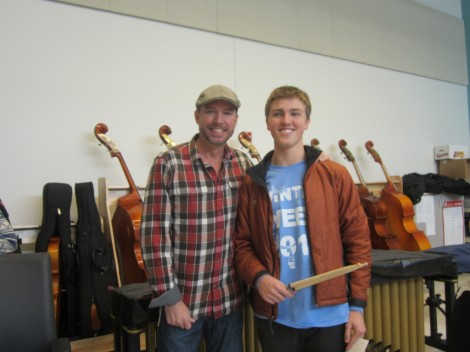 After a childhood of playing the snare drum, Eagles drummer Scott Crago, senior Carter Pedersen's stepfather, took a leap of faith one day and traveled to Los Angeles to start his musical career.
"I knew that I loved music, and that it was all I could relate to," Crago said.
After growing up in western Massachusetts, Crago attended Berklee College of Music in Boston for two and a half years. He left the school to go to L.A. after his room burnt down, as someone had set fire to various places around the college.
In L.A., Crago competed with what he believes was 9 million other drummers who had the same dream as him. Due to the competition, his first three or four years were rough.
"I would go to local Mexican restaurants to get the free chips and dip and a Diet Coke just to be able to survive," Crago said.
However, Crago didn't give up his drumming dream and eventually became known within the community for his mixture of Jazz and Rock. Crago felt the most comfortable and happy during and after recording sessions because it was just him and his drums.
"I had a simple style. I'm not a complex dummer with flipping sticks and lights or fire," Crago said.
With more acknowledgement, Crago began to move up the ladder and was able to contact more people within the music industry.
"One door would open, and I would kind of nudge in there and get a little session work," Crago said.
Eventually, Crago became close to Stephanie Lynn "Stevie" Nicks, who can be referred to as the "Reigning Queen of Rock and Roll." Crago went on tour with Nicks for four months while Don Henley of the Eagles was also touring. Crago, Nicks and Henley also went to each other's concerts once and had dinner together.
"The door was open again, so I went right up to Don and said, 'Hey if you need me, just call me sometime. I'm available,'" Crago said.
A year later, Crago received a call while in a recording studio. The Eagles were getting back together, and they needed a drummer.
"I was the last guy [in the list], the guy who nobody really knew," Crago said. "I was the first guy they brought in, and I've been there ever since."
Miss an event from Winter Week 2013? WSPN's got it covered.