Sean Chase leads wrestling team to historic season
Hang on for a minute...we're trying to find some more stories you might like.
The final seconds tick off the clock of Wayland's state final match against Norton. Senior captain Tommy Cope rides out his opponent, giving every ounce of strength he has to insure that the Norton 120-pounder cannot get to his feet. The buzzer sounds. The 28-27 win gives Wayland the victory, and the state dual meet championship. Head coach Sean Chase lets out a shout, filled with happiness and pride for his team.
Weeks later, the team would capture another state championship, this one being the Division III individual state tournament. This had long been a goal for Chase, who had yet to lead his team as a head coach to a victory in the state tournament.
"The night before we won, we had a five and a half point lead over the second place team, but a lot still needed to happen for us to win. I was a nervous wreck. I didn't sleep all night; I laid in bed and stared at the ceiling for six hours," Chase said.
The following day, Wayland clinched the title with hours left to go in the tournament.
"It was 2:30 p.m. when I found out that we had clinched [the championship]. I refused to believe it. I didn't want to believe it, not until the MIAA put the trophy in my hands," Chase said. "It was strange because so many of our wins during the season had been comebacks or had involved last minute heroics. Now we're at states, and we know we've won before the tournament is even over."
This past season, Chase led the Warriors to a DCL title, central section title, dual meet state title and the Division III state championship in the individual tournament. For his performance throughout the season, he received the Boston Globe Division III Coach of the Year award, along with numerous other personal accolades. Although he is a decorated coach, Chase refuses to take the credit for his team's success.
"The awards I got are a reflection of the work of the team. I don't wrestle the matches. I don't get the bloody noses. I don't go out in those pressure-cooker situations and have to win. That's the wrestlers. It's a reflection of everything they accomplished, more so than anything I did," Chase said.
Wrestling is known for it's ability to physically and mentally wear down the athletes that undertake the challenge of participating in the sport. Although it's a grueling task to wrestle, the coaches who lead their teams are not without challenges themselves. According to Chase, finding a way to motive their wrestlers consistently, day to day, week to week, is the single most difficult thing to do.
"Going into the season, I knew we were going to be a good team. That can drive a coach nuts. You know what your team is capable of, and you want to make sure you allow your wrestlers to reach and max out their potential and hopefully go beyond it," Chase said.
The 2015-2016 season was the Wayland wrestling team's best season in years. They accomplished their goal of winning the individual state tournament, something the Warriors had not done since 2006. Although all the pieces came together this past year, Chase claims winning the state title was a two year process, one that began back when the current seniors were sophomores.
In 2014, the team had an incredibly disappointing state tournament, in which many of its best wrestlers lost to inferior opponents in the first couple of rounds. Chase believes the reason for the postseason collapse was the team's psyche.
"Guys were mentally done and checked out of wrestling by the time the postseason rolled around. After the end of the season, we talked about how we were going to change that mentality," Chase said. "That was going to be our goal: to get guys to be able to wrestle through states. So in many ways, we didn't change anything this year that played into our success. It was more the mindset that we began to change two years ago."
The Wayland wrestling team's success is partly due to the coaching staff's unique approach to dual meet strategy, something that Chase inherited from his dad and has since improved upon. Chase explains that it is based upon the belief that you win and lose as a team; individuals must be willing to sacrifice their own personal goals and accolades to help the team win.
"It's something Wayland wrestling has done very well for a very long time. It's something I preach, the team aspect of the sport. Most importantly, all of our wrestlers get it and embrace that style of team wrestling," Chase said.
Chase shares that he, along with many coaches, feel it is shameful to instruct a wrestler to go out on the mat and "stay off their back," which means to wrestle to not get pinned.
"It's the dumbest thing ever because if you tell a kid that they're going to go out there and beat the Division I state champ, and they get pinned in 20 seconds, what good does that do anyone?" Chase said. "Basically, our philosophy is that you can lose your match but still help your team win the match [against the other team], and the way in which you lose can be just as important as the guys who come up with the match-winning pin."
The Warriors had a number of memorable moments throughout the 2015-2016 season. From winning the DCL, to winning their D3 central section, to bringing home the state championship, it was one of the most successful years in the program's history. But Chase's favorite moment from the season is none of these. According to Chase, Wayland's heart-pounding comeback win against longtime rival Lincoln-Sudbury takes the cake. About halfway through the match, the Warriors faced a 30-6 deficit. They managed to chip away at L-S's lead, trimming it to 33-16 with only three matches remaining. Wayland needed back-to-back-to-back pins from Jakob Warner, Anirudh Nagesha and Ben Jones in order to win, and Warner, Nagesha and Jones managed to do just that.
"If we didn't win a single match after [the L-S match], it wouldn't have mattered. Even without all the titles we piled up at the end of the year, we still could have had an amazing banquet and patted ourselves on the back after the L-S match," Chase said. "We've all been a a part of some amazing games, but I've never been a part of something like that."

About the Contributors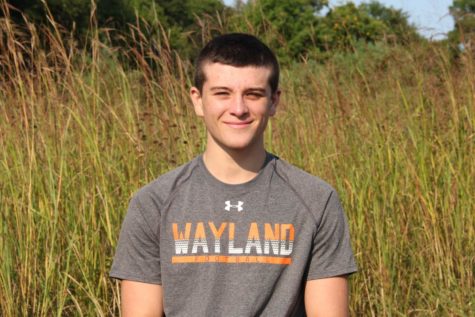 Duncan Stephenson, Editor-In-Chief
Duncan Stephenson is a senior at Wayland High School. He is one of three editor-in-chiefs of WSPN. This is his fourth year writing for the publication....