Athlete of the Month: Brooks Jones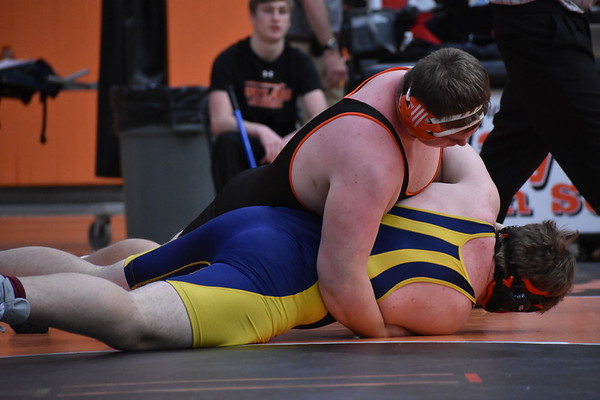 Senior Brooks Jones spent his past winter practicing and training during his last year of wrestling for WHS. From the beginning of his freshmen year until now, Jones has always had a passion for the sport and looks forward to the winter season every year.
As freshmen enter high school, a wide variety of sports are opened up to them. Jones' first year of wrestling as a freshman was also one of his most favorable and memorable teams to be on. That year, the WHS wrestling team brought home a state championship.
"One of my favorite teams to have been a part of was [the] freshmen year [team] which was led by my older brother, Ben Jones," Jones said. "We won a state championship."
While wrestling may not involve as much running as other sports, the WHS wrestling team trains almost every day on mostly conditioning.
"The hardest part of wrestling is the practices," Jones said. "Coach [Sean] Chase pushes the whole team extremely hard in the wrestling room, and it pays off. We are time and time again one of the best-conditioned teams in the state, and [it] shows late in the season."
Although Jones enjoys the support and company of his teammates, he appreciates the individuality of the sport. Unlike most sports, wrestling is focused completely on yourself, both physically and mentally.
"My favorite part about wrestling is how natural it is and how independent it is," Jones said. "If I mess up, it's my fault, [and] no one else's. It helps me become better."
Wrestling may not be known as a team sport, but for Jones, he relies on the support of his teammates and coaches to push himself to succeed.
"My success in wrestling can be thanked by my drill partner Philip [Koechling] for pushing me every day and for coach Chase, coach Parseghian and [coach Krasnoo] for being great role models and helping me get to where I am today," Jones said.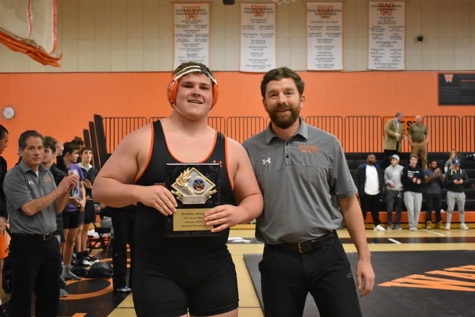 With so much adrenaline running through a wrestlers head before a meet, it is important for them to mentally prepare for their upcoming competition. For Jones, focusing on himself is more important than paying attention to his opponent.
"I prepare for all my meets the same way," Jones said. "I try not to spend time thinking about my opponent. Rather, I think about the things I can do."
Recently, Jones won first place in the Lowell Holiday Wrestling Tournament. After competing in this event for the past four years, Jones was able to pull out a win for his team.
"All the hardships I experienced at the Lowell tournament my first three years really pushed me to win it all my senior year," Jones said. "It felt great when I won. I'm honored to be one of a couple wrestlers to win the tournament in Wayland history."
As the wrestling season slowly starts to close, Jones is preparing for his next big event: sectionals.
"The next big event in my mind is sectionals," Jones said. "The start of the postseason [is] for all varsity wrestlers."