Warrior Weekly: Predicting Super Bowl LIV
The Super Bowl matchup between the Kansas City Chiefs and the San Francisco 49ers looks to be an exciting clash of the titans. Two teams now in very similar situations with very different histories will both look to add a Super Bowl title to their collections.
Both teams have participated since before the NFL-AFL merger. In the Chiefs' case, founder Lamar Hunt formed the Texans and the AFL in 1960. Three years later, they moved to Kansas City and implemented a rebranding which included their name change to the Chiefs. They won three AFL championships prior to the 1970 merger and then took home the Super Bowl IV championship. After that, though, they have failed to find success outside of the occasional playoff berth. Despite having superstars like Derrick Thomas, Tony Gonzalez and Derrick Johnson, the Chiefs have only been contenders for the past few years.
This is in stark contrast to the 49ers. Founded about 16 years earlier, the 49ers started off much slower than the Chiefs had. San Francisco did not win a championship prior to the merger, nor 10 years after. But on the back of second-year head coach Bill Walsh, first-year starter Joe Montana, receiver Dwight Clark and rookie Ronnie Lott, the franchise finally won its first Super Bowl in 1981. They didn't look back after that, winning four more championships over the next 13 years despite making a quarterback change. Their streak finally ended in the early 2000s, and the team has only been a contender for this year after going from 4-12 in 2018 to 13-3 this past season.
They now find themselves facing each other for the seventh time since 2000, both teams with three wins apiece. This could become a shootout as both teams have powerhouse offenses with stars in multiple positions. The Chiefs have Patrick Mahomes at the helm, the reigning MVP who this year remains a top passing threat who knows how to make something out of nothing. The 49ers have Jimmy Garoppolo, who has finished his first full year as a starter. They both are pretty evenly matched, but Mahomes have a slight edge in Jimmy G despite being four years younger.
Each quarterback's receivers are also among some of the best in the league. The 49ers have three main options for Garoppolo. Veteran Emmanuel Sanders took some time to get used to the team but has become a valuable third option with the skill to be a second option on any other team. Rookie Deeboo Samuel adds speed and toughness to the team and presents a difficult challenge to opposing defenses as he is sometimes used as a running back. Of course, the highlight of the unit is tight end George Kittle. He is arguably the best at his position, always giving Garoppolo a reception when he needs it.
The Chiefs have their own version of Kittle in Travis Kelce. Kelce is an even bigger target than Kittle, and for better or worse, he is relied upon more. Nearly one in every four passes head Kelce's way compared to 22% from Kittle. Kelce isn't Patrick's only target, for he also has Tyreek Hill, who despite missing a quarter of the season, still logged nearly 900 yards while leading the team in touchdowns. Even with these two impressive targets, the 49ers have the edge receivers, a wise thanks to the sheer amount of options.
As for each team's running game, both do not have a single star rusher. Instead, they opt for more of a "running back by committee" approach. San Francisco has three running backs, Raheem Mostert, Matt Breida and Tevin Coleman. All three have over 500 yards, with Mostert nearing the 800 mark. They all should be participating in the Super Bowl, but Coleman remains questionable with a shoulder injury. Mostert should be a guy to look out for after he rushed for 220 yards and four touchdowns in the NFC Championship game against the Packers. The Chiefs definitely don't run the ball as much as the 49ers do, with two players barely reaching 400 yards. Damien Williams and LeSean McCoy may not be as good as the Chiefs' rushers, but when given the opportunity, they can perform well enough to give the passing game a break. Overall, I would say this gives the 49ers offense an advantage over the Chiefs offense. Though they may not be as flashy, they have more weapons to choose from, which could be the difference due to both sides' impressive defenses.
The Chiefs defense is very much underrated. They have seemingly adopted the "bend but don't break" philosophy the Patriots defense also utilized this year. Despite being 17th in yards allowed, they are only seventh in points allowed. Kansas City's d-line is their greatest strength. Five defensive ends have over four sacks, Clark with eight, Ogbah with 5-and-a-half, Okafor with five, Kpassagnon with four and Suggs with six-and-a-half. Additionally, tackle Chris Jones racked up a total of nine sacks to his name. Their secondary is a solid support group as well, boasting the likes of corners Charvarius Ward and Bashaud Breeland, along with safety Tyrann Mathieu. Linebackers Hitchens and Wilson fill in the defense, completing a pretty solid unit. It remains to be seen if the pass-protection can fend off all of the 49ers receivers and if the linebackers can reel in a hot Mostert.
Overall, the unit has the ability to at the very least hold San Francisco to a beatable point total. The 49ers defense may actually be a little bit worse despite what some may think. They allow more points, though not by much, and is missing the safety help that the Chiefs have. Regardless, San Francisco's defense is still one of the best in the league. They have a more balanced defensive line with Nick Bosa and Dee Ford as their star ends and Armstead and Buckner as their tackles.
The four hold a combined 33 regular season sacks between them with an average of eight each. San Francisco also has a linebacking unit similar to the Chiefs. Dre Greenlaw is the Niners equivalent of Damien Wilson, and Fred Warner is a huge step up from Hitchens. As for their secondary, they have an amazing corner pairing of Richard Sherman and K'Waun Williams, which is also a step up from the Chiefs. But they do lack both a free and strong safety, at least compared to the Chiefs. That could pose a major issue with Mahomes' arm and Tyreek's speed. While the 49ers have a better offense, I would actually go against popular belief and say the Chiefs have a better-suited defense for this specific game.
The 49ers look to join the Patriots and Steelers as the only teams with six Super Bowl wins, while the Chiefs look to begin their own dynasty. So who will win? Well, the majority of oddsmakers have the Chiefs as close favorites, by barely over a point. But some say that the 49ers are the actual favorites due to their star power and depth. All we really know is that this matchup appears to be one of the most competitive Super Bowls in years, and the futures of both teams will be decided here.
Leave a Comment
Donate to Wayland Student Press
Your donation will support the student journalists of Wayland High School. Your contribution will allow us to purchase equipment, cover our annual website hosting costs and sponsor admission and traveling costs for the annual JEA journalism convention.
About the Writer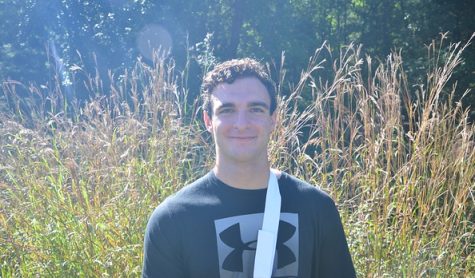 Dante Coppola, Co-Sports Editor
Dante Coppola, Class of 2022, is the head sports section editor for WSPN, and is in his second year with the publication. He plays lacrosse and football...