WHS fall athletic teams stay motivated despite absence of a state tournament
Playing in a state tournament often exhilarates, motivates and excites WHS athletes coming into their respective seasons. This fall, there will be no state tournament to limit the spread of COVID-19. With WHS' vast history of success in fall high school sports, the elimination of this competition sparked disappointment in athletes, coaches and even fans.
Coming into the fall season, many didn't expect sports to be happening at all. When the announcement was made that there would be a season, the field hockey team was ecstatic, yet dubious.
"I am very grateful to have this season, but I was surprised that we were allowed to play," senior field hockey captain Ella L'Esperance said. "I think because we aren't in school, it seemed strange to me that sports would take place and school was all remote."
On Aug. 19, the MIAA board of directors voted to have a season, but not a state tournament for the fall. For L'Esperance, the pairing of these crucial announcements led to an easier understanding.
"I didn't even think we would have a season, so hearing the news that the tournament would be canceled, but that we would have a season, was honestly really good news," L'Esperance said.
Coming into the season, the boys varsity soccer team had high expectations for themselves during postseason play. Because of this, the cancellation of the tournament was a massive let down for the players.
"[Our goal was] to win a state title," senior boys varsity soccer captain Nick Urato said. "It was disappointing, of course, because we couldn't win a state title if there wasn't a tournament."
To find motivation during this obscure season seemed difficult; however, the girls varsity soccer team has found it in a unique way: the opportunity to play.
"If anything, we are all so grateful to be playing that we are taking it seriously and making the most out of what we are given," senior girls varsity soccer captain Tali Wong said. "Just the competition of being able to play even if it "doesn't count for anything" is enough to motivate a lot of people."
This year, each team will only be playing 10 games for the season. This, of course, is different from the normal 16-18 game regular season. Already more than halfway through the season, Wong has found that the absence of many normally scheduled games leads to a higher degree of motivation game to game.
"Knowing that there would be no state championship made me focus more on each game," Wong said. "For us this season, it is really about playing each game as well as we can, especially since it is such a short season."
Wayland participates in the Dual County League, also known as the DCL, during regular season play. For boys soccer, the league, along with the coaches from each of the teams, have been investigating the possibility of a DCL tournament to close the season. Very little information has been given out to each team, leading Urato to question if it will happen.
"I've heard many rumors, but the uncertainty in our current situation leads me to believe we just have to wait for a straight answer," Urato said. "The [Dual County League] hasn't given any information on how it would be set up."
As COVID-19 cases rise throughout the state of Massachusetts, the possibility of finishing the fall season is slowly diminishing. The field hockey team, even in the absence of a state tournament, is seeing every game as one that could be their final.
"Having the question if games mean less or more with no tournament shouldn't have any effect on how we play every game," L'Esperance said. "I think, if anything, we are trying to play every game like it may be our last because it just might be."
Leave a Comment
Donate to Wayland Student Press
Your donation will support the student journalists of Wayland High School. Your contribution will allow us to purchase equipment, cover our annual website hosting costs and sponsor admission and traveling costs for the annual JEA journalism convention.
About the Contributor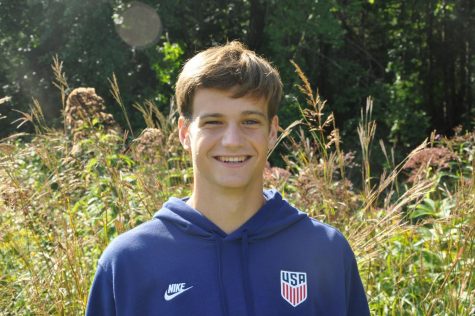 Garrett Spooner, Co-Editor-in-Chief
Garrett Spooner, Class of 2022, is a third year reporter and co-editor-in-chief of WSPN. He plays for the high school's soccer and basketball teams....