Jenna Brandaleone: Donating hair is a simple way to help others
Getting a new hair-do is an exhilarating experience for a lot of people who regularly visit hair salons. Whether you choose to dye, style or simply cut your hair, the immediate change in your physical appearance can boost your confidence and make you feel fresh every time you look in the mirror. But, did you know that you can share those positive feelings with others in need by donating your hair?
While stuck in quarantine over the spring, a lot of people were forced to wait to get a haircut until the hair salons were back in business. However, senior Jenna Brandaleone used this as an opportunity to grow her hair out and make eight inches of hair donation to a non-profit organization, Children with Hair Loss (CWHL).
"After I got my haircut, it was just past my chin," Brandaleone said. "I previously donated my hair in first grade, [and] both times felt surreal because it was such a drastic change."
Although saying farewell to locks of hair that took a long time to grow can cause many to be hesitant to donate, Brandalone was confident in her decision and was open to the change.
"It is a no-brainer for me to donate my hair," Brandaleone said. "I love helping people and I love having short hair, so it was really hard for me not to grab some scissors and chop it all off. Cutting your hair short just makes you feel free."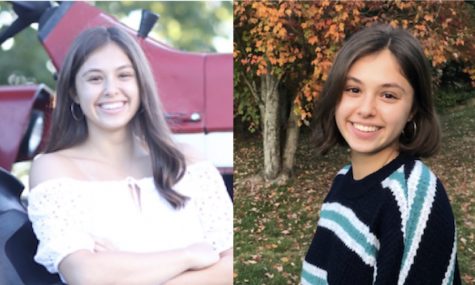 According to CWHL, the number of children requesting hair replacements increases each year. However, the treatment costs $3,000, which a lot of families are unable to afford. Since being founded in 2000, CWHL has helped more than 3,500 children across the country to get the service at no cost.
Brandaleone's donation to CWHL will provide human hair replacements to children and young adults suffering medically-related hair loss, which is a common consequence of cancer treatments.
"I think a lot of people want to donate their hair but are just scared to do so," Brandaleone said. "Who cares if it looks bad? Hair grows back! If people aren't comfortable with short hair, imagine what a kid feels like with none."
For Brandaleone, donating hair is a simple act of kindness that can mean a lot to the recipient. To that end, she plans on donating her hair again in the future once her hair is long enough for donation.
"Giving back is an essential part of who I am," Brandaleone said. "Donating my hair is just one way I help others [that can be a] big deal to the recipient. On the giving end, hair grows back, right? I see no reason not to [donate my hair]."
There are a lot of other organizations to donate hair, such as Locks Of Love, Wigs for Kids and Wigs & Wishes. Anyone can donate hair by simply mailing their braided hair to an organization or getting a haircut at a salon that accepts donations.
However, there are specific guidelines for acceptable donations that slightly differ in each organization. Some organizations require a certain hair length or won't accept dyed hair for their donations. Therefore, it is worth checking out the organizations' websites and doing some research before making a donation.
If you want to cut your long, quarantine-grown hair from the spring and would also like to share kindness at the same time, Brandaleone suggests that you consider donating your hair to those in need.
"I hope my donation will give someone a sense of normalcy in a traumatic period of their life," Brandaleone said. "I hope the recipient knows that I am cheering for them in their battle."