Jason Haims: It's a great experience for everybody when one person catches a fish
For many, fishing is merely a hobby: something to do occasionally during the summer to unwind. For senior Jason Haims, fishing isn't just a hobby, but a lifestyle. Haims has learned to enjoy the different aspects of fishing since he was little. Now, Haims tries to fish at least once a week, either by himself or with others.
From an early age, Haims learned the ins and outs of fishing from his father. Although he wasn't all that interested at the time, he still loved to be out in nature.
"I wasn't a super serious fisher. A lot of the time, I was trying to catch snapping turtles and frogs," Haims said.
However, a sleepaway camp experience changed Haims' view of fishing entirely. He took up fly fishing, which takes place in moving water.
"That's where my fishing career took off," Haims said.
Although not all of Haims' friends fish, he has been looking to share his hobby, as he enjoys teaching others how to fish just as much as he loves to fish. Last year, Haims took his peers out for the first time.
"Every time I brought out a friend, especially one that had never fished before, when they caught a fish they were super excited and into it," Haims said.
After fishing with some of his closest friends, Haims realized that many people have not experienced the activity. Haims sought to spread his passion among other students, leading him to start a fishing club at the high school.
"You don't have to be a good fisherman, or own any gear to come out," Haims said. "If you like spending time outside, getting to know new people, I would recommend [coming to fishing club]."
"
You don't have to be a good fisherman, or own any gear to come out. If you like spending time outside, getting to know new people, I would recommend [coming to fishing club]."
— Jason Haims
"Not a lot of people have a lot of fishing gear, so they can't go out on their own to do it," Haims said. "I thought it was a cool idea to start a fishing club where I can go out with my friends and fish. So last year, I started the club."
Haims started the club in the fall of his junior year. Unfortunately, he was unable to take the group out fishing for the majority of that winter, and when the COVID-19 pandemic struck, Haims thought the club stood no chance. However, once he discovered ice fishing, everything changed.
Ice fishing doesn't require the concentration of standard fishing. Haims believes that the simplicity of drilling a hole, setting a trap, and waiting for a flag to go off was an excellent way to bond with his club.
"While waiting, you can make a fire, cook food, hang out [and] listen to music with the other members of the club," Haims said. "It's really just hanging out outside, enjoying nature and every now and then getting a fish. It's the perfect thing for a club to be doing."
During the most recent ice fishing outing, Haims brought along a group of inexperienced fishers. Overall, the lack of knowledge did not impact the success of the newcomers.
"Everyone who was there for a while who wanted to catch a fish caught one, so that is pretty cool," Haims said. "Kids who have never fished before can pick it up quickly."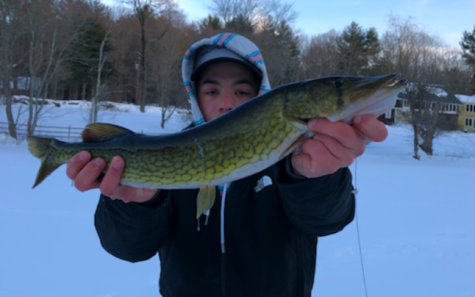 Haims continues to go out on his own to fish by himself, usually in difficult conditions. Although the tough weather may scare off many, Haims believes that it provides the best opportunity for great fishing.
"Some of the best fishing I have ever done is in 10 degree weather," Haims said. "I have had awesome days when I'm wearing three jackets and my hands are frozen to a rod. Some of the most fun fishing is when it is [bad] weather out."
Some days, fishers just don't get lucky. However, Haims believes that some of his most satisfying moments aren't when he catches a fish, but when someone around him does.
"One of the cool things about the fishing club is that even if you don't catch anything, watching kids catch fish and how happy they are is amazing," Haims said. "It is the best feeling watching kids who have never fished before pull one up from the ice."
Leave a Comment
Donate to Wayland Student Press
Your donation will support the student journalists of Wayland High School. Your contribution will allow us to purchase equipment, cover our annual website hosting costs and sponsor admission and traveling costs for the annual JEA journalism convention.
About the Contributor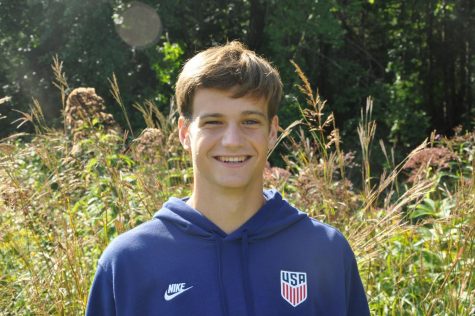 Garrett Spooner, Co-Editor-in-Chief
Garrett Spooner, Class of 2022, is a third year reporter and co-editor-in-chief of WSPN. He plays for the high school's soccer and basketball teams....