Sophie Ellenbogen: I enjoy painting because it is something different in my everyday activities
Artistic talent doesn't come to everyone, but it comes naturally to junior Sophie Ellenbogen. She may be more well-known for her impact on the soccer and lacrosse fields, but she has a talented creative side to her as well. Although art is not something she is looking to pursue, she has used it as an outlet to fill her time.
Ellenbogen discovered her creative side when she was young and developed those skills into painting. With so much going on during her junior year, she uses painting to her advantage to help release tension but also push herself to do work.
"I ended up getting back into painting during quarantine because I had more time to do it. With all the free time I had on my hands during quarantine, I filled it [by painting] so I wasn't bored," Ellenbogen said.
At the start of high school, Ellenbogen struggled to find time to paint. Quarantine helped spark the creative energy in her, and she has been able to carry that passion through junior year that she also uses to her advantage with school.
"The time of day I normally paint is more towards the night," Ellenbogen said. "I start to paint as a way of procrastinating my homework. I do this because I feel like I do my work better when I'm under pressure."
Ellenbogen has self-taught herself through the years, and she recently began to paint more. Ellenbogen has never taken a formal art class, although she has been interested in the subject for a while.
"I took Art 1 my freshman year, and I took an art class when I was in first grade. I have been painting ever since I was a little girl and even though I enjoyed those classes, I don't like being told what to do," Ellenbogen said.
Without much training, she searches up keywords online to get more ideas for her work. Different forms of social media can open up a world of different forms of inspiration. Ellenbogen looks at pieces for ideas and puts her own twist on them.
"I'll usually see something on social media, mostly Pinterest, and I'll try to recreate it in some way," Ellenbogen said. "When doing this, I will mix up the colors and add different kinds of details to it."
Ellenbogen's paintings, however, take a lot of time. As a high school junior stressed about school, standardized testing and the college search, she doesn't have as much time to dedicate to personal art. From deciding what to paint, tracing the picture and finally laying down the paint, the process can be lengthy and leave little time for obligated homework and other extracurriculars.
"I take on a new piece every once every two months. I'll do a little bit of painting because I'm busier with school," Ellenbogen said. "One painting will take me a minimum of three hours and the most I ever spent on a piece was 12 hours."
With many paintings, she had to figure out what to do with them. This past year, Ellenbogen found out she could turn her hobby into a profit.
"I hang my favorite pieces in my room and I was also [inclined] to sell some on eBay. I saw that other people were able to make money off their work by selling it online, so I decided to give it a try," Ellenbogen said.
As an athlete, having an artistic side provides switch-up in her activity. Even though painting is a procrastination method, and it is not a constant in her life, she finds it a great way to spend her time.
"I enjoy painting because it is something different in my everyday activities," Ellenbogen said. "The best part is the process, especially seeing the blank canvas go and turn into something over time that I am proud of."
Leave a Comment
Donate to Wayland Student Press
Your donation will support the student journalists of Wayland High School. Your contribution will allow us to purchase equipment, cover our annual website hosting costs and sponsor admission and traveling costs for the annual JEA journalism convention.
About the Contributor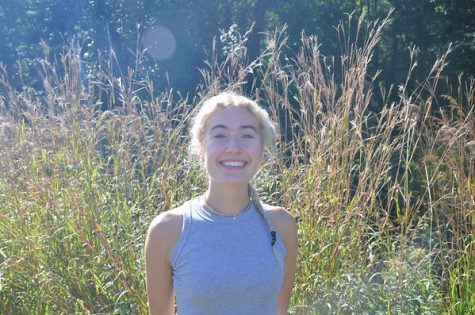 Emily Staiti, Social Media Editor
Emily Staiti, Class of 2022, is a 3rd year reporter and the social media editor for WSPN. She plays soccer and lacrosse for WHS. Outside of school she...