Prash Subbiah: I can see myself continuing with fencing for a lifetime
Sophomore Prash Subbiah ducks and weaves, desperately trying to avoid the sword of his opponent whilst attempting to deal a blow of his own. After a frantic lunge, Subbiah flicks his wrist, thrusting the point of his blade directly into his opponent's chest. Walking away, Subbiah conceals a grin beneath his mesh mask.
While many may have confused it for a 15th century duel, the scene depicted above is actually a small portion of a fencing match. Fencing is not the most well-known activity, but those who compete are highly aware of the fast tempo and intricate skills which have led many to become infatuated with the sport. A match, or bout, involves two participants, each of whom attempt to touch each other with long, thin swords in order to accumulate points.
Subbiah's fencing career began in a rather unconventional manner; he first learned of the sport in the second grade, after watching a cartoon character participate in a bout.
"I saw fencing featured on the PBS Show 'Fetch!'," Subbiah said. "It seemed interesting, so I figured I'd give it a try."
Subbiah then opted to join a highly successful, competitive fencing club in order to pick up the basics of the sport. He has since continued to train there, dedicating large amounts of free time to practices.
"Since I started, I have trained at a club in Natick called Zeta Fencing," Subbiah said. "I practice five times a week, with each practice being around two hours long."
One of the more interesting aspects of fencing is that the sport is subdivided into three events, each of which has its own rules and sword.
"There are three variants, or 'weapons,' in the sport of fencing," Subbiah said. "They are Foil, Epée, and my weapon: Saber. [The variants] vary in the physical shape and length of the sword, in addition to the way in which you score."
Subbiah's event, Saber, is characterized by its intense, aggressive points.
"One of the things that differentiates Saber from the other two weapons is the incredibly fast pace of the action," Subbiah said. "Because you don't have to hit with the [tip of the sword], the fencers can be slightly less precise, creating a big advantage in going fast. Each point usually only lasts a few seconds, and you are going full throttle throughout."
Subbiah also takes pride in his ability to master the different nuances of fencing — at the highest levels of competition, one must be adept in all facets of the sport.
"My favorite aspect of the sport is the blend of strategy, technique and athleticism that is needed to win," Subbiah said. "It can be frustrating when you feel like you are getting two of those right but are missing the third, but the multidimensionality makes improving interesting and fresh."
Over time, as Subbiah engaged in more tournaments, he emerged as a premier competitor, eventually attaining a top-100 ranking nationally in his age group and event.
"As of right now, I am ranked 80th in the nation for my age group, though I haven't been to a tournament in more than a year due to COVID," Subbiah said.
Subbiah did note, however, that the nature of fencing enables external factors to affect one's performance.
"Since fencing is an individual sport, people tend to have peaks and troughs based on their levels of motivation at any given time and the form they are in," Subbiah said.
Despite his high ranking, Subbiah refuses to rest on his laurels and continues to strive for success.
"Although I feel good about my skill level, I am always trying to push myself to take it to the next level," Subbiah said. "The thing that really motivates me is the knowledge that there will always be so much room to improve and better my fencing."
That's not to say that his achievements don't provide Subbiah with a sense of gratification, though.
"There isn't a single accomplishment that stands out to me as my biggest, but I can say that I am proud of some of the rankings I've achieved and tournaments I've won," Subbiah said. "Pre-COVID, I was ranked in the top five in the Northeast Region for my age group, in addition to my National Ranking."
As of right now, Subbiah has not made any particular plans for the future, at least as far as college goes, but he hopes to pursue his fencing career regardless.
"I have no plans on giving it up any time soon," Subbiah said. "I'd like to [carry on] with the sport in college; I can see myself continuing with fencing for a lifetime."
Leave a Comment
Donate to Wayland Student Press
Your donation will support the student journalists of Wayland High School. Your contribution will allow us to purchase equipment, cover our annual website hosting costs and sponsor admission and traveling costs for the annual JEA journalism convention.
About the Contributor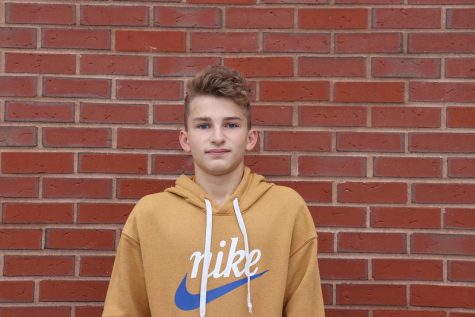 Michael Nechipurenko, Staff Reporter
Michael Nechipurenko, Class of 2023, is a first year reporter for WSPN. He plays for the high school's soccer team. Outside of school, he enjoys reading...