Letters from afar: Pen pals
Right now in the language wing, students are connecting with the world. Wayland High School Spanish teacher Jessica Skehan assigned her Honors Spanish 4 students a pen pal assignment where they are communicating with teenagers in Vigo, Spain. Along with Spanish teacher Jill Swenson's AP students, they are reaching out through email to deep dive into one another's cultures.
Skehan originally initiated the project through the help of her former student, WHS 2017 graduate Jamie Berkson. Furthering the skills she learned in her high school courses, Berkson is currently teaching English to Spanish speaking students in Vigo.
"It's so special to me because this is my Spanish student who went off and is working in Spain," Skehan said. "It's everything you dream of as a teacher that here is a graduate who is still interested in language and still interested in making cultural connections."
Since mid-December, WHS students have been sending messages to their pen pals written in Spanish, while the students in Vigo respond in English. They are matched with a student of their similar age, like Spanish 4 student Marcos Whelton, who has a pen pal who is also 17-years-old. Skehan hoped this would allow them to closely relate to each other.
"I was really surprised he had really good English, and I think his English sounded better than my Spanish does," Whelton said. "I responded to him numerous times, we talked about what Christmas traditions in America look like because the start of the assignment was [during Christmas time]."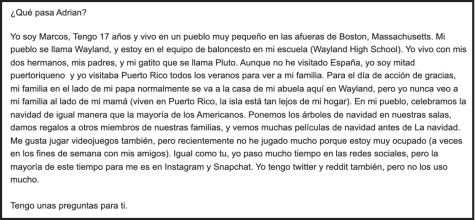 Skehan believes that learning about direct opinions on pop culture, clothes and trends of Spanish teenagers will bring about a new level of knowledge that would be difficult to teach. Students have conversations about television shows, musical groups and social media, which allows them to find similarities in what they both do on a day to day basis.
"Sometimes in the classroom you don't have the chance to really understand the culture," Skehan said. "This is a way to connect with an actual human who is going through the same thing as you are just in another country and another high school."
"I think it definitely puts our in class learning into the perspective of the real world," Spanish 4 student Allie Chase said.
Along with learning the ins and outs of Spanish culture, students from the U.S. and Spain have discovered parts of each other's cultures. WHS students received videos and information about regional dances, languages and food. While the students in Spain are able to receive answers to their questions like what an average meal looks like. Skehan believes it is a great lesson to be able to present a racially diverse, multicultural high school to the students who may have a preconceived notion of what American life looks like.
"As I have been talking to this person, I have learned more about other people and how people in other countries think of us as Americans," Whelton said. "I think it is interesting to see a different perspective from a continent away."
At some point in the future, Skehan hopes to be able to virtually connect the students via a video call. After a year of interacting exclusively over email, she believes it would be exciting to match a face to the name. Even if it is only to smile and wave at the other students, she expressed interest in a video experience to bring the students together.
"I think the pen pal project is cool because I get to meet and learn about someone new," Chase said.
Unfortunately for her hopeful students, Skehan does not know whether the pen pal letter writing can carry over to another year. Burkeson will only have the students until the close of the year, so she cannot tell at this time whether she will still have a connection.
"If it's something we can maintain with the school, and it's something that we could do with another teacher, then for sure I would keep it up," Skehan said.
Therefore, Skehan hopes that her students are able to take advantage of their interactions with their pen pals since the future of the program is not guaranteed. However, many students hope that Skehan can find a way to continue the program for years to come.
"I think that Ms. Skehan should continue the assignment for upcoming years," Whelton said. "It's a good practice assignment, and I don't know why she wouldn't have students continue with it in the future."
Leave a Comment
Donate to Wayland Student Press
Your donation will support the student journalists of Wayland High School. Your contribution will allow us to purchase equipment, cover our annual website hosting costs and sponsor admission and traveling costs for the annual JEA journalism convention.
About the Contributors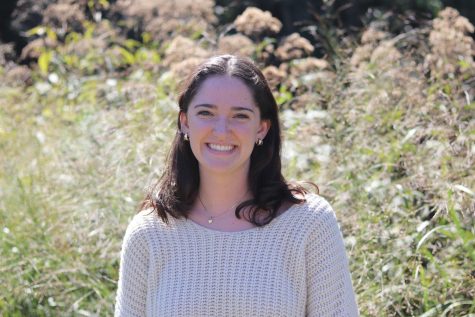 Nina Wilson, Copy Editor
Nina Wilson, Class of 2023, is a second year reporter for WSPN. She is director of Window Dance Ensemble at Wayland High School. While not at the high...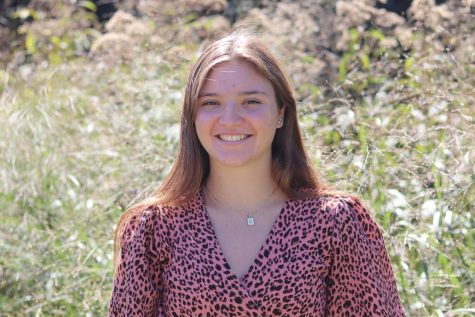 Sophia Oppenheim, Co-Features Editor
Sophia Oppenheim, Class of 2023, is a third year reporter and co-features editor for WSPN. She plays on the school's field hockey and swim team. In her...