2022 Drama Festival: Horse Girls and more
Culture. Competition. Compassion. These three words pale in comparison to the unique atmosphere of the Massachusetts Educational Theater Guild's (METG) annual Drama Festival. On March 19, WHS will host one of the preliminary events for a statewide theater tournament.
Under the dim lights of the auditorium, six schools' performances will connect total strangers through drama performances that last a total of 40 minutes or less.
"There's just so much theater that never gets seen by so many people," sophomore production stage manager Amelia Furlong said. "So it's awesome to just be able to share the art, culture and the hard work that goes into these things. It's great that we can reach so many more audiences."
The festival was cut short in 2020 due to COVID-19 and canceled in 2021 for the same reason. This means that it will be the Wayland High School Theater Ensemble's (WHSTE) first festival in a few years to show off their hard work during the competition.
"I'm just really excited that [the festival's] coming back," WHSTE senior co-president Grace Stephenson said. "It feels like so long since we've done it. Technically, it's only been two years, but [2020] was cut short so it was different."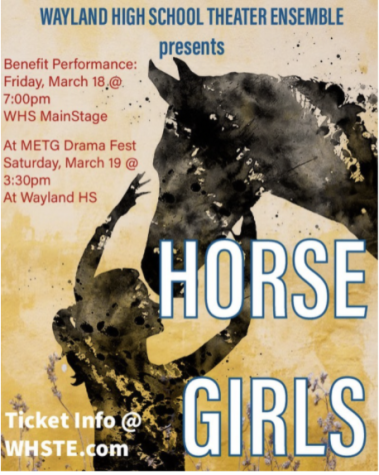 The play directors and students have been working hard since auditions in December to create a one-act called Horse Girls that the audience will love. Horse Girls is a slice-of-life performance about a group of pre-teen girls running a horseback riding club from their friend Ashley's bedroom.
"I think [Horse Girls] is a very dark comedy," WHSTE Director Aidan O'Hara said. " There is some foul language and some of the themes are, again, darkly comic. [The themes of the play] are not meant to be disturbing at all. They're actually meant to be funny. But, technically, they might not be appropriate for all audiences."
However, if dark comedies aren't your cup of tea, the themes of the five other competing schools' one-acts all vary dramatically from one another. The official schedules for the plays can be found on METG.org if there's a different school you're interested in watching on March 19 from 9:30 a.m. through 3:30 p.m.
"There's just an amazing creativity [in theater] that people might not expect to find among high schoolers, but it exists," Stephenson said.
The five other schools competing at Wayland include Cambridge Rindge and Latin School, Weston High School, Wilmington High School, Acton-Boxborough Regional High School and Lynn English High School. After the performances, the judges will determine which three schools move on to Regionals and give out All-Star awards as best lighting or best actor. Although the competition is a large aspect of the festival, O'Hara feels it is necessary to remember that the most important part of the festival is the opportunity to share their effort with others.
"We try really hard to not pump up the competitive part [of the festival] because [theater] is an art form," O'Hara said. "It's so subjective. It would be one thing if [the competition] is a 100-yard dash—someone's going to be the fastest— or in a basketball game [because] someone's going to score the most points, but when you share theater and plays, it's so different."
It's not just a simple competition for the underclassmen who have never participated in the festival before. The festival is an important part of their theater culture, and the underclassmen are excited to experience it for themselves after hearing so much about it from their upperclassmen.
"It's like this mythical being, the theater festival," Furlong said. "Like it's a right of passage almost."
The excitement for the festival is palpable as students from different schools come together to celebrate their love of theater while learning from each other's performances.
"I never see the auditorium that electric and crazy," O'Hara said. "Once the lights go down and the play starts, it's super silent and people are into it. If [the play] is supposed to be funny, there's a great reaction. If it's meant to be dramatic, people are at the edge of their seats."
If you want to get a taste of the unique atmosphere for yourself, tickets are on sale for $15 at the door. Additionally, if Saturday is busy for you, you can buy tickets at WHSTE.com for $5 per student and $10 per adult to support WHSTE's Horse Girls at 7:00 p.m. on Friday, March 18.
"It's just like going to the school's basketball game on a Friday night and cheering them on," O'Hara said. "One could come to Wayland's show on Saturday at 3:30 p.m. and experience the show to support the group."
The festival only comes around once a year and is an experience one can't miss. With each school putting in its best effort to perform a show that the audience will love, the festival creates a creative environment that is difficult to recreate elsewhere.
"There's something unique about sharing a play with other high school students that's different from say the Friday night show or the Thursday night show," O'Hara said. "It's just one of those environments that's really hard to explain unless you've experienced it, so I'd call it visceral."
Leave a Comment
Donate to Wayland Student Press
Your donation will support the student journalists of Wayland High School. Your contribution will allow us to purchase equipment, cover our annual website hosting costs and sponsor admission and traveling costs for the annual JEA journalism convention.
About the Contributor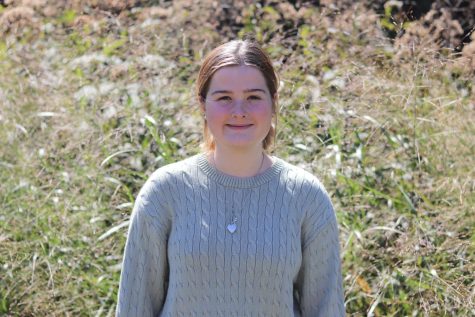 Aimee Smith, Copy Editor
Aimee Smith, Class of 2024, is a second year reporter and a copy editor for WSPN. In her free time, she enjoys reading, baking and spending time with friends.

Contact:...