Taking the next step: Wayland athletes commit to play post high school sports
According to recent NCAA statistics, a little over 7% of high school athletes play in college. Further, less than 2% play Division I athletics. At Wayland High School this year, nine athletes have so far committed to play their respective sports at a higher level.
For many of these nine student-athletes, their journeys to commit to playing at a higher level started in their younger years, even kindergarten. However, senior Jillian Cook, who is committed to rowing at Bates College, started participating in crew as a high schooler.
"I thought I was going to play field hockey in high school, but I ended up rowing because my sisters did," Cook said. "It just seemed fun, and I wasn't really loving field hockey."
During her sophomore year, Cook transitioned to row for the club program Riverside Junior High Performance Rowing. To Cook, her specialized coaches made a difference in her recruitment process.
"I had really good coaches who were really hands-on with me, explained everything, made sure that I wasn't pressured into doing anything and told me to really be patient with the process," Cook said.
Similarly to Cook, senior Daniel Bede, who is intending to take a post-graduate year at the Berkshire School and start his college career at Gonzaga University following, did not play high school soccer his senior year. The summer before the start of his senior season, Bede decided to play in the MLS Next league with the New England Revolution Academy.
"I definitely would not have been in the same spot [had I stayed in Wayland]," Bede said. "My [New England Revolution Academy] coaches were adamant that they were going to push to get me to college."
For many of the committed athletes at the high school, the spark that pushed them to pursue their sports at the higher level started during COVID-19. For senior Reid Vanslette, who is committed to play football at Union College, his quarantine lifestyle pushed him to realize how important it was to get to the next level.
"I had a huge 'aha' moment in quarantine when I was like 'dude, I'm doing nothing all day, I don't want my life to be like this,'" Vanslette said. "I talked to my parents about this and explained that my best way of getting into a good college was football."
Vanslette toured many Division III schools in the northeast. The relationship he had with the coaching staff led him to Union College.
"It came down to a handful of schools, and I slowly started crossing them off based on things that I realized along the way," Vanslette said. "A couple schools in Pennsylvania didn't value me as much as others. With Union, the coaches were the best people that I met."
Bede shared the same feelings as Vanslette when he first toured Gonzaga University.
"The players were telling me that you're almost a little celebrity there, so it's cool to have a little bit of that," Bede said. "The coaches believed in their program and in me, which I think is massive."
Senior Adam Goodfellow, who will be playing football at Endicott College next fall, felt most comfortable at Endicott due to the relationships he has with their current players. There are already two Wayland football alumni at Endicott, brothers freshman Matt Morris and sophomore Brett Morris.
"I know that I'll fit in," Goodfellow said. "I won't start from the bottom."
Cook was enamored with Bates College due to the size and culture of the school. She turned down Division I programs as they didn't fit her wanted lifestyle as a college student.
"I liked how it wasn't a big [Division I] team," Cook said. "I went on a few official visits at bigger Division I schools, and they just seemed too much for me. I wanted the college experience along with the rowing experience."
Annually, Wayland sends athletes to college to play their respective sports. To Vanslette, WHS' academic and athletic reputations help athletes realize their goals.
"When people hear 'Wayland,' they think of this high-academic, decently athletic school, so it's already getting extra positives through that," Vanslette said.
Along with Cook, Bede, Vanslette and Goodfellow, seniors Greg Deeley (Trinity College wrestling), Sidney O'Rourke (Wooster College lacrosse), Alex Mele (Rensselaer Polytechnic Institute lacrosse), Michael Davis-Francis (American International College lacrosse) and Jackson Dresens (Bridgton Academy soccer) also committed this year.
To many, it marks a significant milestone in their athletic careers.
"It feels surreal," Cook said.
Leave a Comment
Donate to Wayland Student Press
Your donation will support the student journalists of Wayland High School. Your contribution will allow us to purchase equipment, cover our annual website hosting costs and sponsor admission and traveling costs for the annual JEA journalism convention.
About the Contributor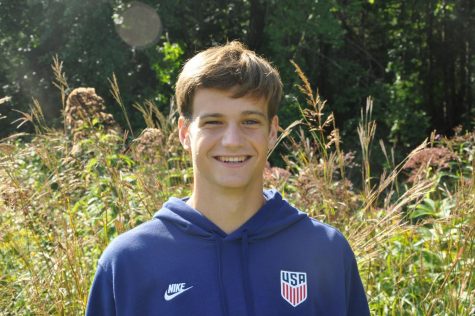 Garrett Spooner, Co-Editor-in-Chief
Garrett Spooner, Class of 2022, is a third year reporter and co-editor-in-chief of WSPN. He plays for the high school's soccer and basketball teams....