Athlete of the Month: Lucas Pralle
Having to deal with COVID-19 and the obstacles that come with it, many members of the Wayland High School swim team have learned to overcome these setbacks and continued to find success this season. For senior Lucas Pralle, not only did he deal with those challenges, but he excelled and found success during his senior season.
The WHS boys swim team placed second this year at states with Pralle coming in first place in his event, the 100-meter butterfly. Pralle beat all of the Division I teams as well as the Division II teams at states, leading him to victory.
"This win has been a long time coming, so it was great to finally get a state victory," Pralle said.
Pralle started swimming in first grade in the recreational league in town called the Wayland Junior Warriors. Pralle had no idea what his future with swimming would look like when he first started swimming 11 years ago.
"I initially started because my parents thought it would be a good thing for me to get swimming lessons," Pralle said. "I had done a little swimming at summer camps before that, but this was the first time that I had been on a real team. This was also the first time I had joined a town sports team."
Over the past couple of years, the boys swim team has been known as one of the best in the state. The program may have talented swimmers, but many believe that reputation wouldn't have been possible if not for the outstanding coaches.
"I have had many different coaches during my swimming career so far," Pralle said. "My first coach, Ms. Shwartz, was one of the first people to help me into the pool. I believe it was the high school coaches like Sean Devlin, Jack Brown and our main coach, Ms. Downs, that really got me competitive towards the sport."
Growing up, Pralle always had a competitive spirit that led him to the top. Even as a seven-year-old, he found a lot of success against the other recreational league swimmers.
"As self-centered as it may sound, I really enjoyed winning and beating others [when I was younger]," Pralle said. "As I have moved to high school, my reason for swimming has since changed. I find that I am now swimming to benefit the team and for a collective team victory as opposed to a personal one."
Pralle associates much of his success with the high school coaches who have worked tirelessly to create a strong program. Even though the boys team has graduated a lot of athletic talent over the last four years, the program has still performed to its full potential.
"[My success] should really highlight the dedication and talent of our coaching staff," Pralle said. "I believe that we have the best coaches in the state, and if not for them, nobody, including myself, would be at the level we are at today."
As Pralle looks forward to graduating in three months, he reflects on his favorite memories from his high school swimming career. Sectionals during his sophomore year and states during his senior year have been some of his highlights over the past four years.
"Those were some of the hardest fought meets where everyone involved improved and excelled," Pralle said. "I can still remember the energy that we had at those meets."
Entering his senior season, Pralle was determined to lead the boys program to the top. Luckily, the group of boys on the team this year came ready to win.
"I believe that we have some of the best mentalities currently," Pralle said. "When I look at the kids in the program after a hard race, I always hear about how hard they need to train to get back to win. Everyone has a sense of pride as a part of this roster, and the energy that we bring to practices and meets is what enforces our goals."
Entering states this year, the Wayland swim team was projected to place fourth. The team aimed for second place and achieved its goal. Almost every swimmer dropped their seed time, and almost every swimmer contributed points for the team.
"It feels amazing to be a part of a team that has performed as well as we have," Pralle said. "Everyone puts in the work in practice and our coaches work tirelessly to train and guide us to be the best swimmers we can be."
As Pralle looks to the future beyond his high school swimming career, the possibility of swimming in college is still on his mind and is something that he is working towards.
"As of right now, I have talked with quite a few coaches regarding my ability to swim in college," Pralle said. "For a few of the schools that I applied to, the coaches were able to guarantee a spot for me on the 2022-2023 roster."
Being a member of such a well known swimming program, Pralle believes the foundation of the team's success is the reputation that has been created regarding the team.
"Knowing that we were the reigning champs year after year pushes us to work even harder," Pralle said. "This year, we certainly had our work cut out for us to perform up to the level of expectation, but the team always works hard to reach those goals."
Although Pralle's high school swimming career has come to an end, the memories he has created with his teammates are something he will remember forever.
"I will miss all of the team bonding events and the traditions like team dinners, team bleach and team shave," Pralle said. It has been amazing to have been a part of so many strong swim rosters over the past few years."
Leave a Comment
Donate to Wayland Student Press
Your donation will support the student journalists of Wayland High School. Your contribution will allow us to purchase equipment, cover our annual website hosting costs and sponsor admission and traveling costs for the annual JEA journalism convention.
About the Contributor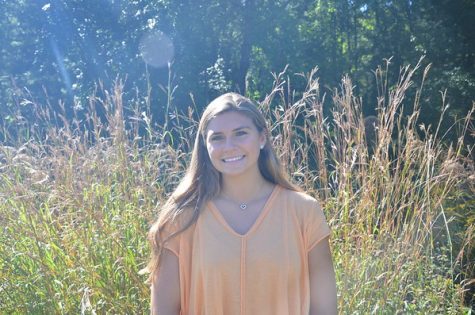 Sammy Johnson, Co-Sports Editor
Sammy Johnson, Class of 2022, is a 3rd year reporter and sports editor for WSPN. She plays soccer, basketball, and lacrosse for the high school. Outside...