Wayland Spelling Bee returns for 30th annual competition
There's nothing quite like seeing the concentrating faces of elementary school students as they pour over whiteboards. Each group of three so intensely focused on spelling that round's word that they jump with joy when they hear the judges announce, "correct."
On March 27, the Wayland Public Schools Foundation (WPSF) resumed its annual Spelling Bee, which had been canceled in both 2020 and 2021 due to COVID-19. There were over 350 elementary school participants, 70 volunteers and over 1000 guests.
Originally, WPSF had to follow COVID-19 guidelines, so students and spectators would be required to socially distance and wear masks while in the building. However, the restrictions were lifted right before the competition, allowing the Spelling Bee to run the way it had been pre-pandemic. The event was held at Wayland High School starting at 12:00 p.m. and ending at 4:30 p.m. with 35 minutes rounds. Each round included six to nine teams of the same grade competing against each other.
"Two weeks ago, we would've had to have [the kids] spread three feet apart, communicate with masks on and agree on a word to present as their answer," co-chair of the Spelling Bee committee Melissa Davis-Bell said. "Luckily, we're getting back to sitting close together with optional masks. It feels more like what the Spelling Bee used to feel like. It's full of families, spectators, kids, galore."
Although the Spelling Bee is a fundraiser by name, the foundation doesn't profit from the event since it's really meant to be an opportunity for kids to team up and spend time with their friends.
"The purpose of the Spelling Bee is to be something for the elementary kids to do," Davis-Bell said. "It's fun, it's challenging and it's an opportunity for the kids to meet with their friends and hang out."
The Spelling Bee has been a community favorite as 2022 will be the 30th annual Spelling Bee, but WPFS hosts other events and competitions for adults that are centered around fundraising and education.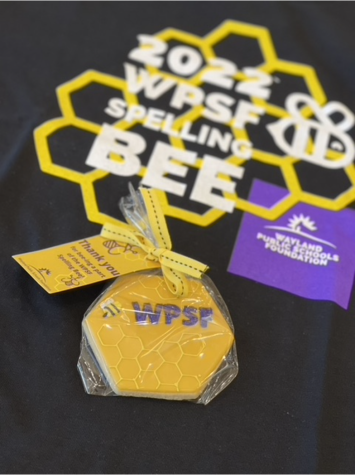 "For a long time, there weren't a lot of events that were geared towards the kids other than the Spelling Bee, but last year we had the Treasure Hunt, and this year we have The Amazing Race," co-chair of the Spelling Bee committee Lauren Reynolds said. "We're really trying to balance it and have events that are geared for the parents and geared for the kids, and this, like I said, is definitely for the kids."
The students partaking in the Spelling Bee also enjoyed the competitive aspect. Vivian Frutman, a fourth grade student at Loker Elementary, formed the team "Beautiful Bees" with her friends. Together, they were challenged with words like "preference" and her personal favorite, "giraffe." To prepare for the competition, Frutman and her team would practice the list of fourth-grade-level words, which helped her team reach the top four of their round.
"[I signed up for the Spelling Bee] because my friends wanted to do it and it sounded fun, so I joined them," Frutman said.
Although a large portion of the Spelling Bee is the competition, it also helps to foster a community between the participating elementary school students.
This year, Reynolds observed how one team of three allowed another girl to join their team after both of the girl's teammates had to withdraw right before the competition. It's this kindness that encapsulates what the Spelling Bee means for the Wayland community. Students who may never otherwise interact are given the opportunity to collaborate and learn together.
"[The girl joining the other team] was the most unbelievable, kind, thing that I've seen in all the years that I've [volunteered] at the spelling bee," Reynolds said. "She just moved on over and joined their team. It's those kinds of things that make [the Spelling Bee] so special."
Leave a Comment
Donate to Wayland Student Press
Your donation will support the student journalists of Wayland High School. Your contribution will allow us to purchase equipment, cover our annual website hosting costs and sponsor admission and traveling costs for the annual JEA journalism convention.
About the Contributors
Aimee Smith, Business Managing Editor
Aimee Smith, Class of 2024, is a third year reporter and the Business Managing Editor for WSPN. In her free time, she enjoys reading, baking and spending...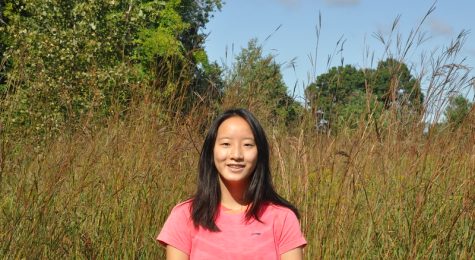 Annabelle Zhang, Staff Reporter
Annabelle Zhang, Class of 2024, is a first year reporter for WSPN. Outside of school she enjoys playing badminton, drawing and spending time with her cats.

Contact:...