Athlete of the Month: Quinn Gleason
At the Head Of The Charles Regatta, eight rowers in orange and maroon suits glide down the river. Sitting in the stroke seat of the boat is senior Quinn Gleason. She focuses closely on her oar as it moves swiftly back and forth with the water.
Gleason began rowing her summer going into eighth grade for the Wayland-Weston middle school program. At first she wasn't enthusiastic about the sport, but when she later joined the high school team as a novice, her views on the crew team changed.
"At first, I thought it was a little weird, because being in the middle school program is very different from the high school program," Gleason said. "Once I was finally a novice, and I got to row with the rest of the high school athletes, I thought it was really fun."
Gleason notes that one of her favorite aspects about crew is the community. Her team supports her and tries to keep a positive environment when it comes to competitiveness within the team.
"[The crew team] is very welcoming and friendly," Gleason said. "Especially this year, we're the closest we've ever been. All the girls support each other, and we all care that we're doing our best and that we're healthy and happy, so I just think it's a really big family, and I love it."
Gleason has faced many challenges throughout her high school rowing experience regarding the fact that the sport has a very competitive nature to it.
"Sometimes you find yourself overworking yourself, and it can just become a really big burden on your mental health and your physical health, and that becomes a little bit much at times," Gleason said. "But that's what your team is there for. Everyone helps each other get through their hard times and even when you're having a rough moment, or you're not getting as fast as you want to be, you know it's going to be okay."
Gleason has won many regattas as part of a team and in a solo boat. One of Gleason's biggest achievements is rowing at the Head Of the Charles Regatta, where rowers from around the country of all levels come to row.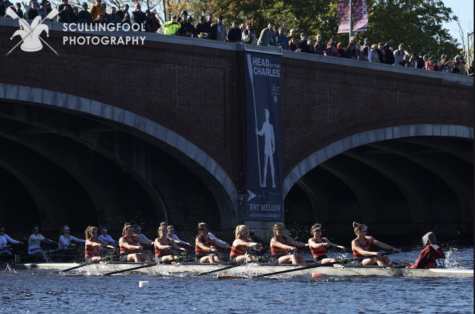 "This was my first Head Of the Charles because of [COVID-19], so we didn't get to go last year," Gleason said. "I thought it was really cool because I never really rowed on the Charles [River] before, and it's honestly kind of a scary place to be, since it's so crowded and the excitement is crazy. I've never been at a regatta where that many people were looking at me."
Recently, Gleason announced that she will continue her rowing career for Bates College in Maine; Bates is a NCAA Division III school. The college process was different for Gleason, as she only knew she wanted to row in college her senior year.
"I actually only figured out that I really liked [Bates] in December, which is super late when you come to think about it," Gleason said. "I just kind of talked to the coaches and figured out how they would help me in my application. Eventually, I just decided that I liked Bates the best and their community and the assistant coach that I met. That's when she told me she would support my application."
Next year, the Bates College crew team will be gaining two Wayland High School students, as Gleason and senior Jillian Cook are both committed to row for the college. However, Cook rows for the Riverside Boat Club and not the Wayland-Weston crew team.
"After our sophomore fall, Jillian went to another rowing club," Gleason said. "We're actually really excited to be going to Bates together because we haven't rowed together in so long. I think that's going to be really fun to come back together after not having rowed together for a while."
Not only does Gleason row, but she has also been a part of the WHS Nordic ski team for all four years of high school. The Wayland-Weston crew team holds winter training at Longfellow Gym in Natick; however, Gleason prefers the ski team, since it allows her to cross train.
"I'd rather be outside skiing in the fresh air, than inside Longfellow erging," Gleason said. "I think it's a nice break from crew, because you spend the spring and the fall rowing, so doing it all year round would be kind of crazy, but I think that it's really nice to have a different sport for off [season] training."
Gleason expresses that she is incredibly passionate about crew, and she hopes to continue rowing her entire life. A goal of Gleason's for college rowing is to row at the NCAA championships, as Bates College has been victorious in the past.
"I hope I can be a rower forever," Gleason said. "It's a sport you can do throughout your whole life [since] there's tons of master's programs, and that's really exciting to think about because some sports you can't do your entire life, but you can always row."
Leave a Comment
Donate to Wayland Student Press
Your donation will support the student journalists of Wayland High School. Your contribution will allow us to purchase equipment, cover our annual website hosting costs and sponsor admission and traveling costs for the annual JEA journalism convention.
About the Contributor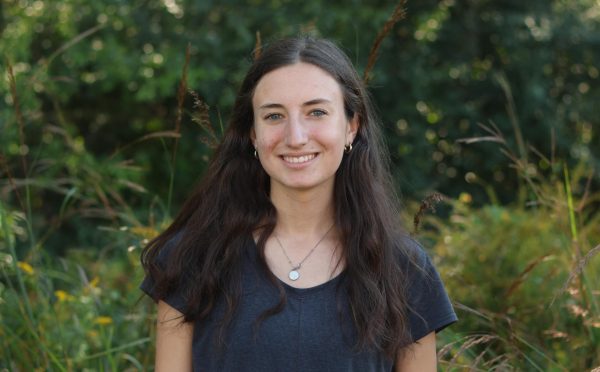 Sasha Libenzon, Co-Multimedia Editor
Sasha Libenzon, Class of 2025, is a third year reporter and second year co-multimedia editor for WSPN. She runs and skis for WHS. Outside of school, she...