Walk for a reason: Wayland graduate Abby Stoller's Walk MS
A crowd of her 85 closest friends, teammates and family surrounded 23-year-old Abby Stoller as she strode brightly through Boston. Many others like Stoller participated in the Walk MS event on April 3 with the same intention: proving to themselves they could do it and supporting a cause to ensure no one else would be in their place next. To Stoller, this was no normal stroll. Instead, it was showing her multiple sclerosis diagnosis that she could not be stopped.
For Stoller, the idea of such a disease striking her was entirely unexpected. Upon graduating from Wayland High School in 2017, Stoller took her passion for lacrosse to the University of Massachusetts Amherst, shining as a motivated, talented player on the field. She continued this journey to play for Team Israel lacrosse, through the program Lacrosse Birthright. Beginning in 2019, Stoller was given the opportunity to wear the Team Israel uniform, compete in the Women's Festival Team and represent the country along with coaching younger Israeli athletes. She first competed for the Women's Festival and then later in an exhibition.
For three days leading up to Nov. 5, 2021, Stoller experienced great discomfort in her left foot. With an aching numbness, first only feeling like it had fallen asleep, the pain became perpetually persistent. With a phone call planned to her foot surgeon, who she assumed would be the answer to her problem, she went to a private coaching session with a younger lacrosse player. Stoller attempted to ignore the numbness, until it became impossible and spread up her body, snaking up her left leg and to her left arm.
"I could barely catch and throw with a 10 year old," Stoller said. "I kept missing the ball, my perception felt off and I just did not feel like my usual self."
This was the trigger that made Stoller report to Newton Wellesley Hospital. Here, she received a series of medical tests including a CAT scan, blood work, an EKG, a lumbar puncture and more than 10 MRIS. Finally, the doctors told Stoller they had found the culprit of her symptoms: a large lesion in her brain stem, one of the most dangerous areas in the brain to develop a lesion. Stoller was confined to the hospital for four weeks, and then was required to be relocated to the Multiple Sclerosis Center of The Brigham and Women's Hospital.
"The scariest part was the unknown," Stoller said. "The doctors didn't know what had caused the lesion or how it would impact my future."
Stoller's lesion continued to grow, despite the doctors' attempts to impede it with steroids. Her symptoms rapidly grew more and more difficult to live with. With her entire left side numb, she lost control of her balance and coordination, which continued to deteriorate. Once a strong, capable athlete, Stoller grew frustrated with a version of herself that was not able to do what once was easy.
"I was walking into walls, couldn't walk up [or] down the stairs without help," Stoller said. "I remember trying to take pills in my hospital bed and literally missing my mouth because my coordination was so off."
At this point, Stoller had been through three rounds of unsuccessful steroids and was not improving. The entire experience resulted in a large toll on her mental health. Stoller's pre-existing anxiety disorder weighed heavily on her during her time restricted to a hospital bed. Unable to pursue her passion for lacrosse and too drained to keep up with her schoolwork, Stoller felt like all of her hard work towards improving her body was wasting away.
"As a parent, just watching her go through that was so tough to watch," Stoller's mother, Kate Stoller said. "It was incredibly hard for her. All we could do was sit back and give her love and support along the journey."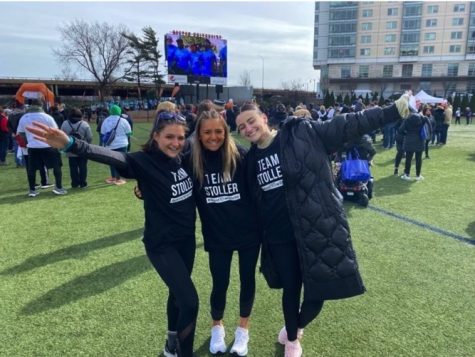 Throughout her time in the hospital, the support that Stoller received, proved to be what kept her spirits up: messages from friends, family and her teammates all provided a light at the end of the tunnel. Her parents sat with her in the hospital every day. Her sisters, Jackie and Lilly Stoller, were with her from afar, sending their love. Throughout all of her time in both hospitals, Stoller always had messages of well wishes pouring in from members of the many lacrosse teams she had been on as well as her community.
"I [was] absolutely blown away by the amount of support from so many people," Stoller said. "I seriously can't thank everyone enough."
Following three rounds of unsuccessful treatment, Stoller's doctors decided on a new route: a plasma exchange. This process, also referred to as plasmapheresis, involves a tunneled catheter insertion where doctors remove the liquid plasma in an attempt to remove lesion-causing antibodies. Stoller underwent five plasma exchanges over a week and a half. Through this, Stoller felt her symptoms slowly but surely begin to decrease. Her walking and speaking abilities were returning to normal. The treatment had proved to be successful. Stoller was discharged from the hospital on Nov. 24, 2021, the day before Thanksgiving.
"I found it kind of ironic I was discharged on that day," Stoller said. "I'm beyond thankful to have been able to spend Thanksgiving in a home with my amazing family."
Upon her returning health, doctors put a name to what Stoller had been suffering through: multiple sclerosis. Though she had heard that this was a likely suspect for her symptoms, this diagnosis confirmed that she had a chronic illness at only 23 years old.
"I admit I had a long period of time in denial," Stoller said. "I kept asking myself 'Why me?'"
But, Stoller would not go down without a fight. After taking a medical leave for four weeks of graduate school at Simmons University, she fought through her lingering symptoms to submit assignments, even when she was not able to type on a computer. With perpetual migraines, lightheadedness and an overall feeling of loss for her pre-diagnosis self, she pushed herself to return to class. In a swiftness unexpected by her doctors, she launched back into her studies and lacrosse, finishing all of her classes that semester. Through this, Stoller was able to come to terms with her diagnosis.
"As a parent, that's all you want," Kate Stoller said. "She's realizing she's okay, and that she can still do the things she always did."
Stoller aimed her academics towards a Master's Degree in Social Work in hopes of becoming a pediatric therapist. Through her experience with multiple sclerosis and otherwise, she has seen firsthand the result of mental health struggles. Stoller wants to help those in a similar position through their struggles.
Stoller has also acted towards this effort by posting her experience on her Instagram page. She posted a video complete with an extensive caption to explain her story, with the goal of eliminating the stigma surrounding her disease. Stoller hoped to shine a light on how the adversity she faces ultimately helped inspire her, and how adversity could similarly inspire others.
"I've learned many lessons on my journey so far: to control what is controllable, to listen to my body, to stay positive and to just take it day by day," Stoller wrote.
Stoller was also able to use this post as a way to promote her fundraising for her upcoming Walk MS. The idea first came up when Stoller's grandfather, Fred Lerner, encouraged their relatives to participate in the upcoming Walk MS event in April at Boston University's Nickerson Field as a gift for his birthday.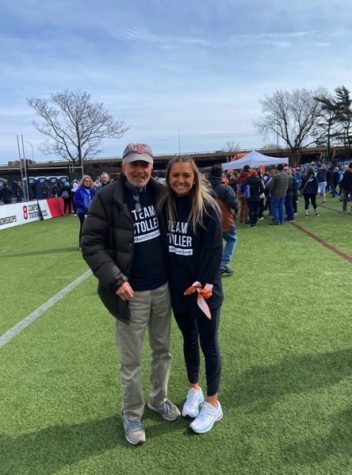 Hosted by the MS Society, Walk MS is a fundraising venture with events across the country with the shared goal of ending multiple sclerosis. Since its beginnings in 1988, the Walk MS program has raised over $1 billion towards its cause. The Boston walk surpassed its original goal of $225,000 and raised a total of $352,000 that will continue to grow as it reaches its deadline in September.
"The Society funds cutting-edge research, drives change through advocacy, facilitates professional education, collaborates with MS organizations around the world and provides programs and services designed to help people with MS and their families move forward with their lives," Anna Simons, a fundraising support associate of the MS Society, said.
In 2020, the Society used the $44.3 million of the funds raised through these events and donations towards their client and community services, helping those suffering from MS and their families through this trying time. The Stoller family, having been through this, decided it was a cause they wanted to support. They reached out through social media, to their family members and to anyone who might donate to their fundraising. Through many offers to walk alongside them and donations flooding in, the family received an influx of support.
When a crowd of 934 participants gathered for the walk on the morning of April 3, it included 85 of Stoller's friends, family and teammates, who combined represented Team Stoller. Stoller completed the walk with her loved ones by her side, promptly hugging her father upon crossing the finish line. Team Stoller exceeded its personal goal of $20,000, raising $21,751 through the walk for the MS Society in Stoller's honor.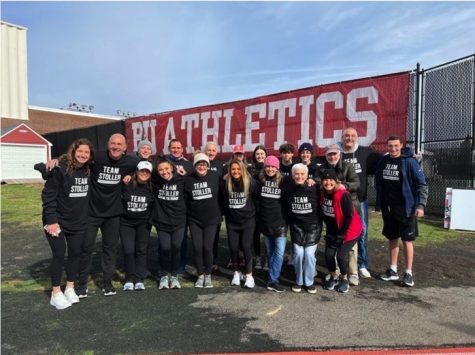 The vast majority of those walking live with multiple sclerosis or have a relative who does. An event such as this served to unite these people, proving that they are not alone in their battle.
"There is no better feeling than what you experience at a Walk MS event and this year was extra special," Melanie Hieronimus, a Massachusetts representative of the MS Society said. "After not being in person since 2019, people were so happy to just be together again. There was a shared joy and energy that you could feel across the field; it felt like one big reunion."
Stoller's journey with multiple sclerosis is far from over. With trials of numbness, nerve pain, extreme fatigue and differences in her energy levels, Stoller faces the effects of her disease daily. However, she's confident that facing this adversity has only made her stronger. She has returned to playing lacrosse and is on track to receive her Master's Degree soon. With her friends and family by her side, Stoller knows multiple sclerosis will not stop her.
"I seriously cannot thank everyone enough," Stoller said.