Not just a publication, but a family: WSPN's 15th anniversary
Chatter fills the Wayland High School lecture hall as students sit in their assigned sections, brainstorming the next big article. Although Wayland Student Press Network (WSPN) currently consists of over 50 student journalists, it didn't start off this way.
15 years ago, a lone student, Robin Kim, approached technology specialist Mary Barber and WHS English teacher at the time, Janet Karman, with the idea to create an online publication. Kim, who was a sophomore at the time, coded the entire website himself and on May 1, 2007, WSPN was officially launched.
Before WSPN was established, English department head and current WSPN adviser Brian Keaney advised the WHS print newspaper, "The Last Word." However, once the online newspaper was launched, it proved to be more popular among students, and there was no longer a need for a paper publication. When Karman retired in 2017, Keaney rejoined the WHS newspaper community by taking over her old adviser position.
"I'm absolutely thrilled that I [decided to become an adviser for WSPN] because it made being [at work] more fun," Keaney said. "I love it, [and it] has been the best part of school for me."
WSPN's innovative nature provided the network with advantages that would lead to it being recognized on a national level. Less than a year after its start, WSPN won its first Online Pacemaker Award, an award which recognizes the best student journalism publications in the United States.
"We [won] the Pacemaker, which was unheard of [because we were a] one year [old] publication, but in those days there were hardly any newspapers that were online," Barber said. "That's why we won the award, because [WSPN] was so innovative."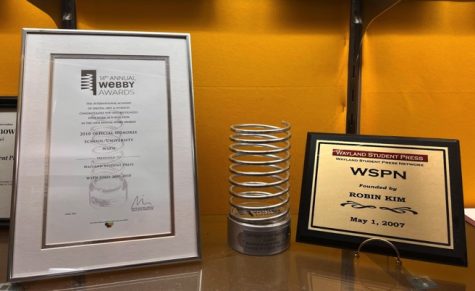 After winning the Pacemaker award, Barber and Karman realized that maintaining WSPN would be a much larger responsibility than a single student like Kim could manage. So, they decided to add a journalism course into the WHS curriculum in September of 2008. The newly-created journalism class worked diligently to produce material for the publication, and their efforts were rewarded when they won the Webby People's Voice award, a prestigious award for "excellence on the internet."
Ever since, the journalism elective at WHS has continued to flourish, winning multiple Pacemaker Awards and CSPA Gold Crown Awards. As of now, the class is the largest it has ever been, with students from every grade sharing a common passion for journalism. It is this passion that leads the publication to being recognized on a national level for their diligent work.
"If you're not passionate about what you're doing, it's really hard to produce great work," senior and former co-editor in chief Garrett Spooner said. "So I think in order to make a successful publication, you need a bunch of reporters and editors who enjoy their jobs and want to take risks and try new things."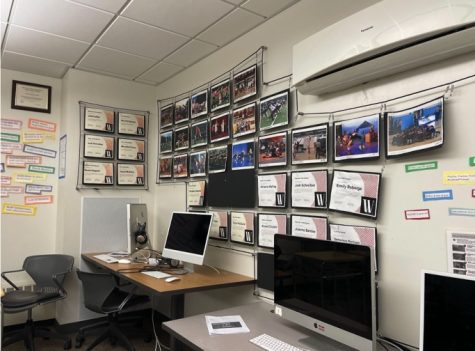 However, a single person's passion can only go so far when it comes to creating a successful online newspaper. It takes a collaborative effort to produce high quality content. To many prior and current WHS journalism students, the community feel of WSPN is what sets the elective apart from their typical classes.
"My favorite part of WSPN was the collaboration and student-driven nature of the class," WHS history teacher and former WSPN reporter Sarah Lee said. "I truly felt like a valued member of the team and that my voice mattered."
Over the years, Barber has witnessed the freedom given by the course turn shy freshmen reporters into confident upperclassmen. Since all major decisions are made by the students, WSPN allows students to gain real world experience atypical to a high school course.
"[WSPN] makes me a better worker in general, because I feel so much more prepared for the real world," freshman and first year reporter Sasha Libenzon said. "What I really like is how everyone works together, and you talk to people who you've never talked to [because they're in] different grades."
Before the pandemic, journalism class took place in room B225. However, it would be impossible for all 50 journalism students to fit in one classroom while maintaining social distancing protocols. To spread out, journalism class was moved to the lecture hall. But this change of location affected the class environment on a much larger scale, since a huge part of journalism is the communication and collaboration between different people and sections.
"COVID-19 changed [the class atmosphere] a lot," Spooner said. "In [my] sophomore year, the class [had] a very bustling environment. It was fun. And then COVID-19 happened my junior year and that [created an atmosphere that was] the polar opposite."
Another special aspect of WSPN is the lack of teacher oversight. The advisers' job is to supervise the site and answer any questions students may have, but due to First Amendment rights, the advisers have no say in what students decide to publish. This means that the content on WPSN is entirely chosen and created by the students.
"If it's not student-run, student-edited and student-produced, then it's not student voices," Keaney said.
The WSPN advisers believe that it is important to help students develop their own voices and opinions at a young age so that they are ready to enter real working environments. While many classes have limited opportunities for students to share their own ideas due to restrictive curriculums, the open-ended nature of WSPN provides many students with a unique opportunity.
"You have to learn somehow, and a lot of the learning, especially in journalism, is trial and error," Spooner said. "As a student, you have to take risks, and go out and do different things that you might not be comfortable with. If you have an adult or teacher holding your hand the whole time saying 'no, actually do this, do that,' it makes it challenging to learn and insignificant."
Even 15 years after Kim saw his idea become a reality, the journalism program and WSPN website has continued to thrive due to new ideas coming from every student who enters the newsroom.
"The thing I love the most about journalism class is even when I'm having a bad day, I know I'm going to come to the school and have this one period [that will cheer me up]," Barber said. "I have developed such great relationships with students over the years [and] because [of that], you worry about the things that they're worried about, you help them develop passions and you help guide them to things that they are good at."
As the individual members of the journalism class came together to form a close-knit group, the website also progressed with them. Over the 15 years that WSPN has been part of the Wayland community, it has continued to grow and adapt with new technologies and ideas, and it is this change that will allow WSPN to celebrate many more anniversaries in the future.
"The wonderful thing about WSPN is that it never has to stay the same," Keaney said. "There were things that are in the WSPN now that didn't exist before, things that did exist in WSPN that aren't there now. Anyone with any idea can launch a new initiative, and have something exist that didn't exist before. We've seen that over and over, and that is always really exciting."