Hockey takes home its first win of the season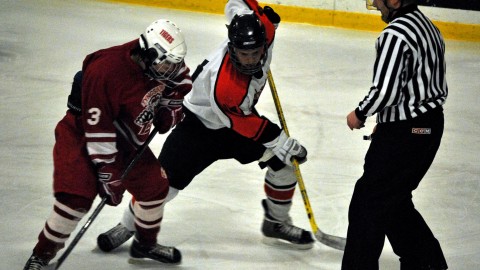 The Wayland Warriors Hockey team defeated Tyngsborough Tigers on Saturday night, earning their first win of the '09 season. The Warriors scoring started early and often, beating the Tigers 5-2.
The season's first goal came from sophomore Evan Barber, early in the first period. Senior Eric Robichaud took a hard wrist shot that was stopped by Tyngsborough goalie Evan DeCarteret, who left a juicy rebound, and Barber tapped it home for the easy goal.
The Warriors kept shooting, and kept finding holes, and captain Peter Sullivan scored twice. Then, late in the second period, junior EJ Nicholas capped off a beautiful rush with a goal to make it 4-0 Warriors.
Wayland knew from experience that the Tigers weren't going to take the loss easily. Last season the Warriors had early leads on Tyngsboro, and both times the Tigers came back to spoil the party.
During that  first game last year , in Tyngsborough, the Warriors held a late two-goal lead and Tyngsborough scored three quick goals to steal a win. Later on in the season, when the two teams took the ice in Marlborough, Wayland held an early 1-0 lead and ended up losing 4-1.
[adrotate group="2"]
This year Wayland had its own scare mid-way through the third period, when Tyngsborough senior Brian Silva scored a goal right off an offensive-zone face-off. The goal seemed to do no harm as the Warriors held a three-goal lead, but just 42 seconds later the Tigers struck again.
Wayland's goaltender, junior Cogan Register, held the puck under his glove, but no whistle came. Tyngsborough junior Nate Howe slashed Register's glove, and the puck squirted loose and into the back of the net.
The Warriors were not going to let Tyngsborough spoil a first win again. They began to wake up, got back to their systems, and played Wayland hockey. Late in the third period Barber netted another goal to close the door on the Tyngsborough comeback, and the Warriors had their first victory of the season.
"I'm so pumped we finally got them," said Sullivan after the victory. "We all played well, and deserved a win."
Once again the defensive team played tough and held back a relentless Tyngsborough attack. In the net, Register stopped 19 of Tyngsborough's shots.
Said junior Zach Bastarache, "A lot of kids are improving every game, and I really think we're going to surprise people this year.