Wayland-Weston crew team rows to nationals
The Wayland-Weston crew team is sending three boats to the 2022 Youth National Championships, which will be held at Nathan Benderson Park in Sarasota, Florida from June 9 to June 12. A four boat from the girls team qualified for nationals, as well as two boats from the boys varsity team, a four boat and a U17 single.
After the girls varsity team seat raced for a spot on the blind four, the coaches put together a group of juniors, Sophia Xie and Riley Reynolds, and sophomores Maddie Genis and Ava Balukonis.
"We had to seat-race to be in the four for nationals, so there was a week where we would switch people out of the boat," Xie said. "At the end, the coaches had to decide who was faster in the boat. That was definitely really hard because obviously there are going to be people who don't make the boat, even though they've worked really hard for it."
In order to qualify for nationals, the team had to place in the top four of the regional race for the blind four event.
"We qualified by basically getting fourth place out of five boats at the regional race, by just 0.5 of a second," Reynolds said. "We knew we could do it, we just needed to have a good race, so it was just [pure] excitement and we were just so tired after the race."
The boat, composed of Xie, Reynolds, Genis and Balukonis, will be racing in a blind four, meaning that there will be four rowers and no coxswain. A coxswain is usually part of a four boat, but in this particular racing style, it will be up to the four rowers to steer and direct the boat.
"We had a little bit of a rough start to the season because of weather conditions, and we only started seat racing to figure out who was going to be in our first varsity four two weeks before regionals, which is the regatta that you need to qualify for," Genis said. "We had to figure out how to actually make the boat go straight because we don't have a coxswain."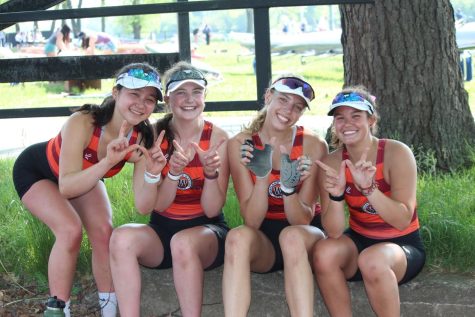 In order to successfully row the boat and prepare for nationals, the group has had to work together and practice, making sure that the team had a sense of camaraderie to ultimately be successful.
"One thing that we struggled with was going straight because the people in our boat were kind of off-balanced sometimes, so it would go to one side rather than the other," Xie said. "Also, just creating a bond between the rowers was really important so we could be in sync with each other."
The crew team always tries to highlight the importance of community and tries to ensure that the level of competitiveness within the team is maintained, so that everyone feels supported and can work together.
"The crew community, I think, is one of the best communities among sports because we all adore each other so much and we're always there for each other," Genis said. "It's so different from things you will hear about other sports."
Since nationals are being held in Florida, the rowers will have to adjust to the hot climate.
"[At] our regional race, it was 90 degrees, so we got kind of a taste of hot weather rowing, and of course it will be hotter and more humid in Florida," Reynolds said. "We'll have two days before racing actually begins to kind of acclimate and row in the hotter weather."
Many of the teams the boat has gone against are from private crew programs, so although the Wayland-Weston crew program only has athletes from public schools, it has still shown to be very successful.
"We are really small compared to the bigger private clubs, and we're also a public school," Xie said. "We're definitely the underdogs, but I think that we will do really well, just because we have been working really hard towards it."
In the past, the program has sent both boys and girls team boats to nationals. Wayland alumni of the Class of 2021, Darcy Foreman and Weston's Caroline Schuckel won gold in a pair boat at nationals in 2019. Now, both Foreman and Schuckel row for NCAA Division I schools: the University of Massachusetts-Amherst and Princeton University. Along with this, at 2018 nationals, the program came home with three medals for various events.
"We have never seen a lot of the crews that we are going to be up against," Reynolds said. "It's really new for all of us because due to the pandemic, we really don't have anyone who has gone to nationals before to be able to say what it's like because they have all graduated."
Overall, Xie, Reynolds, Genis and Balukonis are going into nationals with a positive mindset and are looking forward to the learning experience that the competition will bring.
"I think it would be really nice to come in either final A or final B for the overall because there are time trials, semi finals and then finals," Genis said. "I don't know how many entries there are, but if we can come in the top half, I think that would be really good."