Aaron Frutman: The people behind the videos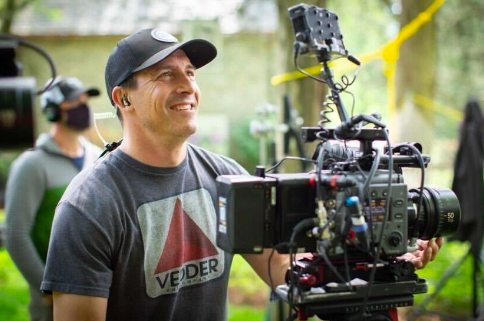 When many people think about Emmy winners, they picture A-List celebrities on red carpets. Who would have guessed that Wayland is lucky enough to be home to a six-time Emmy winner? Aaron Frutman has seized this claim with years of strenuous work stemming from right here in Wayland.
Upon graduating from Boston College with a major in marketing and accounting, Frutman had little experience in the industry of cinematography. Despite this, he began an internship at DGA Productions, Inc. a video production company nearby in Watertown. Little did he know that here he would learn what would come to be his passion.
"[I] never knew anything about this life until I took an internship with DGA," said Frutman. "[Dean Gaskill] taught me everything about the business."
Dean Gaskill, the founder, was an indispensable part of igniting this talent, urging Frutman to stick with the company and inspiring him with excellent work. Frutman's idol isn't one many would recognize, but one whose mentorship was critical to his success throughout his career.
"I idolized the man [Dean Gaskill] who started [DGA]," said Frutman. "When he passed away in 2005, I was forced into the role of full-time cinematographer."
Upon entering his new role, Frutman was in for a wild ride. What started as a whim has taken him around the world, and connected him with thrilling people.
"There have been so many amazing moments it would take a few weeks to write them all out," Frutman said. "[Some have been] riding on a duck boat for a Red Sox parade, surfing down a volcano in Nicaragua, filming 'The Three Tenors' in Rome for a private party, being in NYC during the week of Sept. 11 [and] anything with Tom Brady."
One celebrity Frutman found particularly exciting to film was George "Buddy" Guy, an acclaimed blues guitarist and singer. Through his work with "The Torch," a 2019 documentary centered around Guy and his mentorship of young blues artists, Frutman had the opportunity to learn the ins and outs of Guy's life, as well as tell the story through the lens. It was very significant to Frutman to aid in capturing the life and lessons of such a valued musician.
"Being around a legend like Buddy was incredible," Frutman said. "Knowing you are documenting an icon still crushing it well into his 80s felt important for historical purposes."
Frutman also had the chance to attend the premiere of "The Torch," located in Chicago, Ill. Here, he walked the red carpet and watched the documentary in a packed theater, achieving a particular Hollywood moment. But it's not about the glitz and glamor for Frutman.
"While it's nice to be recognized with awards, I'm more proud of the accomplishments of the team that I work with when a project comes together," Frutman said.
Frutman's biggest focus through and through is the people. This is both with the connections he forms while shooting a video as well as the object in front of the camera. The most compelling creations for him are ones that follow a story. With this, some stories are harder to hear than others, but this only makes him want to tell his viewers more.
"I often end up meeting people or families who have been through unspeakable tragedies," said Frutman. "Framing their story in a way that allows the viewer to experience empathy through the lens of my camera [is] probably my favorite."
This took form in his work for the documentary "Travis Roy: A Life & A Legacy," a film about Boston University hockey player Travis Roy who suffered a paralyzing spinal-cord injury just seconds into his first game. The documentary covers Roy's life before and following his injury as well as the Travis Roy Foundation, which he formed to help those with similar afflictions. His work on this documentary won him an Emmy in 2007.
Another piece he was greatly affected by was "SportsCenter Featured: Pete's Challenge." This 2014 publication followed the story of the man behind the ice bucket challenge and his battle against Lou Gehrig's disease, otherwise known as ALS. The former Boston College baseball captain united Massachusetts and later the country in spreading awareness for ALS until his death in 2019.
"I'm so inspired by people that have overcome difficult situations and turned them into causes or movements," Frutman said, "Perseverance of the subject I'm shooting [inspires me daily]."
Frutman relies on the support of his family throughout all of his endeavors. With an ever-fluctuating schedule required to properly capture the narrative, his life as a cinematographer can be unpredictable. Working and frequently traveling on nights, weekends and some holidays, Frutman has grown to greatly appreciate the compassion his wife Alisa and his three daughters show him.
"There is quite a bit of adjusting on the fly to make it work and Alisa does it in the most supportive way," Frutman said. "My job would be very difficult to do without an understanding support system."
Although Frutman edits his pictures from home, he takes them on-location. When the coronavirus pandemic hit, work was hard to find considering he couldn't reach his clients. During this time, he could not pursue his career to the extent he hoped to and was near giving up. However, he found other ways to work around this obstacle.
"I started to take family portraits as a side hustle to supplement not being able to do video," said Frutman. "We were able to make it through the worst of it though, and now seem to be relatively back on track."
Between his family, his team and the subjects of his shoots, the people keep Frutman in his line of work, no matter how trying it can become. These people will always be out there, and their stories will always need to be told. Frutman will be ready to tell them, camera in hand.