The Muslim Student Association: Working to build a stronger sense of community within Wayland High School
In a school that values diversity, inclusion and kindness, we, the Muslim Student Association, believe that all religions, cultures, and ethnicities should be represented. Since sharing beliefs contributes to the school community, we would like to share a few things about WHS's new Muslim Student Association (MSA) and its members.
We hope to shed some light on the experience of Muslim students in the Wayland school system, share information about our holidays and religious practices and discuss how we can foster a more welcoming environment at WHS. We began MSA with the help of Mr. Gass because we believed in the importance of community.
We started MSA because we noticed the lack of representation and acknowledgement of our traditions, beliefs and holidays in our school. Last spring, MSA club leader Hedaia Elelimy emailed administration with concerns that she, and mutliple other Muslim students in the school, had. Students had many assessments and assignments on the day of one of the two major religious holidays observed in Islam: Eid-ul-Fitr.
As a result, some Muslim students came to school on a day that we should have spent celebrating with our families and friends. Those who missed school fell behind on assessments and felt stressed for weeks leading up to the end of the school year.
Considering that students of many other faiths have a day off from school during their major holidays, we believe that we should be given the same importance and acknowledgement. We understand that adding a holiday to the school calendar is a long and complex process. However, we think adding the holiday is important to uphold the values of our school.
We would at least appreciate being excused from assignments, having assessments moved to a later date, or having teachers and students wishing us a "Happy Eid" or "Eid Mubarak." Our holidays are a large part of our lives, and it means a lot when they are acknowledged.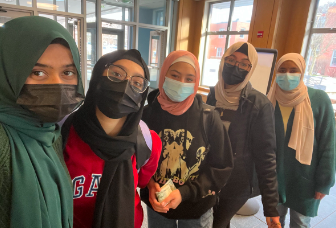 We believe that the acknowledgment of this month and our holiday gives us a sense of belonging within our community, as well as better representation. To be well represented is to be not only acknowledged, but welcomed. Without good representation, it is easy to feel misunderstood, something we as a Muslim community, as well as other minority groups in our community, struggle with. When we are constantly fed a single, often negative, narrative of Muslims and Islam in the media, it narrows our understanding of a complex and diverse group of people. This leads to prejudice and stereotyping in the community.
Diversity and educational representation can help combat stereotypes. Considering this, it would be a step in the right direction to amend the curriculum to include more diverse representation of all races, ethnicities and religions. This can be done through the books and articles we read, the movies we watch and types of discussions we have in class.
We believe it would also be very beneficial for the entire Wayland community if Wayland learned more about what Islam is. We need to make a clear distinction between religion, race, ethnicity, culture and nationality, as well as include conversations about the negative effects of prejudice and stereotypes against any group of people in our community.
Since the implementation of MSA, many members have felt more included within the non-diverse Wayland school community.
"When I first started wearing the hijab my freshman year, I felt somewhat like an outcast in everything I did, from walking in the halls, to sitting in class or just being with my friends," MSA club leader Noreen Javed said. "I thought people saw me differently because of it, and I didn't like that. I could feel people's stares, sometimes even glares, but I can't completely explain how it feels because you'd only know if you yourself felt it. I hated having no one around that looked like me or completely understood what I felt. My whole life I've already been different than most people around me. Let's face it, Wayland is a majority white town, and I grew up thinking that I was weird or not worthy because I'm not like them. It seems like a small thing, but being in MSA and forming bonds with other muslims has helped me feel more at peace with my identity and more represented in the Wayland community. I know my younger self would be proud of this group we've created."
Our goal with this group is to make friends, educate others, and work together to improve how Wayland involves different cultures. We have successfully had our first fundraiser and hope to support other causes in the future. It's been really nice having a group of friends to relate to on a level we've never been able to before, and we hope to see more Muslim students and other interested classmates join the group.