September's Artist of the Month: Sarah Foley
Advanced Placement (AP) art student, senior Sarah Foley, finds that the best way to relax is with art. She hasn't always taken art class, yet she had the opportunity to take AP art this year. Foley doesn't always like her pieces, but she acknowledges her growth and realizes how making art helps her broaden her horizons and skills. Art class allows her to decompress after a busy day of school, and temporarily takes her troubles away.

What art class are you taking? How does it help your art progression?
"I'm in AP art. I think that class helps because now I have more time to work on my projects. Last year, I was super busy because junior year is super stressful, not to mention I was also taking classes that are rigorous. I didn't take an art class last year, so I'm happy to have a class period dedicated to doing my art this year."
What's your preferred art medium?
"Paint is definitely my favorite."
Why is it your favorite?
"I like the vibrant colors and different textures. I usually use [paint] the most."
Has an artist influenced your art? Was it a positive or negative influence?
"I don't really look up to any artist, but my eight-year-old cousin likes to draw with me. When I go to Brazil, we do art together, and when we are far away [from each other], we do art over the phone. So, in a way, my cousin looks up to me. I don't think an art piece has influenced my art in a positive or negative way."
What does art mean to you? How does art impact your life?
"I feel like I'm a person who is very on top of things. I'm always obsessed with academics and obsessed with grades. By taking this art class, I'm more laid back, not as rigid and, overall, much more relaxed. I'm still nervous about this year, but art class is a nice escape. It's a good distraction and just what I need this year."
Do you use art outside of school?
"I do like to do art in my free time. I didn't take art last year, but I also did art when I could, even if it wasn't for any kind of class credit."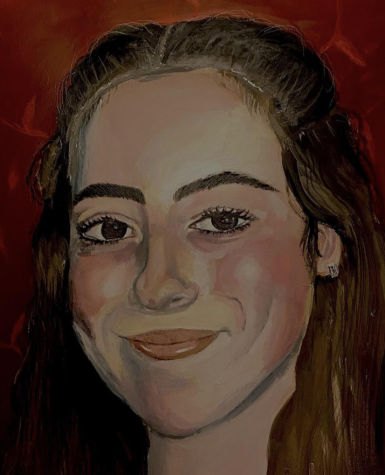 Then do you have a piece you hate? Or one you feel strongly about?
"I mean, I don't really like any of my stuff. There's always problems or imperfections."
Do you have any plans for art after school?
"I'd like to keep [art] as a hobby. I definitely wouldn't do it professionally, but it's nice to relax with my art every once and awhile."