Voyage en France: Wayland High School's bi-annual trip to France returns
With COVID-19 restrictions preventing many people from traveling to nearby states, the idea of traveling outside of the United States was unthinkable. However, with COVID-19 cases decreasing, travel opportunities are beginning to open up again, and Wayland High School plans to take full advantage of that by sending its first group of students to France since the trip was canceled in 2020.
From April 12 to April 23, 2023, a group of 22 students will depart Wayland to spend two weeks in Southern France. During the trip, students will spend time exploring Montpellier, Avignon and Nice. In each location, students will learn about history, traditional foods, language and other aspects of French culture that they would not get to experience in the classroom.
"In the classroom, we can try to recreate an immersion experience, but it's different from actually being in a situation [where you need to speak French] and having to rely on different ways of communicating to get your point across," WHS French teacher and trip chaperone Sara Langelier said. "Then there's the cultural piece. Of course, in our classes, we talk about culture, but there's nothing like being immersed in a culture to notice the differences between that culture and your own culture, and I think it opens people's eyes to different ways of being in the world."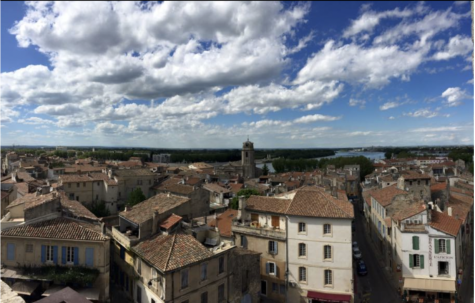 This year, some changes have been made to the trip to ensure its success. For example, students will not be visiting Paris due to its long distance from Southern France, and they will not be participating in the traditional homestay with a French family because of COVID-19. Additionally, WHS has provided parents of students going on the trip with the opportunity to purchase an additional travel insurance that offers them a full refund if COVID-19 prevents their child from going on the trip.
Although the trip to France is changing this year, students will still have a special experience while traveling.
"Personally, I just thought [the trip] was a really great opportunity," junior Lulu Comettant said. "I've heard other kids saying, 'Oh, we're not even going to Paris,' but I think it's still great to go, especially as a French student. [The trip] is a great opportunity to get to experience the culture."
In the future, WHS hopes to bring the homestay back as it has traditionally been the biggest opportunity for students going on the trip to practice their French. Until then, students will have different chances on the trip to communicate with native French speakers.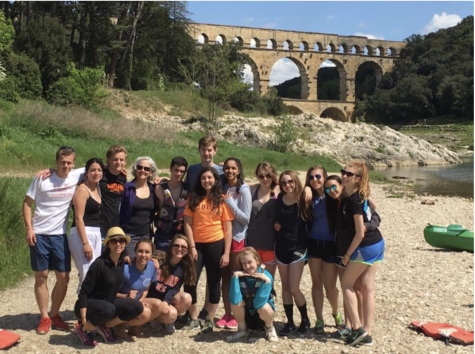 "Students should try to speak as much French as possible," WHS French teacher Loan Rothschild said. "I'm sure that they're going to meet teenagers in high school or people on the streets there, so [the students] should take full advantage of the opportunity to practice [their French] in a different environment."
Going on the trip not only provides students with the chance to explore the French lifestyle and history, but also gives them a unique space to bond with their peers from Wayland.
"Going on the trip to France [in 2016] was one of my better memories of high school because not only did I learn more about a different culture by living in it, I also got more connected with Wayland High School students," former WHS student and current teaching assistant Zach Dresens said. "I think the trip is a good way to build community within the school, and also to experience and do some hands-on learning that's non-typical of a high school experience."
However, for some students it isn't an easy decision to commit to the trip because it can be out of students' price range and comfort zone.
"At first, I didn't [want to go on the trip to France] because I had mixed feelings," junior Iyala Khawer said. "Then, my parents convinced me because honestly, it's a once in a lifetime chance. I felt like if I didn't go, I would kind of regret it afterwards."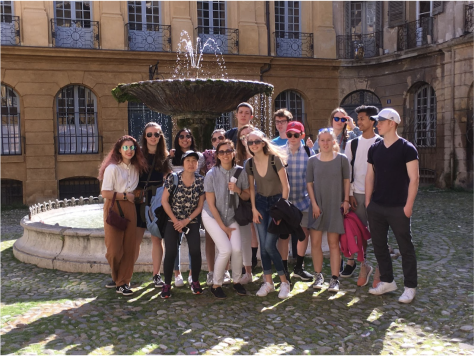 Although the trip provides students with a one of a kind learning experience, it isn't cheap since students are expected to pay for their meals, hotels, flights and tickets for any places they visit. To try and help parents pay the $4,200 fee for the trip, Langelier has been organizing multiple fundraisers such as selling earrings, tailoring clothes and accepting donations. Langelier plans to involve the students going on the trip in the fundraising process by encouraging them to organize events to raise money, such as baked goods sales and car washes.
"I think the cost is a hurdle for some families, you know, and that's why I'm really committed to helping students do fundraising," Langelier said. "If we all get together and work hard, we can raise some money for those who need it."
However, the long fundraising and planning process will be worth it once students are actually able to go on the trip and experience the French culture and language they've been learning about in the classroom first-hand.
"Seeing the students use their language in real life situations [on the trip] really drives home why I love what I teach," Langelier said. "I feel like learning French just opens up so many opportunities in life, for adventure and for friendship. So to be able to see my students using their language in real life situations and connecting with people is the best part of the trip."