Scott Parseghian and David Gavron recognized for coaching at WHS
On Monday, Nov. 21, the Wayland High School varsity football coach Scott Parseghian attended the annual banquet for the Association of New England Football Officials (ANEFO) to receive the Mark T. Crehan Coaches Award.
Each year, ANEFO hosts a banquet where it presents a series of awards, including an award for a coach it wants to recognize. The award was originally created in honor of its past members and is given to a coach who maintains high ethics and teaches their players so they grow into adults who demonstrate American sportsmanship.
"It was about acknowledging our team, but also acknowledging our coaching staff," Parseghian said. "It's not just about myself because you can't do this on your own."
In addition to Parseghian, the WHS boys varsity soccer coach David Gavron was inducted into the Eastern Massachusetts Soccer Coaches Association's Hall of Fame in November.
"I was a bit shocked when a fellow coach nominated me for it," Gavron said. I was just blown away that he thought of me that highly. What I've talked about before is really that being recognized, I'm really just the figurehead for Wayland High School. It's really about everyone else that's involved. The reason that I'm viewed as successful is because I've surrounded myself with great coaches."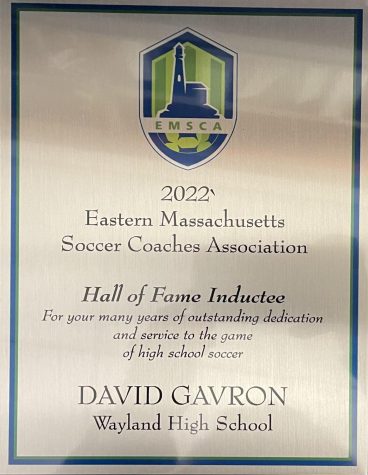 Both Parseghian and Gavron emphasized the importance of surrounding yourself with other coaches, as well as accepting advice from others. Every team is made up of coaches, players, athletic trainers and many more, all of which need to work together to help make a team the best it can be.
"I got hired when I was only 26 years old, so I was a young coach taking over a program that struggled for a long time," Parseghian said. "There were definitely people I reached out to, [such as] Bruce Rich at Chelmsford [High School] who had been there a long time and was doing great things with that program. Just learning as much as I can from the coaches around me because they had already been doing it for a lot longer than I had."
Parseghian found that he had been on the minds of the ANEFO awards department for more than just this year, but due to COVID-19, they were unable to award him. Originally, Parseghian was confused as Wayland High School's football program had a one win and nine loss record when he received the call, and he assumed the head officials were calling to discuss a past game. Instead, he was informed of ANEFO's decision to award him, and told about the banquet where he would receive his award. He attended the ceremony with his two sons and girlfriend.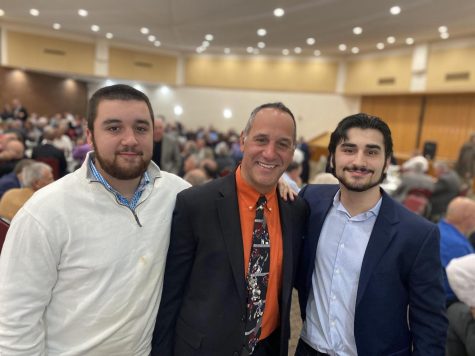 "What made it even more special was that my sons were there, and my son Dante was the one who gave the speech about me," Parseghian said. "That was cool, just him getting up there and doing the intro of me receiving the award. So that was really coming full circle for me as a coach and a dad."
Gavron was nominated for the hall of fame by one of his coaching friends, John Barata, who coaches at Oliver Ames High School in Easton, MA. Similar to Parseghian, he kept his award private and didn't inform his team immediately, as he wanted them to fully focus on soccer.
"[Gavron] gave me a lot of confidence because he put his belief in me," senior captain Ryan Prince said. "He just believes in me and pushes me."
Gavron is adamant on the fact that while he is a teacher and that is very important, as a coach he is able to connect on a more meaningful level with many of the players to positively impact their lives. Both Gavron and Parseghian believe that coaching is a part of their identity and a sole part of who they are as people. They believe it is their responsibility to impact each player in the best way possible, both on and off the field.
"I would say one of the biggest things for me is to be around the kids as much as possible," Parseghian said. "Just make sure the kids see you around as much as possible. So even when it's out of season, you're going to basketball games, hockey games, whatever it is to support your athletes."
Parseghian has been a Wayland High School football coach for 27 years, and Gavron has been a coach for 30, with 18 of those years being at Wayland. Both coaches emphasized the importance for a coach to try to connect with their players and dedicate time to them, both in and out of the season when possible.
"Regardless of the outcome of the season, I really loved to hear the players reflect on how fun the experience was and how they wouldn't wanna trade it for anything else," Gavron said. "That's really rewarding."