Athlete of the month: Ella Getz
Standing at 5 feet 11 inches tall, freshman Ella Getz lets another three-point shot soar through the air and drains it, adding 3 more points to the Wayland scoreboard, adding to its lead against Bedford. This is one of the many baskets that Getz has scored for the girls varsity basketball team this season.
Getz found her love for basketball after taking on the sport in third grade. She had grown up surrounded by athletes and saw them playing, so naturally, she decided to give it a shot.
"My mom and my aunt both played basketball here at [Wayland] High School," Getz said. "All my friends were [playing basketball], and I wanted a winter sport to play."
For Getz, the desire to spend time exercising with friends quickly turned into a passion for the sport of basketball and the emotions that come with it.
"I really like the intensity of basketball," Getz said. "I also think that the community and people that are part of basketball is great."
During the off season, Getz increased her skills through hard work. For Getz, this looks like AAU basketball where she travels and plays in tournaments from the spring through the fall. During this most recent AAU season, Getz was averaging roughly 12 points per game for Team Sims.
"AAU is all-year-round," Getz said. "Even during the summer, we would travel to tournaments. When I was with my AAU team in Pennsylvania, a group of little girls came up to me and asked me to sign something for them, it was such a cool moment."
With Team Sims, Getz has played AAU basketball at an elite level, achieving success.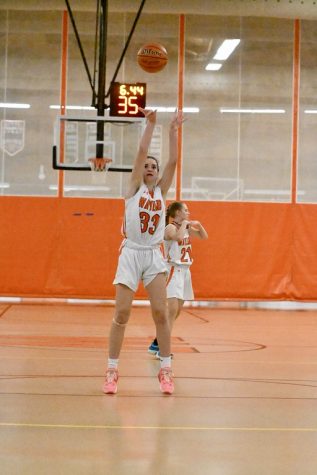 "My team played in the US Open Championship for tenth grade," Getz said. "We all are ninth graders playing up a year. I am a starter for Team Sims, and I really enjoy playing there because we all are very tight and talk to each other even in the off-season."
Courtney Sims, Getz's coach at Team Sims, is very experienced in the basketball industry. Sims played in the NBA and decided to begin his own AAU program.
"Our coach played internationally in the NBA and is 6 feet 11 inches tall, so he knows what he's talking about," Getz said.
Getz has noticed that AAU and high school varsity basketball have some differences. For her, she has had to manage her nerves while playing against seniors as only a freshman.
"As a freshman, I'm playing against 18-year-olds," Getz said. "I kind of accept [the nerves] and then once the game starts, they kind of just disappear. I just let them happen."
However, nerves have not stopped Getz from putting up two 25 point games, a 16 and 17 point game and a 13 point game so far this season. Her performances on the court have sparked attention from MetroWest Daily News and the Boston Globe.
"I loved being recognized for my hard work," Getz said. "All of my family congratulated me, and I was so proud of myself."
Getz has also found that her success has not only been her performance on the court, but also the relationships she has gained from the girls varsity basketball team.
"I love this team," Getz said. "I like everyone on it. There's not one person who doesn't like anyone on the team. Everyone loves each other."
For future or current basketball players, Getz has a piece of advice to take note of.
"Just be confident and try your best," Getz said. "It's all you gotta do."