WHS students collaborate through Cooking Club
Senior Eileen Kaewprasert created the Cooking Club at WHS this school year. The Cooking Club gives WHS students the opportunity to stay after school and learn new recipes from different cultures.
Inspired by her family who runs the local Wayland restaurant, Spice & Pepper, Kaewpresert developed her skill and love for cooking. Although cooking plays a big part in her life, Kaewpresert's motivation to start this club wasn't only because of her background with food.
"At first, this [cooking club] was only a small group to bond with two special needs students, Melody and Marissa Wong, because they had an interest in cooking," Kaewprasert said. "I then made it a real club because I know there are a lot of people who want to know how to cook or expand their cooking skills."
The club's most recent meeting marked the third time Kaewprasert and other students gathered in Room B127, a classroom that contains a kitchen. After making garlic bread in the last meeting, Kaewprasert decided on another Italian dish, pasta with tomato sauce.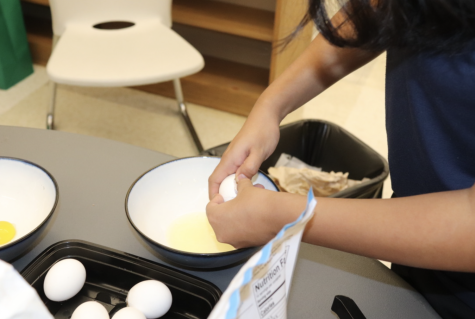 Using the recipe from her own memory, the group combined the perfect mixture of flour and eggs to form the pasta dough. Kaewprasert mixed together the eggs inside a make-shift bowl of flour and then quickly blended in the yolks. After the dough was finished, each student got their own piece to shape into noodles. Meanwhile, other students were at the stove stirring the tomato sauce along with the few spices brought from home.
"For now we have to bring in all our own ingredients [from home], as we don't have any funds yet, but we are coming up with some ideas for fundraising for later down the road," Kaewprasert said.
Along with fundraising to support her club, Kaewprasert has other plans for the culinary meetings each month. Because cookies and cupcakes are her favorite recipes, she anticipates creating them for upcoming baking sessions.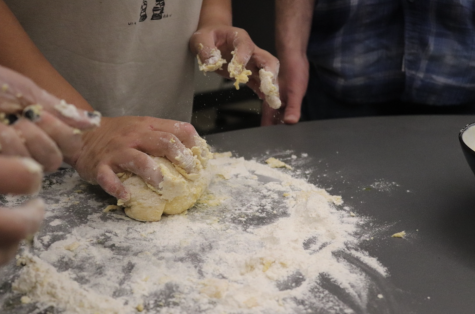 "Baking is a really good bonding experience because a lot of people have different decorating ideas or different ways of incorporating their ingredients," Kaewprasert said.
Not only do students find the club engaging, but they have also found themselves learning from Kaewprasert's expertise.
"Last time, we learned how to cut garlic bread the right way and how to use real garlic instead of garlic powder for the bread," sophomore Marissa Wong said.
Cooking club helps to make cooking more collaborative by sharing the accomplishment of a recipe with the group. And there will be more meetings with more dishes to come.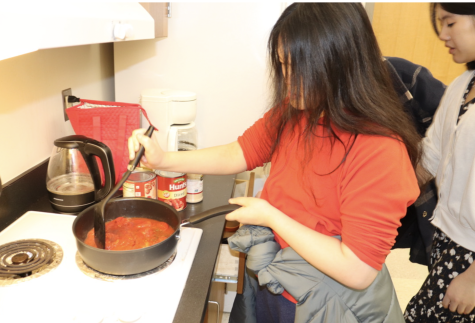 "My favorite part of cooking is when I get to look at my work afterwards and realize how cool it is that I was able to make it," senior Stephen Creavin said.