Movie review: "M3GAN"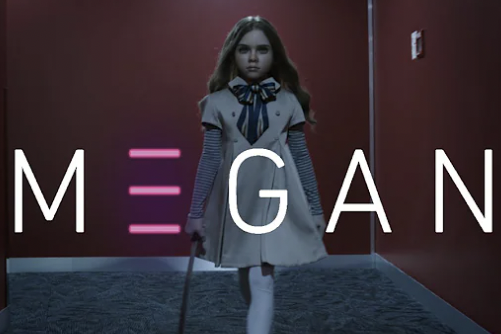 Speculation about the new horror movie, "M3GAN," popped up throughout the media after its first trailer came out on Oct.11, 2022. Because of social media's excitement around the movie and being scary movie fans ourselves, we were extremely intrigued to see this new sci-fi horror film in theaters.
The trailer for the film featured a creepy introduction to the robot, M3GAN (Amie Donald and Jenna Davis), along with the robot's creator, Gemma (Allison Williams), and Gemma's orphaned niece, Cady (Violet McGraw), who becomes connected to the life-like toy, M3GAN. Taylor Swift's "It's Nice to Have a Friend" played in the background, hinting at Gemma's purpose for building the robotic doll. With bone-chilling clips of M3GAN dancing throughout the trailer, viewers became confused about how director Gerard Johnstone's second film would turn out.
The movie, released on Jan. 6, 2023, opens with a family of three driving through a blinding snowstorm on their way to a ski trip. Before they arrive at their destination, disaster strikes when a snow plow crushes their car, leaving Cady as the lone survivor. Injured and orphaned, Cady goes to her aunt Gemma's toyless and stark house, far away from her old life.
With a new child in her home, Gemma struggles to balance her demanding robotics job while finding bonding with Cady. Gemma creates little robotic animals for an opposing toy brand to the popular, Perpetual Pet. Gemma realizes she has to design a new toy that will shock the world after Perpetual Pet, a toy that Cady is fond of, and become the leading competitor in the toy robot market.
After a few awkward, silent days with Cady, Gemma discovered a way to solve both problems. Gemma and her two colleagues, Cole (Brian Jordan Alvarez) and Tess (Jen Brown), decide to create a scarily realistic doll as a companion for Cady and kids around the world like her. Gemma named the doll M3GAN, which stands for Model 3 Generation Android. Yet, making M3GAN proves to be a mistake. With the intention of making a helpful friend, Gemma accidentally created a monster.
The strong aspects of M3GAN are the plot, the meaningful messages and the excitement of the story. There is a distinct plot with no fuzzy or missing parts. M3GAN to help Cady cope with her parent's death, but, unsurprisingly, the off button on the back of her neck lost its power. With the combination of Cady's strong attachment to her robotic caregiver and Gemma's inability to deactivate her, M3GAN quickly discovers how to utilize her inhuman abilities and take protecting herself and Cady to the next level. The android slaughters anyone who even slightly threatens the two with her synthetic hands.
The plot of corrupt robots taking over the human race is very common, yet "M3GAN" brings the spooky aspect of haunted dolls to the film. This combination of the classic scary story and the modern idea of a computer apocalypse creates a new, engaging concept.
This sci-fi film serves as a metaphor for the destruction of reality because of artificial intelligence. Johnstone clearly took inspiration from the rise in strictly online procedures due to the COVID-19 pandemic. Zoom calls, online shopping and access to almost anything at just the click of a button made people ask the question: do we even need to leave our houses at all? Businesses sold their offices. Libraries, supermarkets, small-town shops and department stores lost customers. Currently, technology is not destroying human life, but it sure is destroying human interactions.
M3GAN's gruesome murders were the scariest parts of the movie because of how childlike the robot looked, which made the excessive violence that much more disturbing. Whether it be a grisly murder or the soft singing of "Titanium" by David Guetta ft. Sia, M3GAN always seemed to be doing something bizarre, pulling the viewers away from the bad aspects of the film.
To start, although 102 minutes feels like a normal run time, "M3GAN" felt rushed because of the plot. After the first 20 minutes, M3GAN had already killed her first victim and her enemy robot, Bruce, was already taking her down. There could have been more of a build-up to M3GAN becoming evil before immediately being shut down. Another part of the movie that we found irritating was the predictability. Even though this may help make the movie more appropriate for younger audiences, it mostly took away the thrill factor. The parts of "M3GAN" that meant to be the scariest made us laugh instead. Other than for gore, we believe the PG-13 rating isn't necessary. Even though the lack of thrill didn't bother us, if you are seeking a scarier movie, this one isn't it.
Overall, "M3GAN" was an engaging and amusing watch, and we thoroughly enjoyed it. We would give it a 9/10. "M3GAN" was hilarious and entertaining, yet we took a point off because the movie wasn't scarier. We recommend this movie to anyone searching for a funny and creepy thriller to watch with friends and to younger audiences searching for a horror movie.