Mikaela Shiffrin claims her title as queen of the snow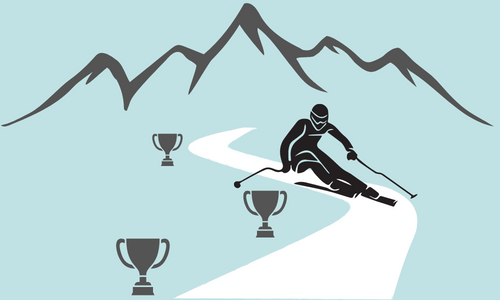 The Queen of slalom is back. Powerhouse alpine ski racer Mikaela Shiffrin recently broke the record for most World Cup wins by a woman ever. Not only that, she has officially surpassed Swedish male ski racer, Ingemar Stenmark, as the winningest alpine skier in World Cup wins of all time, for both males and females. There's no doubt that Shiffrin is and will continue to be one of the greats of ski racing, but, is she the world's best skier?
When ski racing comes to mind, the only female skier who comes close to Shiffrin is the skiing legend Lindsey Vonn. Vonn, who has 82 World Cup victories, was unstoppable during the peak of her career. There will most likely never be another downhill skier like Vonn again. However, Shiffrin seems to have left Vonn in the dust with her 87 World Cup victories.
Shiffrin's recent success is not a new revelation, but rather it is years in the making. Beginning her professional alpine skiing career at 14, she raced against 40 skiers from other nations, not to mention she won the whole race. The next year, she went on to win Nor-am cup slalom races in Panama and British Columbia, becoming a household name in the skiing community.
Thirteen years later, she still has it, as she continues to destroy her competition.
Shiffrin can do it all-and then some more. While Vonn was dominant in downhill skiing, she never made it big in the slalom event. Shiffrin can do it all. From the quick and technical event of slalom, to the fast and furious speed events of downhill skiing, Shiffrin, it appears, can win any race. It's freakish.
In an interview about Stenmark's ski racing career from 1974 to 1989, he described how he compares to today's skiing powerhouse Shiffrin. "She's much better than I was," Stenmark said. "You cannot compare."
Inegmar Stenmark has a total of 86 World Cup wins broken up between 40 wins in slalom and 46 in giant slalom. As for Shiffrin, she has achieved what no other female or male ski racer has. While Stenmark retired at the age of 33, Shiffrin has beaten his World Cup record wins with six years to spare. Same goes for Lindsey Vonn, finishing her career at 34-years-old, who Shiffrin has already surpassed in wins. And it seems as if Shiffrin is just getting started.
"I'm really happy for Mikaela," Vonn said in an interview. "Records are meant to be broken and it's a sign of progress."
Starting off as a predominately slalom skier, Shiffrin has evolved into a speed skier as well. She has also won a discipline title in both super-G and GS. She continues to prove those wrong who doubt her versatility within the various events of ski racing.
By its athletes, ski racing is nicknamed a "burnout sport." Less than 8% make it to one of the 12 D1 schools in the nation for alpine skiing. Very few ski racers will make it to the development team of the US ski team, let alone have their start in a World Cup race. For many ski racers, the later years of their careers are marked by broken dreams, torn ACLs and an exhausted body. But not for Shiffrin.
Despite not bringing home any medals following the 2022 Winter Olympics in Beijing following mental health struggles and the recent passing of her father, Shiffin has seemed to find her groove again. It seems like she has a new World Cup win every day of the week. And we couldn't be happier for her.
While both Vonn and Stenmark can be undoubtedly considered the greats of the sport, Shiffrin is something different-both for the fans watching her and for the evolution of the sport itself. She has put ski racing back on the world map following the retirement of Vonn. She has young female athletes feeling confident that they can out ski the boys around them. She has also become the face of ski racing and has earned the title as the world's best ski racer.
Get used to seeing Shiffrin on top of the podium. That isn't changing anytime soon.