Warriors struggle to throw off King Phillip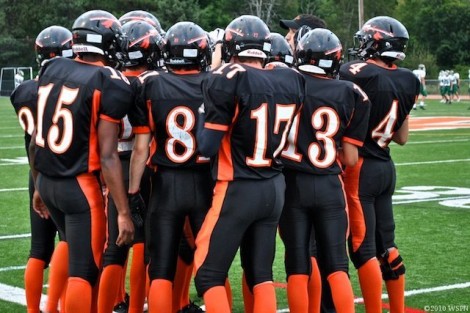 Wayland High School hosted a clash of Warriors on Friday night to open the football season. The Wayland and King Phillip Warriors battled to a 28-14 finish, in favor of King Phillip. The visiting team was led by 6'2″, 205 lbs running back Chris Cacciola. King Phillip's three-headed running monster, comprised of Cacciola, Jimmy Johnston and Charles Ruffin, rushed for a total of almost 400 yards on the ground.
On paper, Wayland was outmatched. The Boston Globe ranked King Phillip 15th in top 100 Massachusetts teams this fall, while Wayland was unranked.  King Phillip was one of the best teams in the Hokomock league last season, and this year's roster is almost identical, with 21 of  22 starters returning.
Wayland returned a single offensive starter in senior Calvin Williams. The rest of the Wayland offense is new, with the exception of senior Manwon Brisbane, who started as a running back in the final six games of last season. On the defense, the only major returning players from last year's lineup are seniors DJ Henderson and RJ Bolivar. The Warriors seemed to have no chance.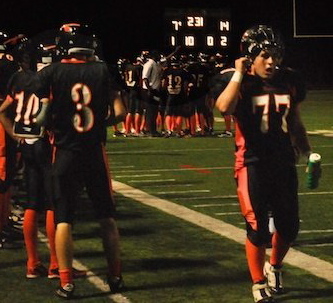 For Wayland, the King Phillip game was a statement game. Wayland had to come out and prove they were one of the premier teams in the state. The defense did just that.
"Even though we gave up a lot of yards on the ground, we made three goal-line stands, and we won the turnover battle," explained captain Eddie McCarthy.
The defense made one key stop for a turnover-on-downs inside their own 20-yard-line, and forced King Phillip running back Ruffin to fumble during both other goal-line stands.
It was a different story for Wayland's inexperienced offense. They were tentative on the  first few drives, but over time they began to click.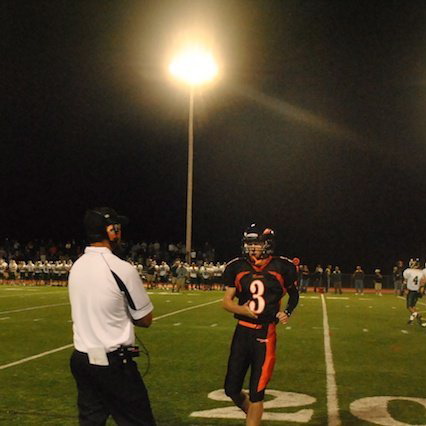 "It was really when we started to establish a run game that we got into a groove and started moving the ball," said senior captain and quarterback Ben Shelton
Shelton delivered the first passing touchdown of his varsity career to Nate Fujita to get Wayland on the scoreboard. Williams had the other touchdown for Wayland on a 35-yard dash to the end zone.
Although Wayland couldn't beat King Phillip, the team looks to bounce back Thursday at 7 p.m. against Newton South at home.