For better or worse, new school is going digital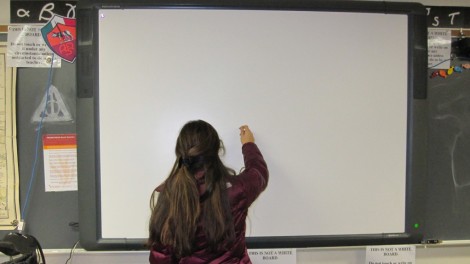 In moving from the old school to the new, students and faculty will be adjusting to plenty of changes, not the least of which is advancements in technology. One of the goals in building the new school was to make it modern so it would be useful for years to come. Between the two computer labs, four learning centers with computer stations and a video editing studio, there are many places for students and faculty to use technology.
Every classroom of the new school will be equipped with an Eno Board, which is like a Smartboard in the way that it can function as a computer and is able to written on electronically. The Eno Boards can also function as regular dry-erase boards. Each Eno Boards will be equipped with Media Manager, a program that can access TV channels and show digitized videos and clips.
"[Students] are used to seeing the stuff up on the board and coming through Youtube when using technology in an educational way, and [Media Manager] is going to allow every teacher to access it to its fullest," said Dean of Students Scott Parseghian.
Each classroom will also have a speaker system and headset microphone, which teachers can put on at the beginning of class so their voices will be audible in all parts of the classroom. According to technology specialist Mary Barber, the idea for microphones in the classroom came about because studies have shown that students learn better with voice amplification.
"I think with the new school, we're trying to build something that will be state of the art for a long time. With each piece of technology we had to think, 'Well is this something that's just a fad? Or is it something that can last forever?'" said Barber.
"
Our approach has been that we should give kids what they need to be thinking independently and have access to information. Rather than keeping you away from access to something that we think is a great tool, we are going to give it to you and take care of the issues that go along with it.
-Mary Barber, Technology Specialist"
In addition to technology with an educational purpose, the new school will have digital signage in the form of small flat-screen TVs placed throughout the school. These will be used to get information out to students, including the daily announcements and other school news.
"I think digital signage is great because we can promote what students are doing and because I think the school still struggles with the best way to communicate with students," said Barber.
Although the proposal has yet to be approved, if all goes as planned, a one-to-one computer initiative will be put in place at the beginning of the next school year. That means that students will have  their own laptops, provided by the town's operating budget, that will be theirs to use in and out of class.
In the classroom, teachers will use a software called LanSchool, which will allow them to see the laptop screen of every student in their class. The main purpose of this is to be able to help students by seeing what they are doing on the computer, but it also allows teachers to get students back on track if they aren't doing their work. Teachers can even shut down certain websites that they don't want students to use while they are in class.
"All of this will definitely help teachers in their day-to-day teaching by being able to utilize the best and most up to date information at a rate and quality that modern students expect," said history teacher Eva Urban.
With each student having access to his or her own computer at any time, the technology culture of the new school could change drastically, but the faculty expects that.
"We do anticipate that people will go off task, and that if kids are in a student learning center they might waste time, but that's also part of growing up," said Barber. "Our approach has been that we should give kids what they need to be thinking independently and have access to information. Rather than keeping you away from access to something that we think is a great tool, we are going to give it to you and take care of the issues that go along with it."
New technology causes mixed responses
As always, change evokes a diverse variety of opinions. Some people believe that more technology will refine their current learning environment, while others think altering our simple learning and teaching system could be too much to handle along with the move to the new school.
"I like just white-board writing and taking regular notes, and it bothers me when teachers try to spend a lot of time trying to use the smart-boards and it comes out unclear and you can't see anything," said sophomore Rachel Schneider. "They make you go online for the homework instead of just passing it out."
"I think more technology will really hurt the social interactions in the classroom because if you're always behind a computer screen you're not making real connections with someone if you're not working face-to-face with them," said senior Claire Bailey.
"I think the classroom environment will depend on how the technology is used," said senior Kush Bhagat. "I think as long as teaching is still done in the same format, just using computers as a tool, then things will be fine."
Most of the administration is supportive and enthusiastic about the new updates. They believe that because the future is becoming progressively more digital, students should be able to extend their learning abilities in a direction that will prepare them for the future digital age. Although the faculty recognizes that there will be challenges, they believe the end result will truly encourage learning.
"Overall, the technology initiative has had student learning and performance at its heart," said Urban. "All of this is designed to best prepare all of you for your life and learning beyond the walls of our school."
"I think we are becoming a much more technologically sound community," said Parseghian. "[Students] are probably more technologically sound than most of the teachers. I think this is what [students] live in."
Ultimately, the administration hopes that the new technology will help students flourish and give them the ability to be creative, to collaborate, and to improve communication and critical thinking.
"We want to give students all the resources that they need, so that we can go beyond just presenting content, to actually thinking and discussing it," said Barber. "That's really what it's all about."