Budnick juggles Ball With Hat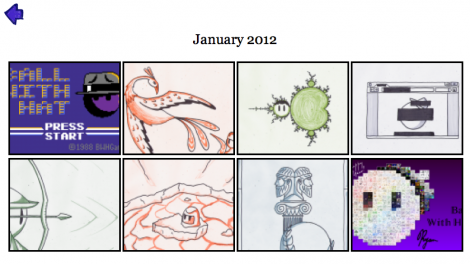 Many students already know senior Ryan Budnick for his academic and musical achievements. What few know is that Budnick created and maintains his own website, Ball with Hat.
Every day Budnick draws a new cartoon, a variation of a ball with a hat, and posts it on his site for his viewers worldwide. It began over a year ago with a whiteboard and a marker. When Budnick started doodling on the whiteboard in his dad's office he never expected anything to come of it.
"One day I just happened to draw this character that was a ball and he was wearing a top hat, and I really liked him," said Budnick. "The next day I erased it and drew a different ball with a different hat. And then it just became a thing we did in the family."
When Budnick's older brother, Andrew, suggested that he might make a webcomic, a comic published first on the Internet rather than in print, Budnick was hesitant.
"The big question was whether I would be able to keep up with the workload," said Budnick.
Last winter break Budnick drew a month's worth of comics he could release once school started. He published his first comic on January 1, 2011.
So far, Budnick has posted a new comic every day, but that doesn't mean the process has been easy.
"Some days I really don't want to make one. But it was my new year's resolution last year to make a new comic every day. And while at times I wish I didn't have to make one, I do," said Budnick.
On average, it takes 45 minutes to draw each comic and upload it onto the website.
"There are days when I've been known to make one in 25 minutes," said Budnick. "On other days when I have trouble thinking of an idea or have picked a complicated design, it can take between a hour and a half and two hours."
Although Budnick has never taken any art classes, he is taking a second semester drawing class at WHS this year.
"I love making art, especially the planning and layout that provides structure for the rest of the work," said Budnick.
Ideas for each cartoon are often based on historical or current events as well as on birthdays of famous writers, mathematicians and artists.
Each comic is labeled with a title. Previous titles include "Ball with Watches and Hat," a play on Salvador Dali's painting "The Persistence of Memory," and "Ball with Fin and Hat," in honor of Shark Week.
"Sometimes when I get really stuck I'll take out a dictionary, open to a random page, point my finger at a word, and just go with that," said Budnick.
Occasionally, he even turns to his fellow peers for ideas, using free periods as brainstorming sessions.
"He actually used one of my ideas," said Budnick's friend, senior Gabe Sehringer. "It was the [anniversary of the] day when Babe Ruth hit his 60th home run, so I suggested he do a comic where the ball was a newspaper boy and the caption on the paper was 'Babe Ruth's 60th Home run.'"
Every Sunday there is a special cartoon where Budnick creates the usual ball with hat, but with a twist. Where the traditional comics only have one color, Sunday comics often have many colors. Sunday comics are often created on the computer rather than by hand. Some of them even have story lines that carry through several weekends.
"One of the challenges I face is trying to keep the site interesting. I don't want to get in a rut. It's so easy to do that. One way I break out of ruts is that every Sunday I do an experimental comic in a different style," said Budnick.
His first Sunday Special series was titled "Ball in Space" and spanned six Sundays. Other Sunday Special series included "Sir Ball of Avalon" and "Ball in History Notes."
Budnick plans on continuing the website through 500 comics. He has currently drawn over 350.
"Ball with Hat is mostly about me having fun and thinking of crazy ideas," said Budnick. "Although I want to continue the site through senior year, I think that I'll be too busy in college, and the website upkeep will become a chore. I'll reach 500 comics in early spring. That's a nice round number to end at."
To increase traffic to his site, Budnick will occasionally post a link to Ball With Hat on Facebook or other social media sites. Last month, when a viewer posted a link to Ball With Hat on Reddit, the site got over 200 views in a day.
"I was first introduced to the site when Ryan posted in it on Facebook last year," said senior Dan Worstell. "I really like it. It's funny."
"I think I first went on the site because I heard someone else talking about it," said senior Kaitlin Curran. "It's really funny and creative. And the fact that someone who is that busy with schoolwork has time to keep up the site is amazing."
Although Budnick personally knows many of his followers, he does have a widespread fan base. Using Google Analytics, Budnick can see that he has people following him from all over the world, including Europe, Russia, South America, Australia and the UK.
"The whole thing is so impressive," said Sehringer. "I would not be able to keep up a website that long and update it every day. That's dedication."