Tommy Hunley: The more you think about attacking the ball, the less chance you'll get hit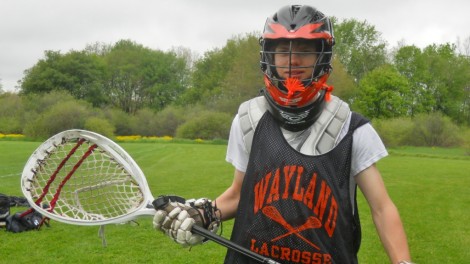 Tommy Hunley, who joined Wayland High School in the middle of the 2011-2012 school year, is now a goalie on WHS's varsity lacrosse team.
It's not easy being the new kid in school, especially when it's already halfway through the school year. But sophomore Tommy Hunley has come into Wayland High School with a bang as the newest goalie on the varsity lacrosse team.
Hunley began playing lacrosse in 5th grade but began playing goalie exclusively in 7th grade. He made the junior varsity team for Mount Lebanon High School his freshman year.
"When I was at my old school, we didn't have a goalie for our grade. I liked playing goalie, and I wasn't very good at attack, so I switched over, and it ended up working out pretty well," Hunley said.
After moving from Mount Lebanon, Pennsylvania in January, Hunley lived in Waltham before his parents bought a house in Wayland. While in Waltham, Hunley had yet to meet anyone from the Wayland lacrosse team. However, varsity captain Carson Hart soon reached out to Hunley regarding the upcoming preseason.
"I met Carson after I moved here, and he was really helpful," Hunley said. "We played box lacrosse indoors together after I moved here, and it really helped me meet new people."
Hunley geared up for the season through indoor lacrosse, as well as joining the club team, Laxachusetts. After tryouts, it was simple to make varsity, Hunley was named the varsity goalie along with the other goalie, junior Jimmy Carmichael.
"I knew the varsity coach was probably going to take two goalies, and the only goalies are Jimmy and me, so I wasn't too surprised that I made varsity," said Hunley.
Hunley has had a successful season as a starting player in nine out of the past 12 games that the varsity team has played. However, Hunley states the key to his success is an offense mentality.
"Getting hit used to bother me. Now, I think if you think more about attacking the ball, the less chance you'll get hit. I really like to keep that mentality," Hunley said.
Although Hunley hopes to play more sports next year in the fall and winter seasons, he looks forward to playing with the Laxachusetts team over summer break, as well as playing on the Wayland varsity team in years to come.
"Wayland is in a slump right now, but I like to think of this season as the beginning of something great because we have a lot of great players on our team like Roby Williams and Jake Baxter," Hunley said. "I wouldn't be surprised if we have a shot at states next year. I think we have a lot of leadership on the team."