Bache, Fletcher and Carver reflect on playing varsity soccer as freshmen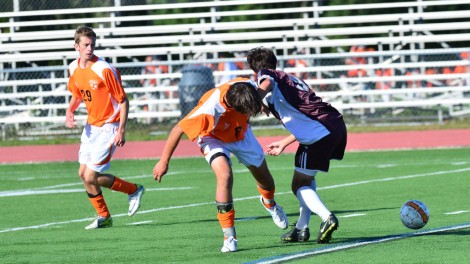 Caroline Bache, Taylor Fletcher and Jamie Carver are all playing on the varsity soccer teams as freshmen. Above, Carver (number 29) helps his teammate Andrés Pascual-Leone in a game against Westford Academy.
The idea of making a varsity team as a freshman is a dream that many athletes hope to achieve, but very few do.
Girls soccer players Caroline Bache and Taylor Fletcher as well as boys soccer player Jamie Carver have all reached their goal of not only making varsity their freshman year but making a varsity team in their first season of sports at Wayland High School.
"I wanted to make varsity, but I knew that it was going to be really difficult to achieve," Bache said. "I told myself I would be happy with anything because I didn't want to get my hopes up just to fail."
Fletcher wanted to make varsity to play on the same team as her older sister, senior captain Morgan Fletcher, and her father has supported her since she was young.
"My dad has really supported me throughout my soccer career. He played competitive volleyball at a high level, so he has helped me cope with all the life lessons I have learned so far in soccer," Fletcher said.
While the rules for field hockey and crew restrict freshmen from being on the varsity team, other sports put freshmen on their varsity teams every year.
"The older girls told me that usually only one freshman makes varsity, but I think that it's great that T.T. [Taylor Fletcher] and I both made it this year because you have someone who's going through the exact same thing as you," Bache said.
The athletes' love for soccer started far before this fall. All three students have played for Mass Premier Soccer (MPS) as well as on the middle school's team last year.
"I only played MPS in seventh grade. I love the competitiveness and the level of skill that each of the players have," Carver said.
The three athletes also trained heavily over the summer in order to prepare for their tryouts in August.
"[Once the summer began], I went home and started working out and running every day," said Fletcher. "At first I tried to follow the packet to the best of my ability, but other conflicts got in the way, so I just went running, sprinting and did workouts on my brother's iPod."
However, it takes more than just being a good runner to make varsity. According to the junior varsity girls soccer coach, Ed Dehoratius, the selection for the varsity team depends on a player's basic skills of the game, the number of girls trying out and the position that a player plays.
"The thing I love most about being on the team is the dedication and commitment that all of my teammates give," Bache said. "We're like a family."