25 Days of Cookies: Mrs. Lash's Mint Brownies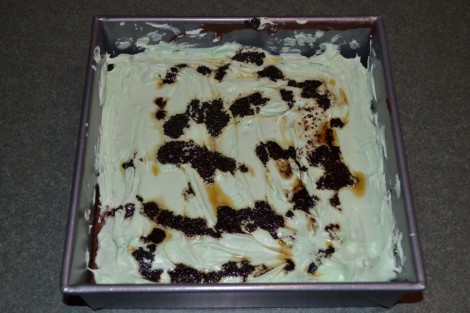 Each year, my neighbor makes mint chocolate chip brownies. They're the best treat around the holidays, and they are incredibly addictive. In my neighborhood, it's not Christmas without some of Mrs. Lash's brownies.
Rita Lash's Mint Brownies
Brownies:
One box of family size brownies (I use Duncan Hines)
Frosting:
2 tablespoons butter
3 cups confectioners sugar
1 teaspoon peppermint
Green food coloring (Judge how bright you want your frosting)
Milk as needed to soften frosting
Chocolate drizzle:
1 square baking chocolate
1 tablespoon butter
Directions:
Bake brownies according to the directions on the box. Mix frosting ingredients and spread over brownies. For chocolate drizzle, melt one square of baking chocolate with one tablespoon of butter and drizzle on top. Chill brownies until firm and enjoy.