Ahmed Nasri: It is great to learn how this beautiful country came about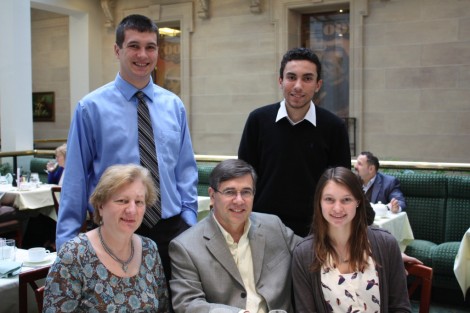 Walking through the halls of Wayland High School, junior Ahmed Nasri looks like a typical student with books and backpack in hand. It's hard to believe that Nasri has only been in the United States for five months.
Nasri transferred to Wayland High School this year from his hometown in Sers, Tunisia as part of the American Field Service (AFS).
"I heard about the exchange program a couple years ago when my friend went to the U.S. and came back, so I thought I'd give it a shot," Nasri said. "It's a scholarship program so you have to be selected for it. They selected thirty students from Tunisia and I was one of them. It's mostly a whole lot of interviews and essays."
Nasri is currently staying with the Palmer family in Wayland. Senior Kira Palmer also studied in France through AFS in 2010.
Although there are a lot of differences between Wayland High and Nasri's former school, Pioneer High School of El-Kef, Nasri finds that Wayland's school schedule is one of the biggest contrasts.
In Tunisia, Nasri must take anywhere from 10-13 classes instead of the 5-7 classes that a student at Wayland can take. Furthermore, unlike Wayland, Pioneer High School starts at 8 a.m. After a two-hour lunch break at noon, the students go back to classes until 6 p.m.
Nasri enjoyed the freedom of picking his own classes at WHS and found his U.S. History course with Mr. Delaney particularly engaging.
"At the beginning of the year, I had no idea what U.S. History was all about – I didn't even know who Washington or Lincoln were – but I found the course to be really interesting. It is great to learn how this beautiful country came about," Nasri said.
Nasri is also taking part in extracurricular activities at WHS.
"[At Pioneer High School], we had clubs on weekends, like International Club and English Club, and we met with other schools," Nasri said. "I was interested in trying cross country again once I came to Wayland because it helped me meet people and get into shape when I was younger."
Even though there are differences between WHS and Nasri's school in Tunisia, Nasri is enjoying his time in Wayland and is excited to continue his year.
"Everyone here at Wayland is so nice. I love people," Nasri said.