WW '13: Rosenburg discusses life with amputated leg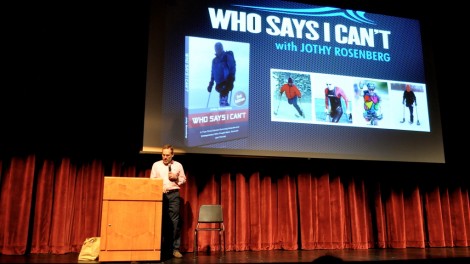 [display_podcast]Click play to listen to the podcast.
Out of all the words in the English language, "can't" is the one that Wayland resident Jothy Rosenberg dislikes most.
In Rosenberg's junior year of high school, he was told he had developed Osteosarcoma – a rare form of bone cancer found only in teenagers. Due to the limited amount of treatment at the time, Rosenberg was forced to have his right leg amputated.
Despite the loss of his leg, and later the loss of his left lung, Rosenberg still maintained a positive attitude throughout his life.
"Scientific studies have shown that people who go through the disability experience end up doing better at everything than their temporarily able-bodied cohorts," said Rosenberg.
Rosenberg never responded well to the words "can't" or "impossible" after his amputation.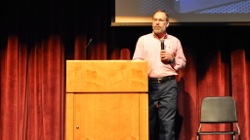 "The doctors said to me, 'you can't go home for two weeks.' That's when my attitude started and I said 'yes I can!' I insisted on getting home from the hospital after one week. Then they said I couldn't go back to school for six weeks, I went back after three," said Rosenberg.
Rosenberg then began building up physical and inner strength by walking his dog and using a prosthetic leg despite his self-identification of "not very athletic."
"One little victory started to feel better and another one? Even better," said Rosenberg
As Rosenberg grew stronger, his need to improve grew as well. An avid skier, Rosenberg became determined to teach himself to ski with one leg.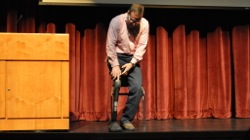 "The first time out skiing was literally turn, fall, turn, fall. My parents thought that I would be crushed by this, but I was thinking 'Yes! If I just work at this, I can conquer this!" said Rosenberg.
Rosenberg took his determination and applied it to all other aspects of his life, eventually trademarking the phrase, "who says I can't."
Rosenberg went on to learn how to hike mountains, ride a bike, jump rope, mountain climb and swim with only one leg. His determination also motivated him to obtain his Ph.D in Computer Science, becoming a professor at Duke University.
Rosenberg has been living with his disability for over 40 years now and is still standing. After creating eight computer software start up companies, Rosenberg has begun a television show on YouTube that profiles other successful people living with disabilities much like he does.
To this day, Rosenberg sticks to his motto: "Who says I can't."
Miss an event from Winter Week 2013? WSPN's got it covered.