Students have summer adventures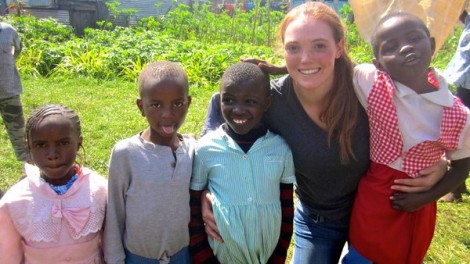 While many students stayed home during the summer, others spent time on different types of adventures around the world. From helping children in need in Africa to spending weeks with family in Israel, these four students each had unique life-changing experiences.
Kathleen Burns and Anna Downs
Juniors Kathleen Burns and Anna Downs spent part of their summer thousands of miles away in Kenya.
The two girls stayed for three weeks in Kijabe and Kimende, spending the majority of their time working with unprivileged children in medical wards and orphanages.
During their expedition, Burns and Downs built strong relationships with many of children they worked with.
"It was kind of cool, but also sad, how close we could become with [the kids] even though we don't speak the same language," Burns said.
At one point in their trip, the two girls gave stuffed animals to some of the children.
"We gave the kids stuffed animals, and they acted as if we had just bought them a house; they were so happy," Downs said.
When reflecting on the trip, Burns looks at her life with a new perspective.
"No matter what, you should still be able to live your life with happiness and gratefulness for every opportunity," Burns said. "You never know, you could be on the other side of the spectrum and live like they do."
Liana Frangioni
Sophomore Liana Frangioni was one of the WHS students who participated in this summer's American Music Abroad Tour through The Rivers School, located in Weston.
To get involved in the tour, students were invited by WHS fine arts department head, Susan Memoli. Students then had to send in a recording of their music, which helped place them in their chairs and decide what pieces of music they would play.
To prepare for the tour, the musicians gathered in Pennsylvania before the trip started to rehearse the music for ten hours. From there, they took a bus to John F. Kennedy International Airport in New York, where they boarded a flight to Europe.
The group played music in Austria, Croatia, Italy, Slovenia and Germany. Aside from performing, the group participated in various activities such as parasailing, jet skiing and taking walking tours of many cities.
The group of students had many chances to explore different parts of each city independent of adult supervision. Not only were they able to experience the various cultures in Europe, but the students also had the chance to share some of their own culture through their music.
"It was really cool to perform for people in different countries because they weren't used to American music, so it was new for them," Frangioni said.
Shahar Dahan
Senior Shahar Dahan spent six and a half weeks of his summer across the world in Tel Aviv, Israel. During his family trip, they visited their relatives, went to the beach and explored the city.
Although Dahan has visited Tel Aviv before, this was his first summer visting the Christian Quarter in Jerusalem. While he was there, he went inside the Church of the Holy Sepulchre.
"There were a lot of people, and there was this beam of light shining through the windows. We saw the Rock of Calvary inside," Dahan said.
Along with his tourist trip to the church, Dahan also spent time relaxing and having fun at the beach.
"On Saturdays, [it was so crowded] you could barely move, but on the weekdays it was fine," Dahan said. "Unfortunately, around July jellyfish would cover the whole beach and water."
When it wasn't jellyfish season, Dahan's family would go to the beach together two or three times a week.
Dahan travels to Israel every summer and enjoys the nightlife there as well. Due to the hot weather during the day, there are more things to do at night when it is cooler.
"Things are open all night long," Dahan said. "Restaurants there close pretty early, but I remember sitting in a restaurant at 3 a.m., and it was still packed."