Task Force reconfiguring elementary schools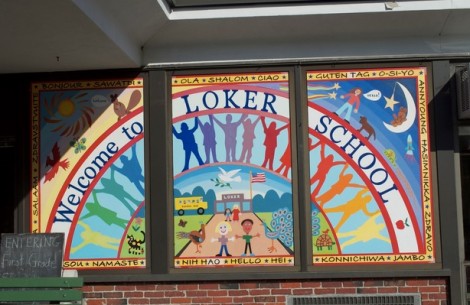 [/caption]
The three elementary schools in Wayland and their respective grade levels are in the process of being reconfigured as a result of overcrowding at Happy Hollow School.
Currently, Loker School only has kindergarten, while Happy Hollow and Claypit Hill School house first through fifth grade classes. The last time the elementary school configuration changed was in 2008, when the three K-5 schools were changed to the current model because incoming elementary student enrollment was projected to decline.
The Elementary Building Use Task Force, which includes parents, community members, teachers and various administration members, considered three options for reconfiguration. These options have been researched for over a year.
The three options reviewed include three traditional schools (each with kindergarten through fifth grade), a lower elementary school (two schools with second through fifth grade and one with kindergarten and first grade) and an upper elementary school (one school with fourth through fifth grade and two with kindergarten through third grade).
If the second option, the lower elementary option, is chosen, the lower elementary school would be Loker. If the upper elementary option is chosen, the upper elementary school would be either Loker or Happy Hollow.
The Task Force looked at staffing, class size, future flexibility, redistricting and transportation when reviewing the options.
Budget is another issue affecting the reconfiguration decision. According to estimates, the upper and lower elementary school options will cost about $435,000 each annually. The three traditional schools option would cost about $200,000 more than the other options because additional faculty would have to be hired.
"Budget differences are chicken feed compared to the value of my time," one parent said,during a September 30 forum discussing the changes,according to an October 7th newsletter from Wayland Voters Network. Many parents share the concern of driving further as a result of their children being moved to a different elementary school.
However, despite the forum, some parents have voiced concerns that the administration wasn't listening to what the community said.
Pam Zilembo, whose daughters will be in second grade and kindergarten next year, was one such parent. "I think they are doing a fairly good job, but it seems like they already decided before the forum, based on finances, to do K-1 at Loker and 2-5 at the rest of the schools," Zilembo said.
The Task Force is expected to make its recommendation to Superintendent Dr. Paul Stein within a few months. Afterward, Stein will talk to the school committee about the recommendation.
"It's nice that they are taking feedback from the community," parent Suchitra Vasanthakumar said. Her daughter will be starting kindergarten next year. "I hope that they don't make a decision before considering it."